When Justin Tuck blew up the internet last summer with the debut of his new facemask – complete with 12 diagonal bars and five horizontal ones – he wanted to keep it exclusive to himself. But the veteran defensive end knows it's a copycat league, meaning it wouldn't be long before others would take his locomotive-inspired grille and run with it.
For the proliferation, you can thank the man behind the men behind the masks, Giants equipment director Joseph Skiba, who reminds people of the real reason for them.
"I think in some aspects -- and probably you could blame me on it, I hate to say the word – (we've) created a 'monster,'" Skiba said. "But I think the reason why Justin wanted to do it was so he didn't get grabbed by the facemask. Just like anything else, you design a facemask, at the end of the day, if it doesn't look good, he's not going to wear it, right? So you design a facemask that all of a sudden became this internet sensation, but what it's there for is player safety, player protection. Just like anything else, you have 53 players who make a team, and 53 players want to look different."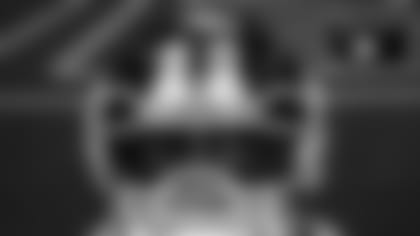 ](http://www.giants.com/photos/photos/Players-with-Unique-Facemask-Designs/b3699704-b586-467c-b1ae-f213f35f114b)