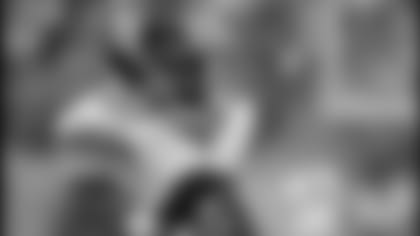 1) CB Prince Amukamara –** Since he settled into a starting role in Week 4, last year's first-round draft choice has been relatively quiet in recent weeks, which is sometimes a good thing for a cornerback. Amukamara has strung together a solid run this season while his tackling and coverage have also improved. The Giants will need their entire secondary clicking on Sunday when they welcome the Saints to MetLife Stadium. Defensive coordinator Perry Fewell assessed Amukamara's progress this week.
"I was very leery, I (was) saying, 'I want more out of Prince, I want him to do this, I want him to do that,'" Fewell said. "Then, when I went back and looked at him over the bye week, Prince has done some really good things. I think Prince has only given up one big play, at that point in the bye week. Although he needs to be better technique-wise, he's really progressed and done some nice things."
2) LB Jacquian Williams – Out with a knee injury since Week 7, Williams is expected to make his return this Sunday. He's been close in recent weeks, but this appears to be the week when Fewell can work him back in as he is officially listed as probable. The Giants will need his speed against versatile players like tight end Jimmy Graham and running back Darren Sproles.
"It's time,' Williams said Friday. "I practiced better. My team can use me and I'm ready."
3) RB David Wilson – The rookie didn't receive the expected increase in his workload last week, but that was because Ahmad Bradshaw was so effective. While the Saints defense has improved recently, it still ranks last in the NFL against the run, giving up 153.8 yards per game. Any running back has to like those numbers.
4) DE Jason Pierre-Paul – The pass rush was shutout last game against Mike Shanahan's scheme in Washington, but facing a more traditional offense this week could mean a bonanza. The Giants will need all the pressure they can get on Drew Brees and the Saints. Meanwhile, Pierre-Paul hasn't recorded a sack since Week 9 and has been on the injury report with a back injury. However, he isn't expected to miss any time.
5) OT David Diehl – The entire team felt for Sean Locklear when he suffered a season-ending knee injury on Monday night, but the season waits for no one. Diehl will return to the starting lineup in his place at right tackle, saying he feels better than he has all season.
"I'm just excited to get out there and play football and feel good, feel ready to play and help our football team win games," Diehl said earlier this week. "We've got a four-game stretch and it starts with this weekend."
![](http://shop.giants.com/)