The Giants won their third consecutive game after a 0-6 start. The last team to lose at least its first six games and follow with at least three straight victories was the 2011 Miami Dolphins, who went from 0-7 to 3-7. The 2009 Tennessee Titans were the last team to go from 0-6 to 3-6 (they improved to 5-6). The current Giants and the 2009 Titans are the only teams in NFL history to start 0-6 and then win their next three games. Tennessee finished 8-8 that season.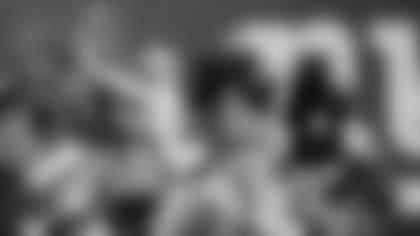 Giants-Raiders Gameday Photo Gallery](http://www.giants.com/photos/photos/Photos-Giants-vs-Raiders/d79dc48e-82ce-4695-8d4e-57ea810e863c) The Giants won their sixth consecutive game following a regular-season bye. They are 10-15 (.400) in such games. Tom Coughlin is 12-6 in post-bye games, including 7-3 with the Giants.
The Giants trailed at halftime, 17-14. This was their first victory in a game in which they trailed at the half since Sept. 16, 2012, when they rallied from a 24-13 deficit to defeat Tampa Bay to win, 41-34. The Giants had lost their last 10 games when trailing at the half, including six this season.
The Giants rushed for 133 yards, their highest total since they ran for 185 yards in the 2012 season finale vs. Philadelphia.
The Giants 38 rushing attempts was their highest total since they had 38 vs. St. Louis on Sept. 19, 2011 (when they rushed for 119 yards).
The Giants' 118 net passing yards was their second-lowest total of the season; they threw for 90 yards at Carolina on Sept. 22.
The Raiders totaled 213 yards, the third consecutive Giants opponent that failed to gain 215 yards. Minnesota totaled 206 yards on Oct. 21 and Philadelphia finished with 201 yards the following week.
Oakland's 106 net passing yards were the fewest by a Giants opponent since Miami threw for 101 yards on Oct. 30, 2011.
The Raiders' 12 first downs were the fewest by a Giants opponent since Minnesota had 10 on Dec. 13, 2010.
The Giants committed only one penalty for five yards, a feat they accomplished twice in 2012 – Nov. 11 at Cincinnati and Dec. 30 vs. Philadelphia.
The game started badly for the Giants when Jerrel Jernigan fumbled away the opening kickoff when the ball was knocked out by Taiwan Jones and recovered by Andre Holmes. It was the first time the Giants lost a fumble on a game's opening kick since Nov. 13, 2005, when Willie Ponder lost the ball and it was recovered by Minnesota's Antoine Winfield. The Giants were the first team to lose a fumble on an opening kickoff since Sept. 16, 2012, when Dallas did it at Seattle.
Holmes returned Jernigan's fumble to the five-yard line. Two plays later, Terrelle Pryor scored on a one-yard quarterback sneak just 53 seconds into the game. It was the fastest an opponent scored a touchdown against the Giants since Oct. 7, 2012, when Cleveland's Trent Richardson crossed the goal line after just 52 seconds had elapsed. The score was also set up by a Giants fumble, by Ahmad Bradshaw on the Giants' first offensive play.
Pryor's touchdown was the first allowed by the Giants' defense in 11 quarters, covering 159:17. The defense has surrendered just one touchdown in the last 3½ games.
The Giants scored their first touchdown when Cooper Taylor scooped up a blocked punt and returned it 21 yards. Damontre Moore set up the touchdown when he shot up the middle and blocked Marquette King's punt. Both Taylor and Moore are 2013 Giants draft choices. It was the Giants' first touchdown on a blocked punt since Sept. 5, 1988, when Tom Flynn brought one back 27 yards vs. Washington. Gary Reasons blocked the punt.
Cooper's touchdown was the first non-offensive touchdown by the Giants this season and the first by their special teams since Dec. 9, 2012, when David Wilson scored on a 97-yard kickoff return.
Eli Manning's five-yard touchdown pass to Rueben Randle in the second quarter completed a 90-yard drive for the Giants. It was the team's third touchdown drive this season of at least 90 yards. The Giants had a 90-yarder at Dallas and a 91-yarder in Chicago.
The victory was the 154th in Coughlin's regular-season career. That moves him into a tie for 15th place on the NFL's career list with Hall of Famer Joe Gibbs.
Andre Brown started at running back, the sixth player to start at that position and the eighth player to start in the backfield for the Giants this season. The other starting running backs were David Wilson, DaRel Scott, Brandon Jacobs, Peyton Hillis and Michael Cox. The Giants have also had two starting fullbacks in Henry Hynoski and John Conner.
Brown, playing for the first time this season after being activated off injured reserve on Thursday, had career-high totals of 30 carries for 115 yards. His previous bests were 20 attempts for 113 yards on Sept. 20, 2012 at Carolina.
Brown scored the Giants' final touchdown on a one-yard run in the third quarter. He has scored a touchdown in six consecutive games dating back to last season.
The Giants are 42-12 in regular-season games under Coughlin in which they have at least one 100-yard rusher.
Manning completed 12 of 22 passes for 140 yards, a touchdown and an interception that was returned for a touchdown. Manning's 12 completions were his fewest since he had 10 vs. Pittsburgh on Nov. 4, 2012 and his fewest in a Giants victory since he had nine at the Jets on Dec. 24, 2011.
Cornerback Tracy Porter scored the Raiders' second touchdown on a 43-yard return after intercepting a Manning pass. Porter was the third opponent to score on an interception return this season, joining Dallas' Brandon Carr (49 yards on Sept. 8) and Chicago's Tim Jennings (48 yards on Oct. 10).
The interception was Manning's 16th of the season, one more than he had all of last year. It ended a streak of 91 consecutive passes without a pick.
Porter has now returned interceptions for touchdowns against both Manning brothers. While playing for New Orleans in Super Bowl XLIV, he intercepted Peyton Manning and brought it back 74 yards for a touchdown.
Terrell Thomas intercepted a Pryor pass in the third quarter and returned it 65 yards to the Oakland five-yard line. It was Thomas' first interception since Dec. 5, 2010 vs. Washington, also in MetLife Stadium. The 65-yard return is the long of his career and the second-longest by a Giant this season. Ryan Mundy had a 91-yard return in Dallas on Sept. 8.
The Giants' defense had four sacks for the second game in a row. Mathias Kiwanuka had one, increasing his team-leading total to 3.5. Jason Pierre-Paul had his second of the season, as did Antrel Rolle (a career-high for him). Keith Rivers got his first sack of the season and his first since Oct. 2, 2010 while playing for Cincinnati against Cleveland (and quarterback Seneca Wallace). He has 3.0 career sacks.
The Raiders took the second half kickoff and marched 74 yards in 14 plays and 8:04. It tied the most plays a Giants opponent has had a single possession this season. Kansas City had a 14-play touchdown drive and Dallas had that many snaps on a series that ended with a field goal. It was the second-longest opposing possession by time this year; the Chiefs had a field goal drive that lasted 9:17 on Sept. 29.
The Giants' inactive players were running back Brandon Jacobs (who has hamstring and knee injuries and missed his third consecutive game), cornerbacks Corey Webster (groin/ankle) and Jayron Hosley (hamstring), tight end Adrien Robinson, offensive lineman Dallas Reynolds, defensive tackle Markus Kuhn and quarterback Ryan Nassib.
General Ray Odierno, the Army Chief of Staff and a lifelong Giants fan, participated in the pregame coin toss.
The Giants wore white pants instead of their usual gray bottoms. Under NFL rules, they have the option to alternate three pants styles in their uniform system. They last wore white pants in 1999, the final season they had "GIANTS" on their helmets and all-white road uniforms. The following year, the Giants began wearing uniforms that featured the distinctive "ny" on the helmets and gray pants. The white pants have a thin red stripe bordered by gray and blue stripes. The gray pants have a blue stripe bordered by gray and red stripes. The Giants will wear the white pants again in two weeks when they host the Dallas Cowboys.