EAST RUTHERFORD, NJ - The Giants' wide receivers will literally be hard-pressed Sunday to make plays against the Seattle Seahawks.
---
RELATED NEWS
Latest Injury Report
View the Latest Giants injury report as the team prepares for Sunday...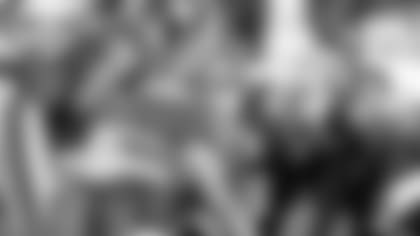 Seattle's defense makes life difficult for opposing offenses both statistically and stylistically. The Seahawks are ranked first in the NFL in total defense (287.1 yards a game) and pass defense (175.6). Their 17 interceptions are tied for third in the league. Not coincidentally, Seattle will arrive at MetLife Stadium with an NFC-best 11-2 record and an opportunity to clinch home field advantage throughout the playoffs.
But it's not just the numbers that make Seattle's defense so imposing. The Seahawks' defensive backs favor an aggressive, in-your-face, pressing style of coverage.
Seattle likes to play eight men in the box to stop the run. The risk of using that alignment and bump-and-run coverage creates the possibility of receivers breaking free to make big plays, because safety help likely won't be available.
"It always gives you an opportunity to test yourself, see how you fare against one of the better teams in the league and certainly one of the better defenses in the league," offensive coordinator Kevin Gilbride said today. "Some of the things they do should give us some chances. Our guys are always clamoring for one-on-one opportunities. You're going to get more than your fair share of one-on-one opportunities to win against some pretty good coverage and guys that play very physical. You have to fight your way through the holds and continue to battle. Usually with wideouts, it not as much as a physical contest as it's going to be on Sunday, because it's the way they play."
The Seahawks' secondary is known as the Legion of Boom, but injuries and suspensions have reduced some of its noise. Cornerback Walter Thurmond will miss the game on Sunday, the third of his four-game suspension for violating the NFL's substance abuse policy. Brandon Browner, who started eight straight games at right corner, is reportedly facing a season ban for the same violation and sat the previous three weeks with a groin injury.
Seattle still has left cornerback Richard Sherman, one of the NFL's best and most physical players at his position, Byron Maxwell and nickel back Jeremy Lane.
They will attempt to shut down the Giants' trio of receivers – Victor Cruz, Hakeem Nicks and Rueben Randle -- who say they look forward to challenging the Seahawks' secondary.
"When you see the film and you see them play, you know what type of players they are and you know that they're going to be physical and it's going to be a battle," Cruz said. "You have to go in there expecting to fight, expecting to, maybe not physically, but expecting for there to be a battle back and forth from a press coverage aspect and be able to fight and win your battle."
"I don't mind it at all," said Randle, who leads the team with six touchdown receptions. "We have big, physical guys like that, so you've got to beat them with quickness. You've got to be able to get their hands off you, so I'm looking forward to just taking advantage of it, using my skills and using some of my quickness to get off those jams and kind of beat him down field. Hopefully, we'll have some big plays down the field.
"I think anybody in the league likes the press coverage, everyone makes big plays. They're pretty much available when you press one-on-one. The safeties are in the middle of the field a lot, so mainly it's just you and that corner. It's going to be up to you to go out there and make that play and beat that guy head-up above you. The weight is on your back. It's going to be up to us receivers to go out there and make those plays."
Cruz, with team-high totals of 71 catches for 973 yards, has made more of them than any Giants receiver. He needs just 27 yards to join Del Shofner, Homer Jones and Amani Toomer as the only receivers in Giants history with three consecutive 1,000-yard seasons. But this has been his most challenging season because of the constant double teams he's faced.
"There's no question that we haven't been as effective in some of the other spots and, therefore, people gear up defensively," Gilbride said. "They're certainly very cognizant of where he is at all times. Sometimes we call it funnel coverage, where everybody is man-to-man and then there is a zone player in there. Usually that zone player is looking to see where Victor is and then we've gotten a lot more doubles. It was like that with Steve Smith at the end, Plaxico Burress at the end (of their Giants careers). Those guys faced double coverage all the time and that's what he's being confronted with. Not every snap, but a lot of the snaps."
Cruz admits it's a sign of respect to receive such consideration, but he certainly doesn't enjoy it.
"It's tough overall, just having to face some of the double teams, having to face a lot of attention throughout the year, so it's something that's relatively new for me," Cruz said. "Last year, I obviously faced it a bunch, but to go the whole year that way, it was new. But it was something that you've got to battle and you've got to deal with. All of the good players have to go through it all. You want to call yourself an elite receiver in this league, you've got to be able to go through that and be able to face it and get through the other side."
But there's frustration on the road to that goal.
"The most is just trying to get yourself open," Cruz said. "No matter what the coverage is, no matter how they're playing you, just try to get yourself open and continue to run your routes precisely because you never know what could happen.'
When he faces the aggressive Seattle cornerbacks on Sunday, Cruz is hopeful something big happens.