*The Giants will begin their 2017 preseason against the Steelers: *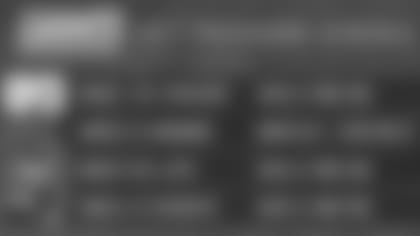 EAST RUTHERFORD, N.J.– The Giants' preseason schedule this summer will include only AFC opponents for the fifth consecutive year, and will feature a nationally-televised Monday night game.
The NFL today released each team's preseason opponents, and in Ben McAdoo's second year as head coach, the Giants will face two teams from the AFC North (Pittsburgh and Cleveland), as well as traditional preseason opponents in the Jets and New England.
The Giants will visit the Cleveland Browns on Monday night, Aug. 21, at 8 p.m. in a game that will be televised by ESPN. The dates and times of the other three games will be announced later.
In preseason Week 1 (Aug. 10-14), the Giants will host the Steelers in MetLife Stadium. It will be the third time in five years the teams will meet in the preseason, and the second time in a row in New Jersey. The Giants lead the preseason series, 15-12. Their most recent preseason game was played in MetLife on Aug. 9, 2014, a 20-16 Giants victory. The teams first met in a preseason game on Aug. 22, 1952 – a 24-10 Giants victory in Des Moines, Iowa. The Giants and Steelers played each other every summer from 1978-89. They did not meet in the preseason from 1993-2009.
Last Dec. 4, the Steelers defeated the Giants in a regular-season game in Heinz Field, 24-14.
The Giants are 36-28-3 in preseason openers since 1950.
The Giants will return to Cleveland for the second time in nine months when they face the Browns on Aug. 21. On Nov. 27, 2016, they defeated Cleveland, 27-13, in FirstEnergy Stadium.
The Giants lead the preseason series with Cleveland, which began in 1970, 9-7. They last faced the Browns in a preseason game on Aug. 18, 2008, a nationally-televised game in Giants Stadium won by the home team, 37-34.
In preseason Week 3 (Aug. 24-26), the Giants will be the home team when they square off with the Jets in the annual MetLife Bowl. This will be the 49th consecutive summer in which the teams will meet since the series began in 1969. The Giants won the 2016 meeting, 21-20. They trail in the preseason series, 25-22-1, with the tie coming in 1972.
The Giants will visit the defending Super Bowl champion Patriots in their preseason finale, which is customarily played 10 days before Sunday of Kickoff Weekend. This year, that is Thursday, Aug. 31. This will be the 13th consecutive year the two teams will close the preseason by facing one another. The Giants won last year in MetLife, 17-9, and lead the preseason series, 17-9. The two teams first met in the preseason in 1971.
The Giants were 2-2 in the preseason in 2016, defeating the Jets and Patriots, and losing to Miami and Buffalo.