EAST RUTHERFORD - The most durable and prolific punter in NFL history is not ready to box up his kicking shoe.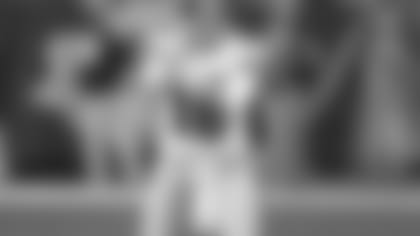 Jeff Feagles, whose first pro season was 1988, the same year his teammate, Hakeem Nicks, was born, has signed a contract to return in 2010 for his eighth season with the Giants and 23rd in the NFL. Feagles knew when the 2009 season ended he wanted to return. But he had to make sure the knee he had surgically repaired in 2005 could withstand the rigors of another year of punting.
"I needed to do some things physically to figure out if I wanted to go and do this again," Feagles said. "So right after the season I took a little break and then jumped into working out on my own, and seeing if I could do some things to strengthen my legs. I thought I had lost a little bit of leg strength last year. I haven't been able to train because of my knee the last couple of years. So I felt that I needed to get into the weight room and do some things and see if it was going to hold up. And I was going to make a decision after that."
The knee responded to the training and is stronger than it has been for years. Armed with that knowledge that his leg was sound, Feagles had no doubt he wanted to suit up again.
"About three weeks ago I called Kevin (Abrams, the Giants' assistant general manager) and told him that I was ready to come back and I think I can do it another year - and if you will have me back, great, let's get something done," Feagles said. "So it took three weeks to get it finished.  I'm excited about it and I'm ready to get back in a Giant uniform again and play in the new stadium."
Although well versed in the rhythms and routines of Tom Coughlin's Giants, this will be a different kind of summer for Feagles. In the past several years, he has been the lone punter on the roster and his training camp focus was solely on getting ready for the season. But this year, he will have competition from Jy Bond, the former Australian Rules Football punter the Giants signed last month.
"In my meeting with Tom it was very, very clear that I was going to compete for my job this year," Feagles said. "And my answer to that was, 'That's fine.' I have been competing for a long time. That is what makes it all better anyway, competition. Plus, we will have another leg in camp which will be good for me, too. So I just have really said to myself, 'Listen, get a contract done and just go compete.' And I'm confident that I will be on the roster."
Feagles, who turned 44 on March 7, has never missed a game in his career. He has played in an NFL-record 352 consecutive games, or 65 more than runner-up Brett Favre. The 352 games played are the third-highest in NFL history, just one less than No. 2 Gary Anderson and 30 behind record holder Morten Andersen.
Feagles holds every significant NFL career punting record, including most punts (1,713, or 312 more than Sean Landeta), 71,211 yards and 554 punts downed inside the 20-yard line.
His totals with the Giants are 513 punts (the fourth-highest total in franchise history), 21,161 yards and a team-record 178 punts inside the 20.
Feagles has also played for the New England Patriots, Philadelphia Eagles, Arizona Cardinals and Seattle Seahawks. Long recognized as one of the NFL's finest directional punters, he has a 41.6-yard career gross average and a 35.9-yard net average.
In 2009, Feagles punted 64 times for a 40.7-yard gross average and a 36.0-yard net average. He dropped 23 punts inside the 20-yard line and had a long kick of 59 yards. But he was not happy with his performance.
"I was disappointed in my consistency," Feagles said. "I just didn't think that I kicked the ball very well. We had a couple of long returns last year that really didn't sit well.  I just had some punts that were backed up and didn't flip the field for the team. And then I got into that little rut - those three games kicking the ball out of bounds. So I think that overall I just wasn't as consistent as I have been in the past. So I am correcting it. I have gone back and looked at things and decided that I have put this plan together. It all started back when I said that I had to figure out if I really wanted to come back and do this again – go through the routine of working out and getting back in good shape and figuring out if I can still do this, because it is tough at my age. You have to work harder than everybody else."
Feagles, who is also the Giants' holder for field goals and extra points, still very much enjoys playing. And he did not want his illustrious career to conclude with what he considered a subpar season.
"I have a lot of pride and I think that some things that happened last year on the field left a real bad taste in my mouth, personally and with the team," Feagles said. "I just want to come back and show everybody that what happened last year - they said I had a down year. But other than that I'm just moving on. I want to get back to the Super Bowl and this is the one last chance to do it. I'm going to have to compete and that is what I'm going to do."
He believes he can not only retain his job, but demonstrate the productivity and consistency that he demands from himself.
"I just haven't been able to lift (weights) like I've wanted to strengthen my legs and it's shown a little bit on the field," Feagles said. "In order for me to perform at a level that I want, and that the Giants' want, I have to do some different things. So that is what I did and it has helped.
"I had to strengthen my knee, the quad and things like that. And it took a while, because I was very cautious. I didn't want to injure myself. We did some things and got it back and now I feel that I will continue to do the work that I have been doing."
Feagles is not far removed from what was arguably the best season of his career. In 2008, he was selected to his second Pro Bowl – becoming the second-oldest player to play in the game – after he posted a gross average of 44.0 yards and a net average of 40.2 yards on 64 punts, the third-lowest total of his career. The net average was a career high and enabled him to realize a long-held goal of having a 40-yard net average for a full season. It had never been done in the NFL until the 2007 season. His previous best net average was 38.2 yards in 1995, his first Pro Bowl season. Feagles' gross average tied for the second-highest of his career and was just three-tenths of a yard less than the career best of 44.3 yards he set with Arizona in 1997.  He averaged 44.0 yards the following year.
In addition, Feagles punts were returned for a total of only 140 yards in 2008, the lowest figure of his career. Opponents have total less than 200 punt return yards four times in Feagles' career – three times during his tenure with the Giants.
He has already begun his preparation in his quest to return to that level, in part because two of his sons are punters as well.
"Around in May is when I have typically started punting," Feagles said. "I have been kicking now because of a couple of reasons. Number one, I have been working with my son, C.J. (who is entering his sophomore season at the University of North Carolina), trying to get him ready for spring football. And in the process I have been kicking with him.  And then my son Blake is punting. So when we were on winter break in Phoenix, I was kicking there.
"It is good to have a football in my hand and doing drills. I'm not out there pounding footballs right now. But I'm certainly way ahead of what I have done in the past. I'm prepared to go into training camp and win my job. That is what I have been told that I am going to need to do. So I'm doing everything I can in that sense to show them that I can still play."
---
The Giants continued to upgrade their secondary today by signing safety Deon Grant.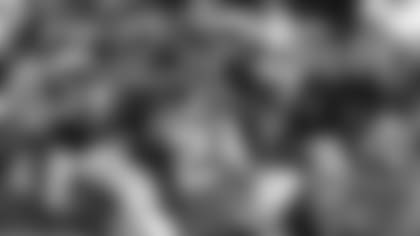 He is the second former NFC West safety to join the Giants this offseason. On March 5, the Giants added Antrel Rolle, who previously played for the Arizona Cardinals.
"I'm happy to be here," Grant said. "I wanted to be here when I went to Seattle, but they came into the picture late. This opportunity on the second go-round – it was destined. I'm happy about the coaching staff and my new teammates and I'm ready to help them win the Super Bowl again."
The Giants created room on the roster and in the defensive backfield by rescinding their tender to safety C.C. Brown, who played in every game with seven starts in his only Giants season.
Grant, who turned 31 last month, has started 144 consecutive regular season games and seven postseason games over the last nine seasons – three apiece with Carolina, Jacksonville and Seattle. The 144 starts in a row is the fifth-longest streak among active players:
285: Brett Favre
192: Peyton Manning
167: Ronde Barber
151: London Fletcher
144: Deon Grant
The safety with the second-longest streak of consecutive starts is Green Bay's Nick Collins…with 37.
His career totals include 640 tackles (522 solo), 26 interceptions, 74 passes defensed and 4.5 sacks.
In 2009, Grant had 78 tackles (60 solo), three interceptions, seven passes defensed and a forced fumble for the Seahawks.
"We signed Deon Grant because, number one, he's durable," general manager Jerry Reese said. "He really hasn't missed time. He's a durable veteran who will bring depth and leadership to our safety position."
The Giants entered the offseason determined to improve at safety. In addition to Rolle and Grant, they hope to benefit from the return of Kenny Phillips, who missed the final 14 games of the 2009 season after undergoing knee surgery. The other veteran safety on the roster is Michael Johnson.
"Hopefully, Kenny can come back one hundred percent and Rolle is going to do some big things, Grant said. "With those stud cornerbacks that we have, we can just line up and play ball."
Grant, 6-2 and 215 pounds, entered the NFL as the Panthers' second-round draft choice (the 57th overall selection) in 2000. He missed his entire rookie season with a fractured hip, but has since started every game.
In 2003, he had a career-high 105 tackles and helped lead the Panthers to Super Bowl XXXVIII, where Carolina lost to New England. The following year, he joined the Jaguars as a free agent and in 2005, Grant had 90 tackles and three interceptions and helped Jacksonville earn a postseason berth.
Grant moved to Seattle as a free agent in 2007 and the Seahawks won the NFC West title.
A native of Augusta, Georgia, Grant was an All-America and the Southeastern Conference Defensive Player of the Year at the University of Tennessee.
Grant was born on March 14, 1979.