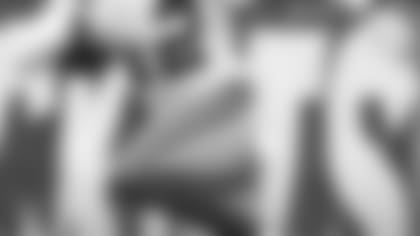 ](http://www.giants.com/media-vault/photo-gallery/Steve-Smith-retires/851d1362-adf3-48e0-a764-31159d8c4958)
PHOTOS: WR STEVE SMITH
EAST RUTHERFORD, N.J. –
Steve Smith, the former Giants Pro Bowl wide receiver, announced his retirement yesterday. Smith's catch-and-run for a 12-yard gain gave the Giants a critical first down just prior to Manning's game-winning touchdown pass to Plaxico Burress in Super Bowl XLII. In 2009, Smith caught a franchise-record 107 passes and became the first Giants receiver to play in the Pro Bowl since Homer Jones in 1968. Smith suffered a knee injury in a victory over the Minnesota Vikings in Detroit on Dec. 13, 2010. He underwent surgery and after the lockout the following year, signed with Philadelphia. In one season with the Eagles and last year with the St. Louis Rams, Smith caught a total of 25 passes. Smith recently signed with the Tampa Bay Buccaneers, but chose not to continue his career.
"I've been blessed to play the game that I love at the highest level for the past six years," Smith said. "I will always cherish my time with the New York Giants and our Super Bowl victory in 2007. I also want to thank the Philadelphia Eagles, St. Louis Rams and Tampa Bay Buccaneers organizations for the opportunities they gave me. This was not an easy decision, but it's the right decision for me at this time."
Two Giants who were close to Smith – Terrell Thomas and Ross – were saddened to hear of his retirement.
Thomas and Smith were teammates at USC. Smith was the Giants' second-round draft choice in 2007; Thomas was selected in the same round a year later.
"Shocking," Thomas said of Smith's retirement. "I think he's just a competitor that may have realized that with his knee he would never be the same and I think he probably just didn't want to cause any more damage to it. Nobody knows the extent to his knee or where he's at mentally and that's the biggest thing. If mentally you're not into it, I think it's hard. This is his third team in three years. It's hard to keep wanting to fight back at that position."
Thomas was asked how he would remember Smith as a teammate and receiver.
"Just a competitor," Thomas said. "I've known him since I was 18. We came in the same year and he's always been a guy that was working when nobody was looking. He always worked at his craft and throughout the years it's paid off. He's fought the injuries through his career, but him making the Pro Bowl that year was just a testament to all the hard work he's put in over the years. It stinks, because I'm kind of in the same boat - an injury kind of prohibiting your career to continue on. I wish him the best. He was a great teammate through all of those years."
Ross was the Giants' first-round draft choice in 2007; he was taken 31 spots ahead of Smith. Ross covered Smith in the 2005 BCS national championship game, won by Texas over USC, 41-38.
"It's a shocker," Ross said. "I definitely hate to hear that, especially since we came in together and won a Super Bowl together. I'm kind of speechless. I wish he could have played a little longer, but seven years in this league is a very, very long time. What's the league average (career)? Like three-and-a-half years. So he's well over that. He has a Super Bowl ring and a ton of catches here. I'm pretty sure he's happy, especially if he made that decision. I'm sure he made the best decision for himself."
*Thomas is trying to come back after surgery each of the last two years to repair his right ACL. But he said the news about Smith had no chilling effect on him.
"That would never be me," Thomas said. "The doctor said I can play again. I'm going to keep playing. I don't know the extent of his injury that he just had, but there isn't any quit in me. It's my fifth surgery. I've been through it all. It's just a part of my journey."