EAST RUTHERFORD - Jerry Reese and Tom Coughlin believe one of the keys to returning the Giants to the playoffs in 2010 is improving the team's pass rush. They think they took a big step toward accomplishing that goal tonight when they selected defensive end Jason Pierre-Paul from the University of South Florida with their first round selection in the NFL Draft, the 15th overall pick.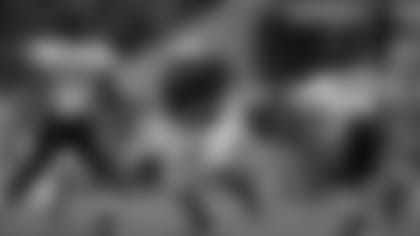 "We think the guy has the biggest upside of any player in the draft," Reese said. "This was an easy pick for us."
"He was the highest graded guy on our board when we took him," Coughlin said.
Pierre-Paul will have an opportunity to contribute immediately. The Giants' sack totals have dropped from an NFL-leading 53 in 2007 to 42 in 2008 to 32 last season. Consequently, the Giants allowed 427 points, the third-highest total in the league.
"We didn't rush the passer very well last year," Coughlin said. "So let's get back to playing football and rushing the passer and stopping the run and doing those kinds of things. Let's go back to what we did a couple of years ago, when we didn't do a whole lot of talking – we played. I think that's something that we can do."
The Giants scouted Pierre-Paul at South Florida's pro day and brought him to the Timex Performance Center to examine him and test his football acumen.
"I'm glad I'm a Giant," Pierre-Paul said. "I was nervous at one point, I felt like I wasn't going to get picked and then I got a call from the New York Giants. (Agent) Drew (Rosenhaus) said it might be the New York Giants and it was. I was surprised because I visited a lot of teams and I didn't know who was going to pick me. I'm just glad I got picked. Now I get to come in, settle down and become a great football player."
This first round was reminiscent of what the Giants did in the 2006 draft. That year, they traded down and selected Mathias Kiwanuka, despite already having Michael Strahan, Osi Umenyiora and Justin Tuck at defensive end. Umenyiora and Tuck, both former Pro Bowlers, and Kiwanuka are all still here, as is hard-working Dave Tollefson. But the Giants believe you can never have too many pass rushers.
"This gives us tremendous flexibility in terms of people we have in our pass rush rotation," Coughlin said. "We expect that he will come in here and learn well. There will be a lot of time for him to spend a lot of time on the playbook aspect of the game.
"We've had an outstanding offseason with all of these defensive ends that are here. They're working hard. We certainly like to think we've added to that group of young men that are good people and good football players. We've had success when we've had depth."
Reese made it clear he's not going to subtract from that depth by trading one of his veterans. Umenyiora, who lost his starting job late last season, has expressed displeasure at his role, but Reese, without prompting, said, "We're not trading Osi, so don't ask the question."
Pierre-Paul brings extraordinary athleticism to the defensive end rotation. He became a YouTube sensation by doing 13 consecutive back flips on the turf at the Rogers Centre in Toronto before South Florida's game against Northern Illinois in the International Bowl. Pierre-Paul is fast, strong, lean and limber.
"He's one of those guys where he has a lot of things you can't teach," Reese said. "He's a rare, gifted, talented kid. He is just uncommon, I think that's a good word to use to describe his skill set. He's long, fast, athletic, he has a great motor. We're excited about having him and we are going to put him right into the mix with our four defensive ends."
Reese was asked specifically about Pierre-Paul's attributes that can't be taught.
"The length, number one," Reese said. "He's 6-4, 270 pounds. The speed that he has and the long arms he possesses, the athletic ability that he has. Those kinds of things just come naturally raw, oozing with talent and the motor that he has. All those kind of things he has, it's hard to find a package like that. He has some freakish athletic skills that we're excited about trying to hone and get him on a good path toward workouts."
"He's a freak of nature with some of the stuff he can do and the way he looks," said Marc Ross, the Giants' Director of College Scouting. "He's just a different guy. He's done things I haven't seen in scouting in games – his combination of length and power and speed – just running through people, rag-dolling tackles. He's just a different breed of athlete."
Pierre-Paul seems to lack only experience. He played only one year at South Florida, where he was a junior in 2009. Prior to that, he spent a year at a junior college and another at a community college. And he's been playing football for only a few years. Pierre-Paul was a four-year letterwinner in basketball at Deerfield Beach High School in Florida.
"(He had an) interesting introduction to the sport - his high school coach got him to play in a playoff game when he was a junior in high school," Coughlin said. "He hadn't played football – he was a basketball player. That started his career and of course, his senior year in high school he became a football player."
And a very good one. Pierre-Paul was an all-district player on a 9-3 team. In 2007, in just his second season playing organized football, he was named All-America and All-Western State Conference first-team at the College of the Canyons in Santa Clarita, Cal. Pierre-Paul led all California junior college players with 14 sacks and 19 stops for losses of 117 yards.
In 2008, Pierre-Paul was again an All-America, as well as All-Jayhawk Conference first-team, at Fort Scott Community College in Kansas. He led the Greyhounds to a 9-2 record and a victory in the Heart of Texas Bowl while recording 67 tackles (50 solo), 10.5 sacks for minus 50 yards, 20.5 stops for losses of 78 yards. He also forced three fumbles and recovered two others.
With that kind of production, Pierre-Paul was heavily recruited. He chose South Florida over Nebraska, with several SEC and ACC schools also showing interest. With the Bulls, he played in 13 games with seven starts. His three-year college totals were 161 tackles (119 solo), 31.0 sacks for 180 yards in losses and 56 tackles for losses totaling 248 yards.
Reese, Coughlin and Ross strongly believe Pierre-Paul's lack of experience will not hinder his progress with the Giants.
"You take that into consideration, but he played well in a big league this past season," Reese said. "We think that the sky is the limit. (Defensive line coach) Robert Nunn and (coordinator) Perry Fewell are really excited about this player.
"He can play the run, the pass; he has the whole package. We think that he has the entire package as a defensive end. Perry Fewell thinks he has good promise."
"As you looked at the grades that were given to this guy, he was substantially graded," Coughlin said. "All of his tests came through and verified exactly where he was taken in terms of not only his ability but his off the field – his medical and all of those kinds of things. And we felt that as the round unfolded that here was clearly a guy who had outstanding grades."
Coughlin said he expects Pierre-Paul to quickly learn the Giants' defensive schemes.
"According to all of the tests, that part of it is not an issue," he said. "The first thing that happens, as I have said many times before, is that the playbook terminology is Chinese.  It is something that they have to learn to understand what the terminology is. And that is the biggest problem for a young guy learning a new system. He has learned a new system each and ever year. But I think that he won't have a problem with the learning part of it; some of which you will have some obvious inexperience, you will have some things that he is asked to do that he has never done before. But as I said, he has played down inside, he has played both left and right defensive end."
The Giants believe Pierre-Paul will play and contribute in 2010.
"He's a great pass rusher and you have to rush the passer in this league, as we all know," Reese said. "This guy is really going to do a tremendous job coming in to help us rush the passer. We will also be helped on special teams with his speed and his length. We will always need some type of kick blocker and stuff in that respect as a special teamer."
*Pierre-Paul, who will wear jersey number 90, will be the third player in Giants history with a hyphenated last name. The others were kicker Ali Haji-Sheikh (1983-85) and defensive tackle Nate Hobgood-Chittick.