DETROIT - Anyone who said the Giants had given up the fight doesn't know the Giants.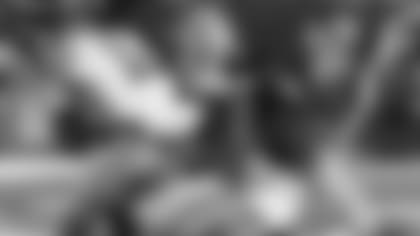 Giants.com's Five Impact Players On Sunday they visited Ford Field to play their 15th game in a disappointing season with all kinds of negativity weighing on their collective backs. They had fallen to 5-9 by losing their last two games, including a desultory 23-0 home defeat last week to Seattle. Their offensive line was in tatters, their best receiver was home after undergoing knee surgery and they had just two running backs in uniform. They were playing the Detroit Lions, a team then still alive in the playoff race, in a domed stadium, where the Giants have recently fared poorly. And they were locked into a third-place finish in the NFC East, so they seemingly had nothing tangible to play for.
But Tom Coughlin thought it was all so much hot air.
"We've been able to stay focused and we've been able to touch on some real deep values that get overlooked when people are telling you (that) you have nothing to play for," Coughlin said. "You've got everything in the world to play for. I think the way they played tonight was a good demonstration of that."
That is undeniable. The undermanned Giants squandered a 10-point halftime lead, fell a touchdown behind in the fourth quarter and pulled out a scintillating 23-20 victory when Josh Brown kicked a 45-yard field goal with 7:28 elapsed in overtime. The score was set up by a 15-yard pass from Eli Manning to Jerrel Jernigan on fourth-and-seven.
Nothing to play for? The Giants fought as if their postseason lives depended on the outcome.
"Coach (Tom) Coughlin always gives us lessons each week," wide receiver Hakeem Nicks said. "People were talking about what we have to play for and all that, but the guys in this locker room, we are true fighters. We will fight to the end and we believe in one another. We won't punch out until it is time to punch out. We just have to take things for what it is and finish this last game strong."
"I think we have everything to play for," safety Antrel Rolle said. "We have to play for, more importantly, each other. That's something we haven't done in the past couple of weeks and I think we definitely went out there and showed that we loved each other, we're going to go out there and compete for one another, we're going to play for our fans, we're going to play for our family and, more importantly, this organization."
The Giants had a long list of unlikely heroes. Did anyone, for example, have Dallas Reynolds playing a big role in this game? Reynolds became the Giants' fifth right guard this season when Brandon Mosley – who made his first career start for the injured David Diehl – broke his hand in the first quarter. Reynolds, who was re-signed on Oct. 24, had played briefly in only one game. Yet he helped hold Pro Bowl defensive tackle Ndomukong Suh to one assisted tackle.
"How do I feel? Tired," Reynolds said. "But I'm just happy about the win.
"You just have to be prepared to step in. That's part of the game, injuries happen. You hate to see it happen to your guys, but you have to be able to step in when you need it."
That's what Jernigan did. With Victor Cruz sidelined after undergoing knee surgery last week, it was Jernigan – not Nicks or Rueben Randle – who led the Giants with six receptions for 80 yards, including a 20-yarder for the first touchdown of his three-year career.
"This is two games in a row he's played really well," Coughlin said. "And to be honest with you, this week he was injured, and he was sick last night, so he keeps you right on the edge of your seat, whether or not he's going to be able to go. He bounced back and he's a tough guy."
Prince Amukamara shadowed All-Pro receiver Calvin Johnson all over the field and limited him to three catches for 43 yards.
Safety Will Hill also deserves a spot near the top of the list. Jernigan's touchdown and Brown field goals of 41 ad 52 yards gave the Giants a 13-3 halftime lead. But their seven offensive possessions in the third and fourth quarters ended punt, punt, safety, punt, punt, punt, interception. The Giants netted just 53 yards and late in the fourth quarter trailed, 20-13.
Then Matthew Stafford threw a pass to tight end Joseph Fauria that Hill picked off and returned 38 yards for the tying touchdown.
"I just saw the ball take off in the air and took advantage of the situation in cover-four," Hill said. "I was overseeing three players and once I saw the ball tip off his hands, I just saw daylight."
"There is always a feeling, even when the offense is doing good, as a defense, we always say we have to get two turnovers. We are always out there saying we have to get a turnover, we have to get a turnover. It just happened to be me today."
"That was huge," Rolle said. "I was praying to God and thank God that he answered and more importantly for Will Hill. I think he played an excellent game, definitely one of the best games I've seen Will play as far as tackles, as far as special teams, as far as being in the right position at the right time to making plays and capitalizing on that play and putting us in position to go into overtime. That was something, that was extremely huge."
The Giants won the overtime coin toss and were given excellent field position when Michael Cox – another unlikely contributor - returned the kickoff 56 yards. But Andre Brown lost a fumble on the second snap (he was taken to locker room to be tested for a possible concussion). The defense forced a three-and-out and the Giants took possession at their own 28.
They advanced to the Lions 42-yard line, where they faced a fourth-seven. With Manning lobbying hard, Coughlin decided to go for broke.
"Either let's go for it or kick it and go for the win," Manning said. "I know I didn't want to punt it there and I wanted to try to win this thing or go for it and be aggressive. He said, 'We're going for it.'"
"We were into overtime, guys had played a lot of plays," Coughlin said. "Let's see if we can make a play to put ourselves into position to end the game and we did."
They did because Jernigan went low to make a terrific catch of Manning's pass for a 15-yard gain to the Detroit 27.
"Had a good play call versus the coverage we were looking for Jernigan," Manning said. "He went down and made a great catch, I think, I don't know, I guess he made a catch. They called it a catch. We had to line up and run the ball very fast on the next play and had to make a few adjustments there, but we got it worked out."
The next play was the most bizarre two-yard gain of the season, because tight end Bear Pascoe carried the ball. It was his first rushing attempt since he was a veer quarterback at Granite Hills High School in California.
"Obviously, we don't practice with that personnel," Manning said. "But we just told him what to do and Bear has been here long enough. He knows everything that is going on. He's out there holding on to the football and getting a few yards as well."
"We were in such a hurry-up, Eli just turned around and said, 'Hey, run it right there,'" Pascoe said. "My main thought was don't lose the ball, just get it and get as much as we can."
After an incompletion, Manning lost two yards on a run that put the ball in the center of the field. Brown then kicked the ninth game-winning field goal of his career and first with the Giants.
"There's always going to be butterflies," Brown said. "You just have to stay focused and control your body, but there's always going to be butterflies on a game-winner, at least for me. It was a good Christmas gift to be able to give my teammates, they battled hard today.
"It's big for the Giants because it's back and forth, it's a battle, we're playing for self-respect at this point. Will and heart and all of those characteristics and personal integrity and we have to win games just to look respectable in the end, and that's what we want to do. We need to win next week (at home next week) and finish as strong as we can."