With most players resting far away from Giants Stadium these days, two players who have stayed close to their football home decided to take advantage of the holiday to express their appreciation of young boys and girls in New York City who have gone through some tough times.  DE Justin Tuck joined OL Rich Seubert to make two visits on Tuesday with cookies and chocolates in tow.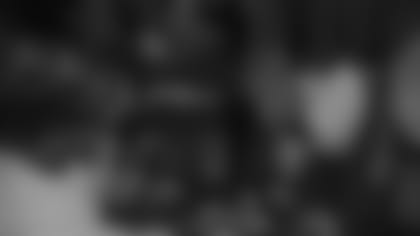 OL Rich Seubert signs an autograph for an eager young fan at Mt. Sinai on Tuesday.
Their first stop took them to Mt. Sinai Medical Center, where they attended a Valentine's reunion for hundreds of pediatric open-heart and heart transplant surgery patients and their families.  The party was well attended by patients from over the years who were reunited with the friends and doctors who share the successes of their good health.  Rich and Justin were a pleasant addition to the wonderful foods, candy, activities and music that were prepared for the occasion.
Attending the reunion was especially important for Seubert, whose grandmother received a heart transplant over 20 years ago.  "My grandmother became heart transplant recipient number 136 in Minneapolis in August of 1987," said Seubert.  "When I heard that there was going to be a reunion for heart surgery patients, I knew I wanted to attend.  It's amazing what the doctors can do nowadays, but it is still a very difficult ordeal for these kids, despite the fact that it's a positive life-changing procedure.  I'm glad I have the opportunity to make these kids smile just by coming out and spending some time with them, signing autographs and that sort of stuff."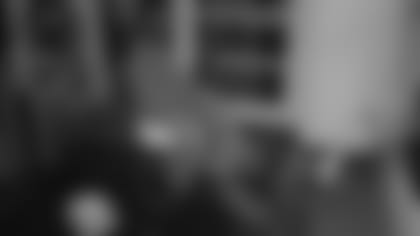 DE Justin Tuck takes on all contenders in video games at the Ronald McDonald House of NYC.
After everyone had time to meet the ballplayers and had received an autograph, the players were back on the road, heading a few blocks north to make a stop at the Ronald McDonald House of NYC, a home away from home for kids who come to New York for the top-level medical care that is available in the city's hospitals.  While at the house, the two Giants played video games with the kids in the newly renovated playroom, which was funded by the New York Giants earlier in the year and dedicated in honor of the team's two late owners, Bob Tisch and Wellington Mara.
The kids took turns trying to defeat Tuck and Seubert at video game ping pong, college football and tennis before picking up an actual pigskin and tossing it around in the room.  The two players also took a tour of the rest of the house, and discussed plans to have an outdoor barbecue for the kids once the weather heats up in the spring.
"It's always nice to get out and spend time with kids," said Tuck.  "They keep you young and always seem to be able to make me smile with all their energy.  To be honest, this was one of the more relaxing things I've done in a while.  We're all having a great time playing video games and getting to know one another.  I attend the fundraiser dinner we have for the house every year, so it's cool to spend time with the kids that benefit from that evening.  This is a great place." ](http://www.jointheteam.com/)