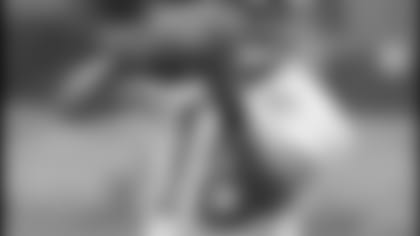 ](http://www.giants.com/media-vault/photo-gallery/Giants-return-to-facility/0f432fed-980a-45d9-97a5-a2a782774538)
PHOTOS: OTA PRACTICE
EAST RUTHERFORD, NJ - For a variety of reasons, the wide receivers were the lead story today as the Giants held their first organized team activity (OTA) at the Timex Performance Center.
Neither of the starting wide receivers, Hakeem Nicks and Victor Cruz, was in attendance. As a result, other receivers had an opportunity to get reps and impress the coaches.
Jerrel Jernigan and Rueben Randle, third and second-year Giants, respectively, lined up with the starters, and offseason acquisition Louis Murphy caught several passes, including a long Eli Manning throw down the left sideline.
Cruz's absence wasn't surprising, because he has yet to sign a contract for the 2013 season. But Nicks was expected to be on the field with his teammates for the voluntary workout.
Asked about Nicks' status, coach Tom Coughlin said, "I don't know. He should be here."
Did he expect Nicks to be here?
"Yeah, sure I did," Coughlin said. "I expect everybody here. We're trying to get our team better."
Even Manning, who worked with Nicks in North Carolina prior to the start of the offseason conditioning program, said. "There was no reason to think he wasn't going to be here."
Coughlin disputed the notion that Nicks, who was slowed most of last season by a knee and foot injuries, did not attend for physical reasons.
"No, but he would have some kind of limitations, I'm sure," Coughlin said. "Not right away, but that is not the reason."
Jernigan, Randle and Murphy appreciated the extra reps.
"I've been here three years," said Jernigan, who had three receptions in his first two seasons. "I know the offense and it's time for me to go out there and make some plays and contribute to my team.
"My confidence is always high. I never get down on myself. No matter what any article says, I still know what I can do. My confidence level is really high. I still go out there every day like it's a workday for me, no matter if I'm starting, not playing or whatever."
Randle had 19 receptions and was the team's leading punt returner as a rookie in 2012. He caught two touchdown passes in the season-ending victory over Philadelphia.
"It's a lot better to get a feel for how things are going to be," Randle said of lining up with the first team. "You get on the same page with Eli, so it's a fun thing. But also it's work. You've got to continue to go out there and get better and just do the best you can.
"I'm a lot better than where I was last year. I'm a lot more comfortable with what I have to do and understanding the offense. I'm out there playing a lot faster and making a lot more plays."
Murphy, a fifth-year pro who has played for Oakland and Carolina, joined Manning, Cruz and Nicks for workouts last month at Duke University.
"That helped out a lot with getting the play calls, watching film with Eli, going through the plays, walking through and then doing two-a-days," Murphy said. "So that was good to get down there with him and it was just learning how to catch the ball from him. Every quarterback throws the ball different and he throws a really nice ball, a great ball."
Manning said he made strides working with the trio of backup receivers.
"I hit Louis on a deep one," Manning said. "I got Rueben in there. I got Jernigan some catches. We're getting everybody in there, getting them a lot of reps, getting on time with them. We're always going to get better. Whoever is on the field, we're going to expect them to go out there and play at a high level. So I think the more guys you have who are experienced and ready to play different positions, the better off we're going to be."
At the same time, the Giants' leader and two-time Super Bowl winner made it clear he believes it's important for Cruz and Nicks to get in their work.
"You've still got to work on your timing," Manning said. "You've still got to work on the basics and everybody needs it. I need the basics. How many times have I thrown a hitch in my life? Or a curl route? I've still got to do it. I've still got to get those things and work them, but it is good to have other guys in there running routes and getting your timing down with other guys. That's how you look at it, but you'd still like to have all your guys out there. We all need to work. We all need to practice. We all need to improve on things."
NOTES FROM PRACTICE**Defensive end and captain Justin Tuck is not losing sleep because Cruz and Nicks weren't on the field today.
"I don't throw to the wide receivers," Tuck said. "If we had any linebackers or defensive ends or D-linemen or corners or safeties that's not here that need to be here, then maybe I'll be the guy for that question. Eli, Hakeem and Victor all know what they need to get ready to play the game. I realized this. No matter how much time they miss, if they come out on Sunday and ball, this will be forgotten anyway. That's all I ask for them. Just make sure they're ready to play when that time comes.
**Fullback Henry Hynoski went down on the second play of the team period with a leg injury of undetermined severity. He was quickly attended to by the team's athletic trainers and did not return.
"I didn't see it," Manning said. "I handed the ball off and just saw him on the ground after. I don't know exactly what happened. I haven't seen the film yet. I don't know how severe the injury is, so hopefully it's not too bad and he can be back either for the spring or at least for training camp. I don't know the results yet."
"He kind of got (his leg rolled up on) and so we are taking a look at that," Coughlin said. "I said a few prayers and I'll continue until I hear what it is."
**Center David Baas and right guard Chris Snee are rehabilitating after recent surgeries and their places were taken by Jim Cordle and James Brewer, respectively.
Guard Eric Herman, the first of the Giants' two seventh-round draft choices, signed his contract today. The Giants have signed five of their seven 2013 draft choices. The exceptions are tackle Justin Pugh, the first-round selection, and quarterback Ryan Nassib, the fourth-round pick.MORE FROM GIANTS.COM**