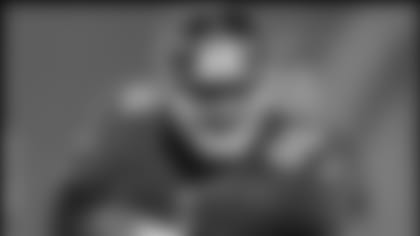 ](http://www.giants.com/media-vault/photo-gallery/Giants-re-sign-LB-Keith-Rivers/0513d5b0-9d53-43bb-b89a-e8b62b9575b2)
PHOTOS: KEITH RIVERS GALLERY
EAST RUTHERFORD, N.J.
– Keith Rivers joined the Giants last season with questions about his ability to stay on the field. He re-signed with the team today still looking to provide positive answers to those queries.
"Anytime you step on the field you have something to prove – me, more so," Rivers said. "Obviously, I have to prove I can stay healthy. I haven't necessarily been able to be trusted to stay healthy. Hopefully, taking a big rest this offseason will help me do that."
Rivers, who has never played a full 16-game season, missed five games in his first Giants season because of a slow-healing hamstring injury. He sat out the entire 2011 season after undergoing wrist surgery. The Giants acquired him following that season in a trade with the Cincinnati Bengals.
"It was tough," Rivers said of his Giants debut season. "I was rushing to get back and not necessarily letting it heal all the way. Sometimes the chips fall that way. I think I may have over-trained due to being out. I was a little overzealous. I worked out way too hard.
"It's very frustrating and very stressful. You work really hard to stay healthy and that doesn't actually happen. It's part of the deal. You have to accept the good with the bad."
Rivers said he is sharply cutting back on his weightlifting and doing a lot of cardio work and yoga until the team's offseason conditioning program begins on April 15.
Splitting his time between strong and weakside linebacker, Rivers finished the 2012 season with 37 tackles (32 solo) and a fumble recovery.
This year, he hopes to make a bigger impact statistically and in the locker room. With the recent release of Michael Boley and the possible departure of free agent Chase Blackburn, Rivers is the Giants' most experienced linebacker.
"I was thinking about that - I'm actually going to be the old," said Rivers, who turns 27 in May and entered the NFL in 2008 as the Bengals' first-round draft choice (ninth overall). "It's good. I can assume some kind of leadership role and hopefully do that in a good way."
When Rivers signed with the Giants, he anticipated being on the field with his close friend and former USC teammate Terrell Thomas. But the cornerback missed the entire season after tearing his ACL for the second year in a row.
"Hopefully, my guy can stay healthy and I'll get an opportunity to play with him," Rivers said. "When I was getting ready to sign here, I talked to Terrell. We said, 'Let's really hit our playbooks together and be accountable to each other, to do that and get together once a day.' I'm excited to finally play with him again."
Now both former Trojans must prove they can stay on the field.