*OL Damien Mama and WR Hunter Sharp have been signed to the active roster. TE Ryan O'Malley and DB Tim Scott have been signed to the practice squad: *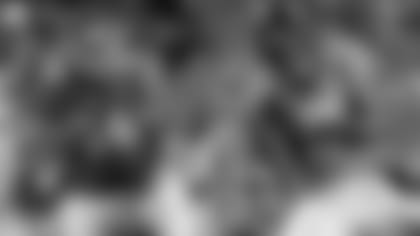 EAST RUTHERFORD, N.J. – The Giants today added a pair of players to both their active roster and their practice squad.
The roster additions arrive from the practice squads of teams the Giants played earlier this season, wide receiver Hunter Sharp from the Denver Broncos and offensive lineman Damien Mama from the Kansas City Chiefs.

They are eligible to make their Giants' debuts on Sunday at home against the Philadelphia Eagles.
The Giants also signed to their practice squad tight end Ryan O'Malley and defensive back Tim Scott.
Sharp, 5-11 and 198 pounds, played in one game for the Broncos this season, Oct. 22 at the Los Angeles Chargers. He did not have a reception.
Sharp first entered the NFL as a 2016 rookie free agent with the Philadelphia Eagles, from Utah State. He was released by the Eagles on Aug. 24, 2016. Sharp was signed by the Broncos to their practice squad on Dec. 28, and to their active roster on Jan. 2, 2017. He was waived on Sept. 2, and signed to Denver's practice squad the following day and to the roster on Oct. 18. Sharp was released again on Oct. 28, and re-signed to the Broncos' practice squad on Nov. 1.
After beginning his collegiate career at Antelope Valley Junior College in California, Sharp played in 25 games for Utah State, where he caught 137 passes for 1,774 yards (12.9-yard avg.) and 16 touchdowns.
Mama, 6-3 and 342 pounds, has not played in an NFL regular-season game. A USC teammate of Giants rookie lineman Chad Wheeler, Mama joined the Kansas City Chiefs as an undrafted rookie on May 6. He was waived on Sept. 2 and signed the next day to the practice squad, where he spent the season's first 14 weeks.
Mama played in 39 games with 29 starts at USC.
O'Malley, 6-6 and 260 pounds, played in one game for the 2016 Oakland Raiders, who originally signed him on May 10 of last year. He spent most of last season on the Raiders' practice squad, and was on the Buffalo Bills' practice squad from Oct. 10 to Nov. 1 this year. O'Malley played at Penn, where he caught 43 passes for 495 yards and nine touchdowns.
Scott, 5-11 and 195 pounds, played one special teams snap in the Giants' loss to the Los Angeles Rams on Nov. 5. He was signed by the team on Aug. 24, released on Sept. 1, and signed to the practice squad two days later. Scott was added to the active roster on Nov. 4 and cut two days after the Rams game.
Scott entered the league as a rookie free agent with the Dallas Cowboys in 2015. That season, he did four-week stints on the practice squads of the Cowboys and the Cleveland Browns. Scott was not on an NFL roster in 2016.
This year, he was signed by the Washington Redskins on Aug. 3 and was released 10 days later.
Scott started 45 of 50 games at the University of North Carolina, where his career totals included 212 tackles, 25 passes defensed, and eight interceptions.