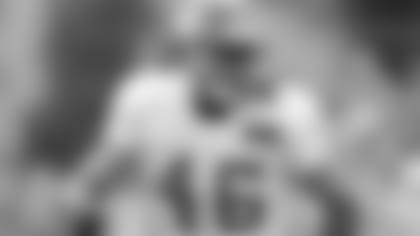 EAST RUTHERFORD, N.J. – With two tight ends sidelined with injuries, the Giants today signed Will Tye off their practice squad.


NEWS
>
[Scouting Report: Breaking down the Bills](http://www.giants.com/news-and-blogs/article-1/Scouting-Report-Breaking-down-the-Bills/66124ec6-8a00-4f6a-be97-eef78f5705df)
>
[Victor Cruz ruled out vs. Bills](http://www.giants.com/news-and-blogs/article-1/WR-Victor-Cruz-ruled-out-vs-Bills/cb87e6db-8236-430a-9cb5-35159ecbf664)
>
[Latest Giants-Bills injury report](http://www.giants.com/injuryreport.html)
PHOTOS
>
[Know Your Opponent: Bills roster](http://www.giants.com/photos/photos/Know-Your-Opponent-Buffalo-Bills/9aaf17e8-bf8c-4b01-aabe-770c7eacba55)
VIDEOS
>
[Giants Online: Week 4 Preview](http://www.giants.com/videos/videos/Giants-Online-Bills-Preview/bcac53b2-3010-4cc7-9b00-fed6c6fffe09)

To create room on the roster, the Giants terminated the contract of defensive tackle Kenrick Ellis.
Tye, from Stony Brook, was originally signed as a rookie free agent on May 11. He was waived on Sept. 1 and signed to the practice squad six days later.
Larry Donnell and Tye will the Giants available tight ends for the team's game tomorrow in Buffalo.
Daniel Fells, who is considered the Giants' second tight end behind Donnell, has an ankle injury. Fells caught three passes in the Giants' victory last week over Washington. Jerome Cunningham will miss his second straight game with a knee injury. Neither of those players traveled with the team to Buffalo.
Ellis, who was waived at the end of training camp and re-signed on Sept. 22, was in uniform for the Washington game, but did not play.
In addition to Fells and Cunningham, the following players did not travel with the team to Buffalo: wide receiver Victor Cruz (calf), defensive end Robert Ayers (hamstring) and defensive tackle Markus Kuhn (knee).
FIVE THINGS YOU NEED TO KNOW ABOUT TE WILL TYE
By Dan Salomone
A transfer from Florida State, Tye, 6-foot-2 and 262 pounds, played the last two years at Stony Brook University before getting a tryout with the Giants at rookie mini-camp. Combining his four seasons with the Seminoles and Seawolves, Tye's career numbers include 80 receptions for 1,022 yards (12.8 avg.) and nine touchdowns in 31 games with 18 starts. He also returned 30 punts for 166 yards (5.5 avg.) and two kickoffs for 32 yards (16.0 avg.).
The Giants signed Tye as an Undrafted Free Agent on May 11, 2015. Following Training Camp he was added to the team's practice squad on September 7, 2015.
PRO DAY RESULTS - 40-yard dash: 4.57 seconds; Vertical jump: 31.5 inches; Broad jump: 9 feet, 4 inches; 3-cone drill: 7.21 seconds; 20-yard dash: 2.65 seconds; 10-yard dash: 1.60 seconds.
CAREER HIGHS - Receptions: 8, at Colgate (10/12/13); Yards: 103, at North Dakota (9/20/14); Long: 42, at Connecticut (9/6/14); TDs: 2, at James Madison (11/16/13).
In 2014, he was second team All-CAA Football, recording 34 receptions for 495 yards and five touchdowns in addition to 106 yards on punt returns.
A native of Middletown, Conn., Tye was a 2010 graduate of the Salisbury School, where he was a three-star recruit by Rivals and Scout.com (No. 6 prospect in Connecticut and No. 19 tight end in the nation by Scout.com). He recorded 587 yards and six touchdowns as a senior.
Photos of players on the Giants official roster