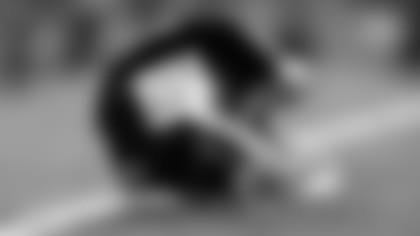 The Giants have signed three of their draft choices and 11 undrafted free agents:
EAST RUTHERFORD, N.J.**
– The Giants today announced they have signed three of their six draft choices, and 11 undrafted free agents. The latter group includes one wide receiver, three offensive linemen, one tight end, one defensive tackle, one linebacker, and four defensive backs.
The Giants open a three-day rookie minicamp today.
The signed draft choices are guard Will Hernandez, the second-round pick from Texas-El Paso; linebacker Lorenzo Carter, the third-round selection from Georgia; and quarterback Kyle Lauletta, taken in the fourth round from Richmond.
Hernandez, 6-2 and 327 pounds, started all 49 games at left guard the previous four seasons for UTEP.
Carter, 6-5 and 250 pounds, played in 54 games with 26 starts for the Bulldogs. He had 165 career tackles (82 solo), including 20.5 tackles for losses and 14.0 sacks, and added 54 pressures. Carter also forced seven fumbles and recovered six.
Lauletta, 6-3 and 222 pounds, was named the outstanding player at the Reese's Senior Bowl, where he completed eight of 12 passes for 198 yards and three touchdowns. In 40 games at the University of Richmond, he completed 758 of 1,194 passes (63.58%) for 10,465 yards, 73 touchdowns and 35 interceptions. He averaged 268.3 passing yards a game. The Colonial Athletic Association Offensive Player of the Year, he was the fourth player in league history to throw for more than 10,000 yards.
The Giants also waived first-year tackle Laurence Gibson.
And now, introducing the free agents:
Stephen Baggett, TE, 6-5, 251, East Carolina
Baggett played in 48 games with 17 starts and finished his career with 23 receptions for 239 yards (10.2-yard avg.) and two touchdowns. As a blocker, he helped produce 11 individual 100-yard rushing performances. As a senior in 2017, Baggett played in 12 games with nine starts and had a career-high 11 catches for 105 yards and two touchdowns. He had a career-long 41-yard reception vs. Virginia Tech and scored touchdowns vs. South Florida and Memphis.
Evan Brown, C, 6-2, 302, SMU
Brown started all 47 games in which he played for the Mustangs, playing both right guard and center. As a freshman, he started the first five games of the season at right guard before making two starts at center, and the final three back at right guard. The following year, he started all 12 games at right guard. In his junior and senior seasons, Brown started 25 consecutive games at center.
Sean Chandler, S, 5-11, 195, Temple
Chandler played in 49 games with 48 starts - 25 as a weakside cornerback and 23 as a free safety. He recorded 264 tackles (182 solo) with 3.0 sacks, 13.5 stops behind the line of scrimmage, 23 deflected passes, and 10 interceptions that he returned for 155 yards and two touchdowns. He also forced four fumbles and recovered two. Chandler averaged 11.2 yards on 25 punt returns. In 2017, he started all 13 games at free safety and had a career-high 79 tackles (56 solo) and three interceptions.
Tyrell Chavis, DT, 6-3, 305, Penn State
Chavis began his collegiate career at the University of Virginia, where he redshirted in 2013. He then played at Nassau Community College for two seasons before finishing his career at Penn State in 2016-17. In two seasons with the Nittany Lions, Chavis was credited with 32 tackles (nine solo), 3.0 sacks – all in 2017 – and 7.5 tackles for losses. He earned the Tim Shaw Thrive Award, awarded to the student‐athlete who has overcome adversities and been an inspiration to his fellow teammates.
Aaron Davis, CB, 5-11, 194, Georgia
Davis played in 53 games with 45 starts and concluded his career with 184 tackles (121 solo), five interceptions, 17 pass breakups, 4.0 sacks, and 17.5 tackles for losses. He started at least nine games in each of the last four seasons after redshirting in 2013. In 2017, he started all 15 games for the national runner-up Bulldogs and had 43 tackles (30 solo), one interception, five pass breakups and 1.5 sacks. Davis had career-high totals of 54 tackles (43 solo) as a junior in 2016.  
Jawill Davis, WR, 6-0, 191, Bethune-Cookman
Davis played in 47 games with 29 starts in five seasons at Bethune-Cookman (he was granted a medical hardship after missing most of the 2014 season with an injury). He caught 106 passes for 1,692 yards (16.0-yard avg.) and 10 touchdowns. In 2015, he played in 11 games with 10 starts and had career-high totals of 39 receptions for 788 yards and six scores. Davis also started 10 games in 2017 when he registered 36 catches for 475 yards and three touchdowns.
*Tae Davis, LB, 6-1, 200, Tennessee-Chattanooga *
A special teams standout in his first two seasons, Davis played safety until his senior season, when he shifted to outside linebacker. He played in 49 games with 10 starts and recorded 119 tackles (72 solo) with 1.0 sack, five stops behind the line of scrimmage, seven quarterback pressures, two forced fumbles, and three deflected passes. In 2017, Davis started all nine games in which he played. Despite missing two games with an injury, he led the team with 74 tackles (42 solo) including 1.0 sack, five stops for losses of 12 yards, and six pressures.
Bryon Fields, CB, 5-11, 180, Duke
Fields played in 52 career games with 39 starts, including starts in each of his last 38 games. He registered 181 total tackles, 5.0 tackles for losses, 1.0 quarterback sack, six interceptions, 21 pass breakups, two forced fumbles, and one fumble recovery. Fields holds the Duke record with four interception returns for touchdowns, including a record-tying two in 2017. Last season, he started all 13 games and recorded 39 tackles, including one for a loss, three interceptions, and seven pass breakups. A team captain, Fields received the program's Frances Cutcliffe Spirit of Perseverance Award, which is presented annually to the player who best displays the toughness and perseverance to overcome challenges and continue to strive for victory. He was a four-time Academic All-ACC selection.
Nick Gates, G, 6-5, 295, Nebraska
Gates started all 35 games in which he played before deciding to join the NFL with one year of eligibility remaining. He played 10 games at right tackle as a redshirt freshman in 2015, and 25 games at left tackle the last two seasons. His 25 straight starts at left tackle was the longest by a Cornhusker since 1981. Gates was a three-time member of the Nebraska Scholar-Athlete Honor Roll.  
Grant Haley, CB, 5-9, 185, Penn State
Haley played in 49 games with 36 starts for the Nittany Lions. His career totals included 139 tackles (89 solo), five interceptions, 23 passes defensed, 2.0 sacks, and 6.5 tackles for losses. He also averaged 20.6 yards on 32 kickoff returns (all as a freshman in 2014) and returned a blocked field goal for a touchdown vs. Ohio State in 2016. Last year, Haley was elected a team captain. He started all 13 games and finished with 40 tackles (27 solo), including both of his career sacks, and tied his career high with two interceptions. Haley was one of 21 players on the team to earn a degree before the Fiesta Bowl.
Tyler Howell, T, 6-8, 300, Missouri
Howell played in 10 games with four starts at left tackle as a senior after starting all 12 games the previous season. In 2016, the Tigers' O-line finished first nationally in tackles for loss allowed (2.92 per game), the lowest for any team since at least 2005. Howell began his collegiate career at Butler Community College, where he was named a first-team Junior College All-American in 2014. He did not play football in 2015 due to academic reasons.
The New York Giants have signed the following undrafted rookie free agents.