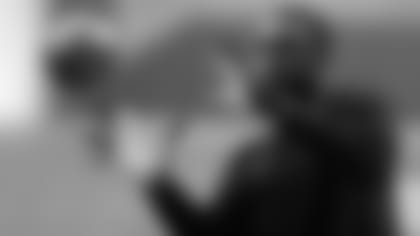 EAST RUTHERFORD, N.J. - The Giants today signed wide receiver Terrell Sinkfield.
A 6-1, 196-pounder from Northern Iowa, Sinkfield has previously been with three NFL teams this year after going undrafted following his senior season.
On May 3, he was signed as a free agent by the Miami Dolphins, who waived himon May 28. Sinkfield joined the Green Bay Packers on June 11 and was released on July 19. He was signed on Aug. 3 by the Buffalo Bills, who waived him on Aug. 19.
Sinkfield played six snaps at receiver in the Bills' preseason opener in Indianapolis. He also had a special teams tackle.
In four seasons at Northern Iowa,Sinkfield totaled 76 receptions for 1,097 yards and 10 touchdowns. As a senior in 2012, he caught 43 passes for 499 yards and four touchdowns.
The Giants' wide receiver corps has been depleted. Victor Cruz is sidelined with a heel contusion and Ramses Barden with a sore knee. Louis Murphy missed practice yesterday with leg soreness. Kris Adams and Keith Carlos were both waived/injured. Jeremy Horne was injured and waived earlier in camp.
The Giants recently added receivers Julian Talley and Marcus Harris.