NEW YORK - NewYork-Presbyterian Hospital and the New York Giants are teaming up to increase awareness of the importance of organ donation, a cause close to the heart of several members of the Giants organization. NewYork-Presbyterian has just been named a proud sponsor of the Giants.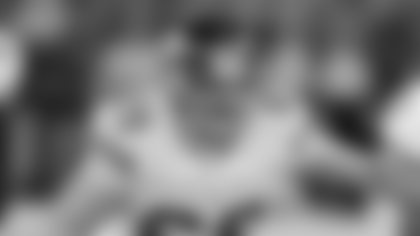 Guard Rich Seubert's grandmother, Celine Seubert, underwent an organ transplant in 1987.


NewYork-Presbyterian performs more organ transplants than any other hospital in the nation. With the help of the championship Giants franchise and their national audience, the Hospital aims to register 100,000 new organ donors. "As the nation's largest transplant center, we wanted to work with a premier team that shares our desire for being an advocate for organ donation," says Dr. Herbert Pardes, president and CEO of NewYork-Presbyterian Hospital. "Our affiliation with the Giants will give us a national platform to talk about a proven way to save lives.
"The Giants franchise is a great hallmark of New York," says Dr. Pardes. "We look forward to working with this great organization to lift spirits and extend the gift of life."
 "We are proud to be working with New York's top-ranked hospital, NewYork-Presbyterian, to rally around organ donation," says Michael Stevens, senior vice president and chief marketing officer of the New York Giants. "The New York Giants embody the possibilities of health, fitness and living life to its fullest. By increasing the awareness and importance of transplant organs, we can help our regional community to achieve this goal."
The new agreement between these organizations also brings benefits for patients and staff. In January, the Hospital welcomed Giants offensive lineman Rich Seubert and former Giants wide receiver Stephen Baker, who brought the Vince Lombardi Super Bowl XLII Trophy for photo opportunities with patients, families and staff.
Seubert and Giants offensive coordinator Kevin Gilbride know intimately the importance of organ donations. Seubert's grandmother, Celine Seubert, underwent an organ transplant in 1987. Several members of Gilbride's family have been afflicted with autosomal dominant polycystic kidney disease (ADPKD), an incurable hereditary kidney disease that claimed the life of his father, Bernard, in 1972 at the age of 45. Three of his siblings have undergone kidney transplants.
"First and foremost, organ donation is important because it saves lives," Seubert says. "My grandmother received an organ transplant when I was 8 years old. Without the transplant, I never would have gotten to know my grandma. My grandma means the world to me. Now my children know their great-grandma.
"If it affected my life like that, I'm sure it has affected a lot more people's lives. Donating your organs to someone who needs them when you're no longer here, I think, is the greatest gift you can give back when you're gone. The things doctors can do now with organ donations are amazing. Nothing is better than saving a life. The more people we have who are organ donors, the better off we'll be."
"It's hard to put into words the importance and the value of people allowing their organs to be used for organ transplant," Gilbride says. "I know that without them, three of my brothers and sisters would not be alive. And had this been more prominent back in an earlier day, my father would have lived long enough to see us be married and my children be born. There is not an issue that is more important than organ donation. Any consideration people could give to getting involved in an organ transplant program is priceless."