EAST RUTHERFORD, N.J. –** Twelve days ago, linebacker Jon Beason was in uniform for the Carolina Panthers when they defeated the Giants. He never could have imagined that he would play his next game for the Giants, who today acquired him for a 2014 late-round draft choice.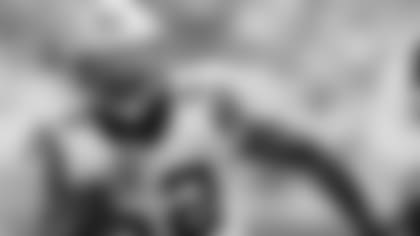 Photos from Jon Beason's Career](http://www.giants.com/photos/photos/Newest-Giant-LB-Jon-Beason-Photos/c15448ca-e64a-409f-ad6e-ed0957f8e129) "It's amazing," Beason said at the Quest Diagnostics Training Center, shortly after passing his physical. "It doesn't happen (often) with mid-season trades. But the one place I said if I wasn't in Carolina where I wanted to be was with a great organization like the Giants with a winning tradition, leadership, a 4-3 scheme where I can come in right now. I think I can really come out and impact the season."
How soon that is remains to be seen. The Giants host the Philadelphia Eagles on Sunday before playing again Thursday at Chicago.
"I know I'll come in tomorrow early and meet the coaches and I'll get my linebacker coach (Jim Herrmann) and we're going to cram," Beason said. "If they ask me to, I'll dress (Sunday) and I'll give everything I have. … It's just going to be terminology. I'm a smart player. I learn fast. Being a mike linebacker, a lot is on your plate. I think I actually thrive in that position. I'm going to get with coach as long as it takes and as fast as I can get it as soon as I want to play.
"The turnaround is the tough part. Those Thursday night games are always hard. We'll see what Coach (Tom) Coughlin has and whatever he says that's what I'll do."
This is the Giants' first in-season trade since Oct. 8, 1986, when they acquired running back Ottis Anderson from the St. Louis Cardinals for 1987 second and seventh-round picks. Anderson played for the Giants through the 1992 season and was on two Super Bowl-winning teams. He was the Most Valuable Player of Super Bowl XXV.
To make room on the roster for Beason, the Giants placed guard Chris Snee on injured reserve. Snee has a hip injury.
Beason, a 2007 first-round draft choice, was a three-time Pro Bowler (2008-2010) in Carolina. A longtime middle linebacker, he started the season's first two games at weakside backer but was replaced by former Giant Chase Blackburn two weeks ago. Beason played just one defensive snap vs. the Giants.
Asked if he knew his tenure in Carolina was coming to an end, Beason said, "I thought it was probable. And then when I wasn't playing that much lately I said I know I have value. I know somewhere else could use me and they made it happen."
Carolina's general manager is Dave Gettleman, who spent the previous 15 seasons working in the Giants' pro personnel department.
Beason thought he had a chance to join the Giants in the 2007. But the Giants selected cornerback Aaron Ross with the 20th overall selection. Carolina chose Beason with the 25th pick.
"(The Giants) were one of the teams that brought me in and I knew they were high on me and I thought they were going to take me, but you know the draft," Beason said.
Beason started every game at middle linebacker in each of his first four seasons, including a 2008 NFC Divisional Playoff Game. He is second in Carolina history with 691 career tackles. Beason owns four of the top six single-season tackle totals in team history with 169 in 2009, 162 in 2010, 160 in 2007 and 159 in 2008.
But Beason was slowed by injuries the past two seasons. In 2011, he started the season opener at middle linebacker at Arizona, where he suffered a torn left Achilles tendon in the third quarter. Beason's streak of 65 consecutive regular-season starts ended the following week.
Last year, he started the season's first four games before left shoulder and right knee injuries again forced him to go on injured reserve. Luke Kuechly took over at middle linebacker and was named the A.P. Defensive Rookie of the Year.
"In this league or in this business, injuries are like being late to work," Beason said. "That's how I try to describe it to people. It's only a matter of time before it happens. You hate it, but you deal with it and you go through it, but I know who I am and I know what I'm capable of.
"It's hard (missing so many games), but you understand that it's a process and you have to go through it and then once you come to grasps with it that you know you can't do anything about it. You might as well say, 'Let's get the surgery done' and now every day is building toward getting back out there and playing football. The injuries have been a problem, but I wouldn't change one thing because I know they're not going to define me."