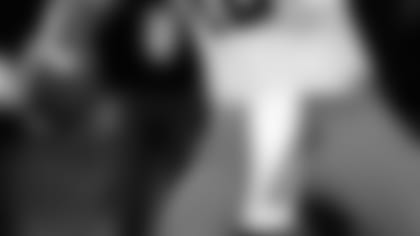 ](http://www.giants.com/media-vault/photo-gallery/4th-Rd-QB-Ryan-Nassib/0d939a45-ef24-4eed-af20-9165a2525044)
PHOTOS: QB RYAN NASSIB
EAST RUTHERFORD, N.J. –
The Giants today traded up in the fourth round of the NFL Draft to select a player they hope never plays for them.
That player is Syracuse quarterback Ryan Nassib. He was the highest-rated player remaining on the Giants' draft board, a passer with the credentials and grade so good Jerry Reese and Co. were convinced they had to make a move to get him.
"We talked about it early this morning that if he was still there, there was no way we were going to pass him up again, because he has too much value," Reese said.
The Giants traded their selections in the fourth (No. 116) and sixth (No. 187) rounds to Arizona for the 110th overall pick to grab Nassib.
"When (USC Quarterback Matt) Barkley went (at pick No. 98), we were like, 'Wow, this guy is not going to be there,' and so we thought it was in our best interest to move up a few spots if we could," Reese said. "We made several calls and finally got somebody who wanted to make the trade and we did it."
Despite that effort to get him, the Giants would prefer Nassib never steps on the field in a regular-season game for them. Eli Manning is 32 years old and is one of the NFL's very best quarterbacks. He has started 146 consecutive regular-season and postseason games since 2004. And the Giants hope he starts many, many more, an occurrence that would keep Nassib tethered to the sideline.
"If he doesn't ever play, that would be great," Reese said. "That's a good problem to have. If he needs to play, we're hoping that whatever time that is that he'll be up and ready to go if it ever happens that way. … We have Eli in the prime of his career and you actually hope this quarterback never plays," Reese said. "Again, what if something happens? We want to have a guy ready to go and this guy fits the pattern that we need.
"We hope Eli plays for a long, long time and maybe this young man will never play but if he has to play, we think he has a good skill set to help us win football games."
Nassib was at his family's home in West Chester, Pa. when he got the call from Tom Coughlin informing him he was a Giant.
"I blacked out a little bit," he said.
Nassib was asked if he considers himself the Giants' quarterback of the future or if he will ultimately play for another team.
"To be honest with you, I think either one," Nassib said. "If something were to happen to Eli, I feel like I can step in and be prepared enough to be able to take over the position. It is going to be huge shoes to fill, but I'll be ready for that. I'm ready for the challenge. He is a durable guy. God knows how he plays every game, plays every snap. And if the opportunity outside of the New York Giants happens – but right now all I'm worried about is being a New York Giant. I can't tell you how excited I am about it.
"I'm just so excited for the opportunity. I understand that he is a durable quarterback. I always compared myself to Eli. And it is crazy that I'm going to be playing with him. He is a tough, durable, smart guy; doesn't say much. That is the kind of quarterback I always wanted to be. Being able to sit behind him and learn from him – like some great quarterbacks did in the past – learn from an elite veteran like the Aaron Rogers of the world – it is going to be a great opportunity for me."
Nassib is the first quarterback drafted by the Giants since Sam Houston State's Rhett Bomar in the fifth round in 2009. The previous year, they selected Kentucky's Andre' Woodson in round six. Each of them had a short stay with the Giants, as did free agent Ryan Perrilloux in 2011.
"We've been thinking about developing a quarterback behind Eli for a while now," Reese said. "We think this is a perfect opportunity for us to get a young quarterback with a lot of talent – very smart, high test score, very productive, and again the value was too high for us to move on from."
Nassib is the second Syracuse player chosen by the Giants in their first four picks; they secured offensive lineman Justin Pugh with the 19th overall selection in the first round.
Nassib redshirted as a freshman in 2008 before appearing in 10 games and throwing 68 passes in 2009. He then started all 38 games from 2010-2012 and completed 791 of 1,312 yards (60.3 percent) for 9,190 yards, 70 touchdowns and 28 interceptions.
In 2012, Nassib led the Orange to an 8-5 record, including a 38-14 rout of West Virginia in the Pinstripe Bowl. He earned All-Big East Conference and Academic All-Big East first-team honors while becoming only the fourth player in conference history to throw for over 9,000 yards in a career. A team captain, Nassib last year set school single-season records by completing 294 of 471 passes (62.4 percent) for 3,749 yards, 26 touchdowns and 10 interceptions, topping his previous SU marks set in 2011 (259-of-415 for 2,685 yards and 22 scores).
"He's got the arm strength," Reese said. "We like the accuracy about him. We like that 'it' factor on him. When I first watched him he reminded me of the quarterback at Cincinnati (Andy Dalton) that played at TCU. He reminded me of Dalton in some ways when I first saw him, but our scouts liked him. Our coaches like him. Our quarterbacks coach (Sean Ryan) likes him. Too much value, we pick the highest guy on the board. He's the highest guy on the board, we picked him."
Nassib earned his undergraduate degree in finance from the Martin J. Whitman School of Management and is currently pursuing a master's degree in accounting.
The Giants currently have four quarterbacks on their roster: Manning, Nassib and veteran backups David Carr and Curtis Painter. They have kept only two quarterbacks on their regular-season roster in every season since 2008.
"With respect to how many quarterbacks we'll keep on the roster, we don't know," Reese said. "We used to keep three quarterbacks all the time and I think we went to two for the last several years and usually have a guy on the practice squad. We could very well keep three quarterbacks, so we'll make that decision when it's time. Right now we have four quarterbacks on the roster. … We're not sure we'll take four quarterbacks to camp. I can't answer that right now."