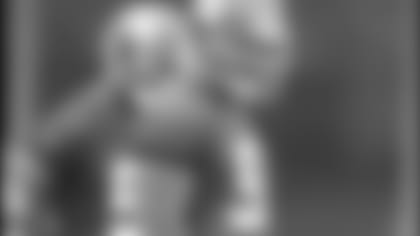 ](http://www.giants.com/media-vault/photo-gallery/Giants-return-to-facility/0f432fed-980a-45d9-97a5-a2a782774538)
PHOTOS: OTA PRACTICE
Tom Coughlin knows how to play to a room.
When you're up in front of some 300-pounders, they are sure to relate to wiping slates and cleaning plates.  And that's what he wants his team to do with the new season, especially the run stoppers in the middle of the defensive line.
"This is a new year," Linval Joseph said. "He always talks about [stopping the run] every year. But he just said it's a clean plate, and let's just start off the year the right way and finish the right way. But especially, begin the right way. Get rid of last year and that's dead to us."
In 2012, opposing runners feasted on the Giants' defense, which finished 28th in the NFL in giving up 4.6 yards per rush. So they added more big bodies to clog the holes on the line, notably second-round draft pick Johnathan Hankins (6-2, 320) and former Philadelphia defensive tackles Cullen Jenkins (6-2, 305) and Mike Patterson (6-1, 300).
They also re-signed Shaun Rogers and signed Frank Okam – both 350-pound veterans from the University of Texas – while Markus Kuhn works his way back from a torn ACL sustained in the middle of last season.
As the incumbent who has started the past two years, Joseph brings experience in the system that others can draw from.
"You have new faces all over the whole team," Joseph said. "You just bring them in, treat them as family, and try to get as much accomplished as you can.
"You just [tell them] to come in, get in your book, learn, do what everybody tells you to do and try to make plays. Just try to better the team."
This is the fourth offseason for Joseph, who was originally drafted by the Giants in the second round of the 2010 NFL Draft. Joseph finished 2012 with 59 tackles and 4.0 sacks, doubling his amount from the previous season.
Beginning with the first OTA on Wednesday, he hopes to keep improving those numbers.
"I felt like a kid again [today]," Joseph said. "Every year I want to get better. You start now and you just keep getting better. Every day you're getting better. You get into training camp, you get into shape, and when it comes time to play games – you just want to make plays."