In the Meadowlands, two Giants are training at 12,000 feet.
And it's helping their rehab process.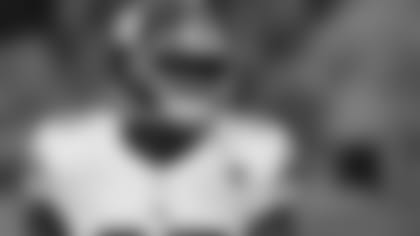 Roman Oben hands out grades](http://www.giants.com/photos/photos/Roman-Oben-grades-Giants-performance/e04f0d6f-c67f-4b66-8e28-ff2b54c5432e) Normally once a week, cornerback Terrell Thomas and running back Andre Brown strap on black, air-tight neoprene skins over their mouths and noses, known as elevation masks, and step into the weight room at the Quest Diagnostics Training Center looking like supervillains. The device is designed to simulate training at high altitude, forcing the user to work harder in a shorter period of time with less oxygen.
That makes it ideal for athletes playing catch-up like Thomas, who missed the entire 2011 and 2012 seasons after undergoing surgeries to repair his ACL, and Brown, who re-fractured his fibula this preseason and missed the first nine games of the year.
"Basically it's suffocating yourself so you can improve," Brown said. "You're tricking your body to saying you're working extra harder than what you really are.
"You feel like it's just a piece of plastic over your face and you can't breathe, and as soon as you take it off… [Brown then took a deep breath]… you get that wind back into your lungs."
Brown can't argue with the results.
The mask has been one facet of his return to the field, where he, after seven weeks back, leads the Giants in rushing attempts (126), rushing yards (481), and rushing first downs (30).
"I usually put this on on Tuesdays, which is our off day, and I'm running in the pool with it on or I do the elliptical with it on just to get some extra work," Brown continued. "It helps. I guess you would want to do it more, but I'm superstitious. I go every Tuesday with it."
Meanwhile, Thomas takes his turn on Wednesdays.
He and the training staff have designated it as his normal rest day from practice as the sixth-year pro continues his remarkable comeback from multiple knee injuries.
"I think it's helped just with the days off, make sure I'm still getting that cardio, that conditioning during the week," Thomas said. "Because when you have a day off and you have to play on Sunday, it can definitely affect you. So it's definitely helped."
Ironically, Thomas began using it heading into the Giants' home game against the Denver Broncos, who know something about high altitude. While the air doesn't get thin even in the last row of MetLife Stadium in East Rutherford, it was the high-paced offense led by quarterback Peyton Manning that had Thomas looking for something extra in Week 2.
In the season opener the week before, Thomas played in his first game since 2010. Since then, he has racked up 62 tackles, a sack and an interception and was named the NFC Defensive Player of the Week in late October after the Giants' victory over the Philadelphia Eagles.
"I felt a little tired after the [first] Cowboys game, so I thought I needed something else to help me train a little harder," Thomas said. "I saw people wearing it before just like on TV or Instagram or something. I just looked into it, searched on the internet and found one and just bought it."
"Everybody has their corny Bane jokes," Thomas continued, referencing the Batman villain. "None are original. I've heard them all."