EAST RUTHERFORD, N.J. –** The biggest football game of the season has long been scheduled to be played in MetLife Stadium. Jason Pierre-Paul suggested this week it's been moved up 10 weeks.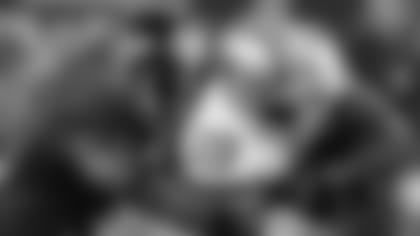 The game Pierre-Paul referred to is the Giants meeting Sunday in MetLife Stadium against the Dallas Cowboys. And while it doesn't quite have the same significance as Super Bowl XLVIII, which will be played here on Feb. 2, it is huge for both teams. So big, in fact, some Giants seem incapable of overstating its importance.
"This game will determine the outcome of our season," safety Antrel Rolle said. "That's just the reality. This is a team that has already beaten us once and this is a team that is ahead of us right now by one game in our division. So for me, that's just the way I'm looking at it. That's how I approach this game. It's a must-win game. There's no room for error, whatsoever. My mind is not even factoring in a loss. I don't see it. I'm not trying to even picture it. I'm just trying to make sure I keep my mind on the prize, still keeping it one game at a time."
"It's going to be a barnburner," defensive end Justin Tuck said.
The Giants will carry a four-game winning streak and a 4-6 record into the game. Dallas is 5-5, a half-game behind Philadelphia in the NFC East standings. But the Cowboys are 3-0 in division games, including a 36-31 victory over the Giants on opening night. The Giants are 1-2 in the NFC East, another reason they can't afford to fall again.
Of course, a little more than a month ago, it was farfetched to think this would be a critical game with regard to the Giants' division title aspirations. But they have rallied behind coach Tom Coughlin and are in the middle of a tightly-packed foursome.
"We're very much aware of having dug ourselves a very, very deep hole, and have started to make a little bit of progress to get out," Coughlin said. "It's nice that we do have a challenge of this nature. We call it an opportunity and all we can do - we have a six-game schedule, one game at a time, and just prepare ourselves as best as we possibly can for each opponent. Do the very, very best we can and hopefully keep our dreams alive."
The players insisted those dreams were real even when the team was winless.
"At 0-6, I didn't envision anything other than this," Tuck said. "Obviously, that doesn't mean that it will happen, but it did. All of us were very confident that we could get out of that hole. We felt as though we should have played a lot better to not have been in that hole to begin with. It's the cards that we've dealt ourselves and we need to figure out how to play the hand better. We did the last four weeks."
"We were hoping we could turn around and get hot and win a couple in a row and we've obviously done that and got back into the mix of things," quarterback Eli Manning said. "Obviously, we have to keep it going. It's a big game in the division and obviously they're a talented team, but this is where we wanted to be. Now we've got to go out there and keep playing well."
To do that, the Giants will likely stick to the formula that has worked so well the last month. That includes an improved rushing attack that has featured Andre Brown the last two weeks and a defense that has consistently shut down opposing ground games. Manning also played well in the victory over Green Bay last week, when he completed 25 of 35 passes.
But perhaps the important factor in determining the game's outcome will be turnovers. In their loss in Dallas, the Giants gave away the ball six times, including three interceptions of Manning passes. That offset their season-best offensive output of 478 yards, including 428 through the air.
"Hopefully, we'll do a little bit better job of taking care of the ball," Coughlin said.
Brown didn't play in the first game because he was on injured reserve with a broken leg, but he is well aware the Giants can't afford a repeat of their generosity with and disregard for the ball.
"You don't want to have as many turnovers as we had," Brown said. "The bad thing is that we had six, but there is also a good thing, a positive side that we were still in the game and probably still could have won. You want to eliminate the turnovers and play excellent football with the offense well-balanced. We want to be able to run and throw the ball real well but depending on the wind and all that stuff, who knows? As long as we go out there and put our best foot forward, I'm pretty sure that we'll come out on top."
The importance of the game virtually demands it.