EAST RUTHERFORD, N.J. –** Few teams, units or players in the NFL have commanded as much attention this season as the Philadelphia Eagles' up-tempo offense under new coach Chip Kelly.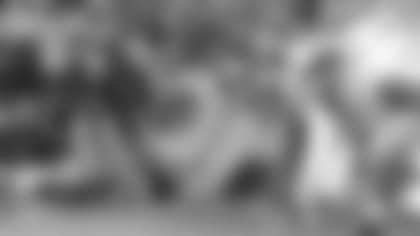 Know Your Opponent: Eagles roster The Giants saw it for the first time three weeks ago, when they allowed season-high totals of 439 yards and 28 first downs in Philadelphia's 36-21 victory in MetLife Stadium.
"It is as advertised, a high-speed offense, an offense that can do a million different things and has a lot of different threats," safety Antrel Rolle said. "Philly has a good offense, we understand that."
On Sunday, the Giants will be the first team to get a second look at the Eagles when the teams meet in Lincoln Financial Field.
"We actually did a good job in a lot of ways in the first game," head coach Tom Coughlin said. "It's 22-21 at the start of the fourth, but we were able to keep up with the tempo of the game. However, do you have to prepare specifically? Do you have to make adjustments, as such? Do you have a strategic plan in mind when you play against that style? Sure, you do."
"It's always difficult to prepare against them because they're a pretty dynamic offense," defensive coordinator Perry Fewell said. "Having played them once helps you as far as tempo is concerned. You know what to expect with the fast-paced offense and how they operate a little bit."
The Giants, who won for the first time this season Monday night against Minnesota, hope to gain some momentum heading into their bye. The Eagles are trying to rebound from a 17-3 loss to Dallas, their ninth consecutive defeat at home.
Perhaps more significantly, it was the first game in which the Eagles' offense stalled. Philadelphia had season-low totals of 278 yards (the first time they finished with less than 400) and 19 first downs. The Eagles punted on nine of their first 10 possessions.
Philadelphia did lose its starting quarterback, Nicks Foles, to a concussion in the second half. His replacement was rookie Matt Barkley, who threw interceptions on each of the Eagles' last three offensive series.
On Sunday, Philadelphia's quarterback carousel will turn back to Michael Vick, whose last start was against the Giants. He pulled his hamstring that day and missed the last two games.
Vick, running back LeSean McCoy and wide receiver DeSean Jackson give the Eagles one of the NFL's most dynamic offensive threesomes. It is the ability of those players and others, rather than the design and speed of Kelly's offense, that most concern the Giants.
The Eagles lead the NFL with 165.0 rushing yards a game and 5.2 yards a carry. McCoy tops all individual rushers with 685 yards, and Vick is second among quarterbacks (behind Seattle's Russell Wilson) with 307 yards on the ground. Vick ran for 79 yards against the Giants, including the 34-yard run on which he pulled up and grabbed his hamstring.
"(Vick's running) is part of their offense," Coughlin said. "He kept the ball when he saw a lane open up in front of him, so he had a lot of yards in the first half rushing, which can be frustrating. We had responsibilities for him, particularly in the option game, and of course, trying to keep him enclosed in the pass game, but he took off and did a nice job of that, which is part of the style of that offense. They depend on that. If you look at all the quarterbacks running that particular scheme, they seem to depend on that part of it as well."
Despite Vick's many talents, the Giants insist their most important defensive task is stopping the Eagles' running back.
"It's not really Vick, it's McCoy," cornerback Terrell Thomas said. "Vick is going to do what he's going to do. He's an explosive quarterback that can run the ball. He's just like another running back that can throw it. We just want to contain him but we want to stop McCoy. He's leading the league in rushing."
"Up front we love to see a good running back test us out," said defensive tackle Mike Patterson, a former Eagle. "We'll see how well we can play against an offensive line that knows how to pick up their blocks and a running back that can find the open hole. We're looking forward to this challenge."
In the first Giants-Eagles game, McCoy was limited to 46 yards on 20 carries.
"I think we did a great job against (McCoy)," Thomas said. "I think we had Vick covered pretty well other than that one scramble, and that was just a mental error on our defense. Just little stuff like that, we have to correct and we have to get turnovers. I think that was key in (the Minnesota) game, special teams-wise and on defense. I thought that kept the momentum in our favor and helped us get a win."
McCoy isn't the only premier back who has struggled to run against the Giants. On Monday, Adrian Peterson, the defending NFL rushing champion and 2012 MVP, gained just 28 yards on 13 carries. Before that, Chicago's Matt Forte was held to 67 yards on 19 carries. Combined total for McCoy, Forte and Peterson vs. the Giants defense the last three games: 52 carries for 141 yards, a 2.7-yard average.
"We've done a good job of stopping some of the premier runners in the game and, of course, it's an objective for us every week," Coughlin said. "It was an objective coming out of last season, so it's very important to us. Now, on the other hand, Michael Vick ran for 79 yards, so there you go."
"I just think it confirms that the big bodies we have inside are paying off for us," Fewell said. "I think that it confirms that the addition with Jon Beason at linebacker can help us be more effective and better in the run game and everybody bought into we had to stop number 28 (Peterson). He was the focus of our week and so that was a solid effort by all the players that we had to do that. We'll have to have that same type of solid effort this week because they have a dual, triple threat with not only Vick but McCoy. They've got a host of guys. We need that same type of focus this week."