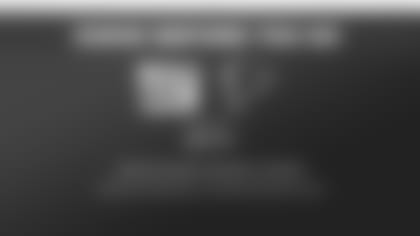 Sunday's game is presented by Pepsi, the Official Soft Drink of the New York Giants.
The first 25,000 fans in attendance will receive a commemorative Eli Manning Bobblehead.
The Giants and the Atlanta Falcons will both be looking for their first win of the season when they face off this Sunday. Big Blue suffered a heartbreaking 30-29 loss to the Washington Football Team at FedExField last Thursday night, while the Falcons went on the road and fell to the Tampa Bay Buccaneers, 48-25.
The last time the two teams squared off was in October 2018 when the Falcons earned a 23-20 victory at Mercedes-Benz Stadium. This game will be particular special as two-time Super Bowl MVP Eli Manning will be welcomed to the Giants Ring of Honor and will have his No. 10 jersey retired during a special halftime ceremony.
The New York Giants and Gatorade have selected Mr. Pat Gorbatuk of Manville High School (Manville, NJ) as the Lou Rettino High School Coach of the Week for Week 2 of the 2021 season. The Manville Mustangs defeated Dunellen on the road by a score of 48-6 in their first game of the season, after having their initial season-opener against Belvidere cancelled in the aftermath of Hurricane Ida. The victory was a tremendous achievement and an uplifting moment for a program that finished 2020 with a record of 0-5, and suffered significant flooding damage throughout their community just ten days prior to the game.
The New York Giants will be working with their long-time partner Mentor Newark to mentor students from Weequahic High School and Eagle Academy in Newark, New Jersey. MENTOR Newark works to transform the community through mentoring by amplifying and accelerating the work of local youth mentoring organizations and providing these organizations with professional development and capacity building services. Through the Giants Diversity, Equity and Inclusion Committee, staff members have volunteered to mentor students in professional development throughout the Fall. To kick off the mentoring relationship, Giants members joined Mentor Newark and students for their round table conversation at their 9th Annual Charity Golf Outing at Bayonne Golf Club in Bayonne, New Jersey on Monday, September 20th.  
In honor of Hispanic Heritage Month, we are highlighting our expanded partnership with Univision, the leading Spanish-language news station serving New York, New Jersey and Connecticut. This season, we have kicked off our Spanish Radio Broadcast on WADO 1280AM for all games and we have just started our new weekly Spanish TV program "Sabados con Los New York Giants" (Saturday's with the New York Giants) starring Giants Legend Victor Cruz and Univision's on-air talent Damaris Diaz. Tune in to Univision 41 on Saturdays at 6pm to check out the show!
New York Giants 50/50 Raffle
The Giants Foundation 50/50 Raffle is back at this week's game, with one lucky fan winning half of the raffle jackpot and the remainder benefiting The Giants Foundation. Be on the lookout for 50/50 Raffle staff members in bright red shirts throughout the stadium when the gates open up until the end of the third quarter. The winning ticket number will be announced during the fourth quarter, but the winning ticketholder does not need to be present to claim the prize. The total jackpot at the last game was $47,773 – let's get this game's jackpot total even higher! Click here for more information and for the 50/50 Raffle rules and regulations.
NJ Turnpike Interchange 19W
For the 2021 NFL season, Giants fans should be aware of the following regarding NJ Turnpike Interchange 19W (Formerly 18W) behind the American Dream. 
Arriving to MetLife Sports Complex from New Jersey Turnpike Southbound, Exit 19W is now EZ-Pass Only.
Non EZ Pass drivers should know to utilize Exit 16W to avoid a violation.
Exiting MetLife Sports Complex to reach 95 North/New jersey Turnpike North utilizing 19W is EZ Pass Only. Using 19W to enter the NJ Turnpike Southbound is open to both EZ Pass and Cash Users.
Non-EZ Pass users looking to reach the 95 North/NJ Turnpike North should follow signage to 95 North Cash Users.  (See Attached)
Port Authority Bus Terminal
Port Authority Bus Terminal to initiate gate changes effective September 12th to improve efficiency and service reliability. Changes may affect NFL game day travel. 
For all weekend NFL games, Gates 410, 411, 412 and 413 at the Port Authority of New York will now be used for the 351 Bus Service.
Most of NJ TRANSIT'S rail system connects at the Frank R. Lautenberg train station in Secaucus, N.J., which allows fans from the region to quickly and efficiently reach MetLife Stadium.
The Meadowlands Rail Service delivers guests directly to the front door of MetLife Stadium.
Trains leave from Secaucus Junction and the Hoboken Terminal, both located on the NJ Transit Line. For more details on the NJ Transit Line click here
The travel time between the Secaucus Junction train station and the Sports Complex station is approximately 10 minutes. The round-trip fare from Secaucus to the Sports Complex is $4.50 and $11.00 from New York Penn Station. Rail service commences approximately three and one half (3 1/2) hours prior to kickoff or an event and ends one (1) hour after the game or event.
Riders from New York or Connecticut can take select Metro-North trains from the New Haven line to Grand Central Station, where they can take the Subway to Penn Station. From Penn Station, guests will board NJ Transit Train to the Secaucus Line. Guests should visit MTA Metro-North Railroad's website or call the MNRR Travel Information line at 212-532-4900 for information on schedules and service locations. The Travel Information line is staffed between 8:30 a.m. and 5:00 p.m. on Mondays through Fridays, and an automated system is available during other times.
For Giants games, a prepaid parking pass is required.
Parking lots open 5 hours prior to the scheduled event time.
Tailgating is permitted in all MetLife Sports Complex parking lots, unless otherwise designated.
ONE CAR = ONE SPACE: Please be considerate of your fellow guests. Tailgating should be limited to the lined parking space and the area directly behind or in front of each vehicle. Blocking drive lanes is prohibited. Tailgating is also permitted on the medians that separate the parking lots from the roadways. See tailgating policies here.
Parking passes that are transferred or purchase MUST BE PRINTED.
The "GOLD" permit will get a guest into any "Gold" Lots (Lots B, D, J, K, L, M, P, Deck A and all lots near American Dream)
The "PLATINUM" permit will get a guest into any "Platinum" Lot (Lots E, F or G)
Please note, the numbers on the permits are for informational purposes only and do not guarantee a reserved spot in a specific lot.
The Bud Light Beer Garden, located outside of the MetLife and Verizon gates, will feature $5 Budweiser draft beers from 11:00 a.m. until kickoff. Mario Manningham* will be signing autographs from 11:30am until Kickoff. The B Street Band will be playing live from inside the Beer Garden at the Bud Light stage.
Let Stop & Shop provide you with all the food you need for the ultimate tailgate! Place your order at www.stopandshop.com/pages/giantsgamedaypickup by 11:00pm on Saturday 9/25/21 and Stop & Shop will bring your order to the MetLife Stadium parking lots for pickup.
Panini Photo Booth & Giveaway
Stop by the Panini Photo Booth and receive a commemorative Eli Manning Trading Card Pack. The photo booth will be located outside the stadium between the MetLife & Pepsi gates.
The MetLife Gate is a fun-filled fan destination on game day at MetLife Stadium. Fans can participate in the following activities:
Punt, Pass and Kick Field
Are you game day ready? Come show us your skills at the MetLife Punt, Pass and Kick Field!
Giants Pregame Radio Show on WFAN
The Giants pregame radio show will air on WFAN 660 AM. The show begins at 11:30 a.m. Hosts Lance Medow, John Schmeelk, Paul Dottino and Jeff Feagles get Giants fans ready for all the action with an in-depth preview of the game.
Giants Flagship Store Presented by Visa
Stop by the Giants Flagship Store presented by VISA for all the latest fan gear. You'll be able to find gifts galore, apparel for the whole family, and fun additions for your tailgate party.
Giants Legacy Club Presented by Hackensack Meridian Health
Make sure you take time to visit the New York Giants Legacy Club Presented by Hackensack Meridian Health. This team museum is located on the 100 Level Concourse nearest Section 144, just above the MetLife Gate. The Legacy Club is open to all fans, beginning when the stadium gates open through halftime of each Giants home game. Fans can relive the most memorable moments and view artifacts from throughout the team's history. Busts of the team's most celebrated players and personalities are displayed, along with each of the team's Super Bowl trophies and rings. It's a must-see exhibit for fans of all ages!
Investors Bank Activation
Investors Bank will be set up adjacent to the MetLife Youth Field, featuring a Giants Inflatable, and giving away special Eli Manning Decals!
Test your skills at the SAP Combine! Ahmad Bradshaw* will be signing autographs from 12:00pm to 12:45pm.
Eli Manning's Jersey Retirement and induction into the Giants' Ring of Honor, presented by Investors Bank.
On Sunday, Keyon Harrold, jazz trumpeter, songwriter and producer, will perform the National Anthem.
The Teaneck Fire Department Honor Guard will present the colors prior to Sunday's game.
Eli Manning's jersey retirement and induction into the Giants' Ring of Honor ceremony, presented by Investors Bank.
IMPORTANT GAMEDAY UPDATES AND INFORAMTION
MOBILE TICKETING AND SEATING
Digital tickets are the safest way for guests to receive and manage tickets as they eliminate touchpoints. To facilitate contactless entry, all tickets for MetLife Stadium events will be delivered digitally and scanned from guests' smartphones at the gates. For more information on mobile ticketing, visit giants.com/mobiletickets.
Before arriving at MetLife Stadium, download the Giants app and be sure your phone is fully charged. Upon arrival, connect to the complimentary WiFi network and have your ticket displayed on your mobile device.
Guests can display more than one ticket on the same smartphone.
Digital tickets are protected by Ticketmaster's SafeTix™ technology that continually generates a new and unique barcode that automatically refreshes every few seconds so the barcode cannot be stolen or copied. As a result, camera screenshots or paper printouts will not work. If you place your digital ticket in your mobile wallet, no barcode will be visible – however, the scanners will detect it.
Text Messaging for Assistance
Guests who wish to report issues or concerns, ask for information or call for assistance in a fast, easy and convenient way can do so by texting our GuestASSIST text message service. Guests should address the text message to 78247, type the word MLS followed by a space, the request issue and location. Stadium personnel will respond quickly and accordingly.
To continue to provide a safe experience, guests may carry one bag that is clear plastic, vinyl, or PVC and no larger than 12"x12"x6", or a one-gallon clear plastic freezer bag (Ziploc bag or similar).
A small purse or wallet no larger than 4.5"x6.5" with or without a handle or strap, is permitted in addition to the clear plastic bag.
Bags that do not meet these specifications can be checked-in at our bag check trailers (located outside each open gate).
For a complete list of permitted and prohibited items, see our 'Carry-In Policy'.
The Giants Women's Club, which launched in 2014, has over 14,000 members from around the world and continues to grow. Over the past seven years, we've hosted a wide range of events from Training Camp visits, to Chalk Talks and group workouts so that our members can get to know each other – and we've had a blast! We're looking forward to getting back to football and keeping our members active and involved with the team. If you're over the age of 18 and want join The Giants Women's Club, you can sign up at no cost at www.GiantsWomensClub.com. You can also follow us on Twitter @NYGWomensClub and like us on Facebook at New York Giants Women's Club. We thank you for helping to grow The Giants Women's Club with the greatest fans in the NFL.
Giants PostGame Live Broadcast presented by Mercedes-Benz from the Legacy Club Deck
Check out Giants PostGame Live presented by Mercedes-Benz, featuring Madelyn Burke and David Diehl on the Legacy Club Deck stage immediately following the conclusion of the game.
A designated Rideshare Zone is located in Lot E off of West Peripheral Road, right outside of the Verizon Gate. When you request a ride from a rideshare service such as Lyft or Uber at MetLife Stadium, your pickup location will default to a pin in the pickup zone. Once you place your request, head to the Rideshare Zone in Lot E and look out for a call or text from your driver to let you know which row they are parked in.