Special Teams Assistant Larry Izzo
*Played for the Patriots from 2001-08. In his first season with the Patriots, Izzo was voted special teams captain for the first of eight consecutive seasons and led the unit with 22 tackles.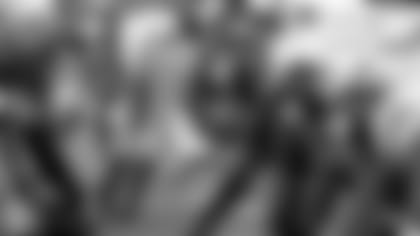 Tight Ends Coach Michael Pope
*Joined the Patriots in 1994 as running backs coach before moving to tight ends coach in 1995.
Assistant Strength and Conditioning Coach Markus Paul
*Held the same position with the Patriots from 2000-04.
Head Coach Bill Belichick
*Joined the New York Giants' coaching staff in 1979 launching a 12-year tenure with the Giants. In his years with the Giants, Belichick held numerous positions, including Special Teams Coach, Linebackers Coach, Secondary Coach, and Defensive Coordinator. During his time as the Giants defensive signal caller, his units were never ranked lower than 11th in the NFL and finished as high as second in the league three times, including the Super Bowl seasons of 1986 and 1990.
*Played for the Giants from 2010-11. In 2011, Ballard finished the season with 38 catches for 604 yards (15.9 avg), 4 touchdowns and played in Super Bowl XLVI when the Giants defeated the Patriots.
GIANTS NEW ENGLAND-AREA CONNECTIONS
Head Coach Tom Coughlin: quarterbacks coach at Boston College from 1981-83 and then held the title of head coach from 1991-93.
WR Victor Cruz: finished with 131 receptions for 1,958 yards and 11 touchdowns at UMass. Cruz was a two-time first-team All-Colonial Athletic Association selection.
T Will Beatty: played in 39 games with 35 starts at UConn.
RB Michael Cox: played three years of football at Avon Old Farms High School in Connecticut. After playing three years at Michigan, Cox finished his college career at UMass.
LS Zak DeOssie: played linebacker at Brown University, where he recorded 315 tackles with 10.5 sacks.
LB Mark Herzlich: attended Boston College, where he was named first-team All-America and ACC Defensive Player of the Year and finished with 65 tackles and 4 sacks in 2008.
DE Mathias Kiwanuka: recorded 245 tackles (155 solo) and set school records with 37.5 sacks and 64.5 stops for losses at Boston College.
G Chris Snee: second-team All-American selection and an All-Big East Conference first-team in 2003, his final season at Boston College.
Offensive Coordinator Kevin Gilbride: born in New Haven, Conn. and earned a degree in physical education from Southern Connecticut State, where he played quarterback and tight end.
Special Teams Coach Tom Quinn: defensive coordinator at Boston College in 1995. He was defensive coordinator at College of the Holy Cross from 1996-98.
Cornerbacks Coach Peter Giunta: played defensive back and running back at Northeastern University. He began his coaching career in Massachusetts, where he was an assistant coach at Swampscott High School from 1978-80.
Running Backs Coach Jerald Ingram: held the same position with Boston College from 1991-93.
Strength and Conditioning Coach Jerry Palmeiri: director of strength and conditioning at Boston College from 1993-94.
Offensive Assistant Ryan Roeder: assistant offensive line coach at College of the Holy Cross in 2004.
Quarterbacks Coach Sean Ryan: graduate assistant at Boston College from 2001-02. Prior to joining the Giants, Ryan spent the 2006 season as recruiting coordinator, running backs coach and head coach of the junior varsity team at Harvard University