SEATTLE - When Shaun O'Hara missed three games earlier this season because of injuries to his left ankle and Achilles tendon, the Giants simply plugged in fourth-year pro Adam Koets to take his place at center.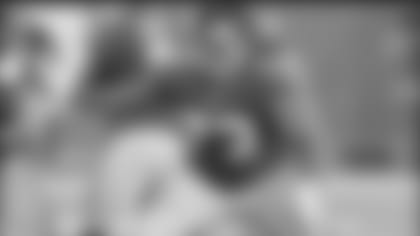 O'Hara will miss today's game against the Seattle Seahawks in Qwest Field, but this time the Giants are compensating for his absence by reshuffling 60 percent of the offensive line.
Rich Seubert will move over from left guard to play center, David Diehl will slide over from left tackle to play guard and Shawn Andrews will make this first start as a Giant and the first of his career at left tackle.
Seubert, a 10-year veteran who is the longest-tenured Giants player, has one previous regular season start at center, on Dec. 17, 2006 vs. Philadelphia. He started the Aug. 28 preseason game in Baltimore at Center and has filled in at the position at other times.
Since his arrival in 2003, Diehl has started all 126 regular season and postseason games while playing every position but center. Diehl has started 30 games at left guard, 15 each in 2005 and 2006. His last start at guard was on Dec. 24, 2006 vs. New Orleans. He moved to left tackle the following week and started every subsequent game there until today.
Andrews has made 52 NFL starts, including two in the postseason, at right guard with Philadelphia from 2004-08. He was a Pro Bowler at the position in 2006 and 2007. His most recent start was at Dallas on Sept. 15, 2008. He suffered a back injury that night that forced him to miss the rest of the 2008 season and all of 2009.