EAST RUTHERFORD, NJ** - NFL training camps aren't what they used to be, thanks to the 2011 collective bargaining agreement and coaches understandably fearful of seeing player suffer injuries. Gone are the days of twice-daily practices, players in full pads for every workout and frequent tackling. The Giants are one of many teams that refrain from tackling in camp practices.
For those teams, the first chance for full-scale live action occurs in their preseason opener. The Giants will play theirs tonight in Pittsburgh against the Steelers in Heinz Field.
](http://www.giants.com/photos/photos/Training-Camp-Practice-Photos---808/be31ecc6-e29d-4d82-ada6-13dfc67e8f62)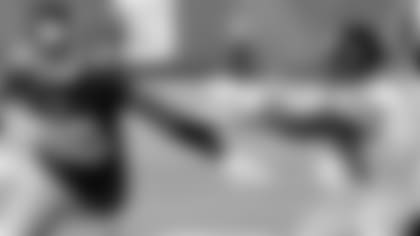 "There's a lot of hitting (in camp), there's just not a lot of tackling," coach Tom Coughlin said. "That's the thing you're not prepared for, other than the form tackling, which we do. That's the number one defensive drill that we do. You're going to tackle live for the first time. You're going to be brought to the earth, live, for the first time. Ball security is a big issue. Head up, see what you hit. All of those types of things that are taught from a fundamental standpoint are now going to happen full-speed. People have to be ready for that."
Especially against Pittsburgh, which is traditionally a physical team that does its share of tackling in camp.
The Giants, however, are more concerned with seeing how far they've progressed and how well they perform on offense, defense and special teams.
"The first preseason game does allow you that first opportunity to be full-speed and then everybody gets a little sense of the tempo," Coughlin said. "It grows from that point on. It will be a good first experience, I'm sure. We talk about being physical and playing against a very physical team, so I think all good things will come out of it."
Eli Manning and the Giants starters will get approximately 15 snaps, which should be enough tocover the first quarter.
"I just want to go out there and have however many series we get and just be able to run our offense efficiently, be able to run the ball, throw the ball well, make good decisions, make sure guys are in the right spots," Manning said. "Obviously, we've been practicing for a number of weeks and now go against a new defense, a new style of defense, a 3-4 team, and so just make sure everybody is on the same page or that we're effective and we're able to have some good drives."
It will be the Giants' first preseason game in Pittsburgh since 1992. The teams last met in the preseason in MetLife Stadium on Aug. 21, 2010, a 24-17 Steelers victory.
The preseason series is tied, 13-13. The teams first met in a preseason game on Aug. 22, 1952 – a 24-10 Giants victory in Des Moines, Iowa. The Giants and Steelers played each other every summer from 1978-89. They did not meet in the preseason from 1993-2009. Last Nov. 4, the Steelers defeated the Giants, 24-20, in a regular-season game in MetLife Stadium.
The Giants are 34-26-3 in preseason openers since 1950.