EAST RUTHEFORD, N.J. – The Giants' most promising return specialist is back on the roster.
Quadree Henderson was signed today off the team's practice squad, just two days after he rejoined the squad and four days after he was released. The Giants waived Henderson on Tuesday, when rookie defensive lineman RJ McIntosh was activated off the reserve/non-football illness list.
Henderson is expected to return punts and kickoffs when the Giants play their first post-bye game Monday night in San Francisco.
"That roster move (on Tuesday) was to make room for RJ, who we had to move up at that point," coach Pat Shurmur said. "We hoped that he would clear and then be available for us, like he was. Put him on the practice squad, and now we bumped him up."
To create space on the roster for Henderson, the Giants waived Patrick Omameh, an offseason acquisition who started the season's first six games at right guard.
"It's always hard when you release a veteran, especially a guy like Pat - probably one of my favorite people that I've met doing this," Shurmur said. "Sometimes, it's about the player. Sometimes, it's about the situation, the numbers, and all that, but we wish Pat well."
The 5-8, 192-pound Henderson was first signed to the Giants' practice squad on Oct. 4 and to the active roster on Oct. 21. He played in the Giants' two most recent games, at Atlanta and at home vs. Washington. Henderson averaged 7.8 yards on six punt returns, including a 21-yard runback that was the longest by a Giants player this season, and 22.4 yards on five kickoff returns.
Henderson is a proven returner. He finished his career at the University of Pittsburgh with a school-record seven return touchdowns, four on kickoff returns and three on punt returns while averaging 26.6 yards on 73 kickoff returns and 13.4 yards on 37 punt returns.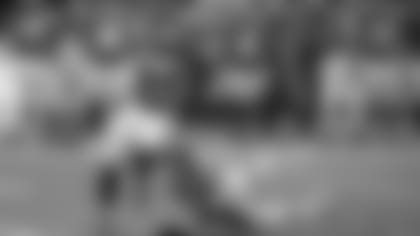 Omameh, a six-year veteran, signed with the Giants on March 16 after previously playing for Tampa Bay, Chicago and Jacksonville. He was inactive because of a knee injury for the game against the Falcons on Oct. 22 and played just three snaps on special teams vs. Washington six days later.
"Pat came in, and to his credit, he's been a good soldier," Shurmur said. "We moved him around. We brought him in. We were going to play him at left guard. We signed him before we knew we were going to draft Will (Hernandez, who has started every game at left guard), so he moved over to right guard. He battled for us. You just make changes, and that's just the way it goes. We're constantly looking to try to get the right combination of guys. We don't have a problem playing young players. We'll constantly change the roster, and then they players that are here, we're going to continue to develop them. That's why they play."
The Giants were awarded guard Jamon Brown off waivers from the Los Angeles Rams on Oct. 31. He will make his Giants debut in San Francisco.
Omameh is the second opening-day starting offensive lineman to leave the Giants. Ereck Flowers, who started the first two games at right tackle, was waived on Oct. 9. He is now with the Jacksonville Jaguars.
*Once a week, Pat Shurmur's daily meeting with the media is a short Q&A he conducts during a brief stop on his way to practice. During the informal conference yesterday, Shurmur was asked a question he seems to get every time he speaks to reporters, which is some variation of what can the Giants to do be more productive in the red zone?
The query is not without logic. The Giants have scored just 10 touchdowns on 25 trips inside their opponents' 20-yard line, a 40 percent success rate that places them next-to-last in the NFL.
"This is the hundredth time I've answered that question," Shurmur said. "It's pretty obvious that we've got to get the ball in the end zone. There's other things the people that crunch the numbers will tell you that we're doing much better (offensively) than a year ago, but it comes down to scoring and preventing scores. When we get down there and we choose to run the ball, we've got to make yards, and when we choose to pass the ball, we've either got to get a completion or we catch it and run in the end zone, or throw the ball and have it completed in the end zone. That's what we have to do better and that's really what we've been talking about now for quite some time."
The players are as perplexed as anyone about the lack of red zone production, and they believe it will improve in the season's second half. And they're also fielding their share of questions about their desire to eliminate the problems close to the goal line.
"(It's) just not being assignment sound," wide receiver Sterling Shepard said. "I feel like one guy is always off or two guys off when we get into the red zone, and that can kill your chances of scoring.
"I feel differently whenever we get there. You want to be the person to make the play. I feel like if everybody has that mentality, then we'll get in, but it all comes back down to being fundamentally sound because like I said, if you have one guy messing up missing an assignment, it kills your chances." 
Odell Beckham, Jr. believes the easiest path to the end zone is to not stop in the red area in front of it.
"I think that any chance I get, and all of us –Saquon (Barkley), Shep, Evan (Engram), you get a chance to take something to the house, it's time to go," Beckham said. "There's no more holding back, playing it safe, or waiting for the next play, because you don't know if you're going to have a next play, and that's just the mentality we have to take. Any chance I get now, and I catch one of these slants, there's no motion wasted. It's just got to be somebody has got to come catch me. You trust your training, you trust your speed – somebody has got to come catch me. I'm trying as much as I can to make these plays, explosive plays, and we all need to do that."
*The Giants are at full strength for the game against the 49ers. For the first time this season, not one player is listed on their final injury report. Each of the 53 players on the active roster was a full participant in practice today.