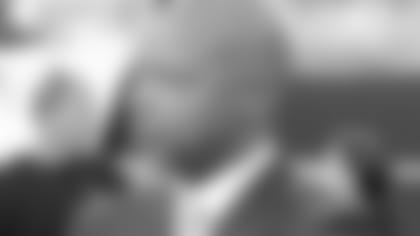 General manager Jerry Reese likes to play things close to the vest when they're not yet set in stone. But with a week of free agency and a handful of signings under his belt, the Giants general manager elaborated on some of the team's personnel moves thus far this offseason. He even provided a glimpse at his blueprint when it comes to free agency, which is never the same year to year.
"People ask you, 'What is your strategy?'" Reese said in an interview on SiriusXM NFL Radio. "I don't think it's a template. Some years you have more money than other years and you think, 'I can get out and strike quickly.' I remember one year we went out and got Antrel Rolle, then another year we went out and got [Chris] Canty, [Michael] Boley, and some guys like that and went out and got a center one time. So you have to strike when you can, but other times you have to sit back and wait and let the market settle down a little bit. And then you can do some mid-level [acquisitions].
"I think there are three levels of free agency. I think of the first level, you get the guys out there that are going to get the money right away. Then there's a second level, and then you can bottom feed on the guys left at the end."
On one of those levels was veteran defensive tackle Cullen Jenkins, whom Reese signed last week. Reese, the coaches, and the rest of the front office are excited about what the former Eagle and Packer can bring to the table.
"He plays football like it's supposed to be played," Reese said. "This guy is a hardnosed, professional football player, and I think he's really going to help us upfront."
As for the front on the offensive side of the ball, the Giants signed tight end Brandon Myers this weekend to fill an opening left by Martellus Bennett, who recently signed with the Chicago Bears.
"Number one, he knows how to play," Reese said of Myers. "He's, again, a professional football player. In the past, [tight ends coach] Mike Pope, we got him some young kids -- he had Kevin Boss, then he had Jake Ballard, and then Martellus hadn't played a lot. He had played behind the Hall of Fame tight end in Dallas and hadn't played a lot. So this guy [Myers] has played quite a bit. He caught 79 balls last year in Oakland. There's not a lot of training. He's quarterback friendly. He catches 80 balls and people really don't know that much about him. So we think he'll be a great piece to our offense, and I think Eli will have a relationship with him really quickly."
Myers will compete with, among others, Bear Pascoe and last year's fourth-round draft choice Adrien Robinson at the tight end position. Pascoe recently re-signed for a fifth season with the Giants, while Robinson, who suited up just twice in 2012, hopes to take a step forward in his second year.
"We wished we could have gotten him in some games more last year, but it just didn't work out that way for us to get him in some games," Reese said about Robinson. "But the guy is 280 pounds and ran 4.57 [40-yard dash] at his pro day, and we think he can develop into a terrific blocker. In practice, he flashed some things that were really like some 'Wow' things, so we're expecting him to make a jump this season and get in there and get going and give contributions as our big blocking tight end. And he can catch the ball really nicely."