Giants interim GM Kevin Abrams interviewed for the permanent position on Friday: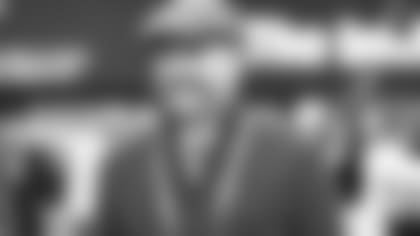 EAST RUTHERFORD, N.J. – Kevin Abrams, the Giants' interim general manager, today interviewed for the organization's permanent GM position.

Abrams, the assistant general manager for 16 years and a member of the front office for 19, was interviewed by team president John Mara and former general manager Ernie Accorsi, who is consulting with the franchise on the selection process. Abrams met earlier in the week with team chairman Steve Tisch.
Abrams has been the interim general manager since Jerry Reese was dismissed on Dec. 4. He is the fourth candidate to interview for the job, and the third with close ties to the Giants franchise. Marc Ross, the team's vice president of player evaluation, interviewed on Monday. Dave Gettleman, the former Carolina Panthers general manager who spent 15 years as a personnel executive in the Giants' front office, sat down with Mara, Tisch and Accorsi on Wednesday. Louis Riddick, a former pro personnel director for both the Washington Redskins and Philadelphia Eagles and a current ESPN analyst, interviewed yesterday.
Before he was named assistant general manager by Accorsi, Abrams served three years as the Giants' salary cap analyst, beginning in July 1999.
Abrams is the team's primary negotiator for player contracts, works with the college and pro personnel departments to evaluate players in preparation for the NFL Draft and free agency, and is responsible for managing the Giants' salary cap, football data analysis, related strategic planning for football operations and coordinating the organization's compliance with the NFL's Collective Bargaining Agreement.
Abrams came to the Giants from the NFL Management Council, where he helped to monitor the league-wide salary cap and analyzed all new player contracts with respect to the rules and regulations of the Collective Bargaining Agreement. Prior to working at the Management Council, Abrams completed internships and graduate assistant work in player personnel, recruiting, public relations and corporate relations with the Washington Redskins, the Ohio University football program, the Buffalo Bills and the London Monarchs.
Abrams was raised in Toronto, Canada. He completed his undergraduate degree at the University of Western Ontario and earned his master's degree in sports administration from Ohio University, where he is currently a member of the Sports Administration Advisory Board.