EAST RUTHERFORD, NJ - In 1996 and 97, the Giants drafted two of the best wide receivers in their history in Amani Toomer and Ike Hilliard. That was followed by several drafts in which they had more misses than hits at that position.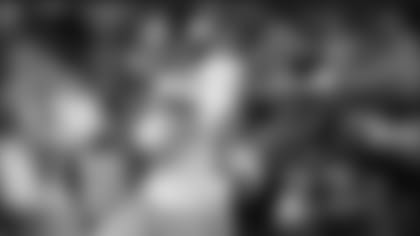 Joe Jurevicius (second round, 1998), had  his moments, but Brian Alford (third round, 1998), Ron Dixon (third round, 2000), Tim Carter (second round, 2002) and Sinorice Moss (second round, 2006) never played up to their early-round selections.
But the Giants have again reversed course. In recent years, they have chosen Steve Smith (second round, 2007), Mario Manningham (third round, 2009) and Hakeem Nicks (first round, 2009). All three have worked their way into the Giants record book and have set a high standard for Jerrell Jernigan, the wideout from Troy State taken on the third round of this year's draft.
Smith emerged at the end of an injury-gutted rookie season to make several important catches in the playoffs, including a 12-yard reception for a first down in Super Bowl XLII that immediately preceded Eli Manning's game-winning touchdown pass to Plaxico Burress.
After a sophomore season in which he caught 57 passes, Smith came into his own in 2009, when he led the NFC and was second in the NFL with a Giants-record 107 receptions, 25 more than the franchise's previous single-season mark (Toomer had 82 in 2002). Smith was the first Giant to stand alone at the top of the NFC since tight end Bob Tucker led the conference with 59 catches in 1971.
After Smith's outstanding season, he became the first Giant to play in the Pro Bowl as a wide receiver since Homer Jones in 1968.
Last year, pectoral and knee injuries limited Smith to only nine games, but he finished third on the team with 48 receptions for 529 yards and three scores. Smith finished the season with 220 career catches, which leaves him 18th on the Giants' career list.
Although Smith was unable to match his 2009 production, Nicks and Manningham far exceeded theirs.
Nicks led the Giants with 79 receptions for 1,052 yards and 11 touchdowns, despite missing three games because of injury. The 79 receptions left Nicks seventh in the NFC and tied for 12th in the NFL. They also tied for the third-highest total in Giants history (Toomer caught 79 passes in 1999). Nicks was the 10th player (and ninth wide receiver) in Giants history with 1,000 receiving yards in a season.
His 11 touchdown receptions tied Del Shofner (1962) for the third-highest total in Giants history. Manningham added nine touchdown catches as he and Nicks became the first pair of Giants with at least nine touchdown catches since 1967, when Jones had a franchise-record 13 and Aaron Thomas had nine. Nicks was the first Giants receiver to hit double digits since Plaxico Burress had 12 touchdown catches in 2007.
Nicks had 12 receptions at Houston on Oct. 10, The 12 catches tied the Giants' record for catches in a game by a wide receiver and was one shy of the overall mark. Toomer caught 12 passes at Philadelphia on Sept. 17, 2006. Tight ends Mark Bavaro (Oct. 13, 1985 at Cincinnati) and Jeremy Shockey (Nov. 11, 2007 vs. Dallas) also had 12 receptions in a game. The franchise record is 13, set by running back Tiki Barber at Dallas on Jan. 2, 2000. Nicks joined Toomer as the only players in franchise history to record at least 12 catches (12), 130 yards (130) and two touchdowns in a single game.
Nicks had 110 yards the previous week vs. Chicago to become the first Giant with more than 100 receiving yards in consecutive games since Burress in 2005.
When he scored three touchdowns in the Giants' season-opening victory over Carolina (on receptions of 26, 19 and five yards), Nicks was the first Giants player to accomplish that feat since Burress on Sept. 9, 2007 at Dallas.
Manningham was second on the team with 60 catches for 944 yards and those nine scores. In the final two games, he caught Manning touchdown passes of 85 and 92 yards that were two of the nine longest pass plays in the 86-year history of the Giants. Manningham was one of just two NFL receivers to score on two receptions of at least 85 yards in 2010. The other was Philadelphia's DeSean Jackson.
Manningham had seven touchdown receptions of 25 or more yards, which placed him second in the league behind Pittsburgh's Mike Wallace, who had nine.
Manningham tied his career high with 10 receptions vs. Dallas on Nov 14.
In the final three games, Manningham caught 16 passes for 346 yards, a 21.6-yard average. In order, Manningham totaled 113, 132 and 101 yards to become the first Giants receiver with three consecutive 100-yard games since Jones in 1968.
Manningham's 132 yards at Green Bay were the most by a Giants receiver since Smith had 134 at Kansas City on Oct. 4, 2009.
Jernigan is clearly going to have some big shoes to fill.