EAST RUTHERFORD, NJ - This past weekend, Giants head coach Tom Coughlin held his15th annual Tom Coughlin Jay Fund Foundation Celebrity Golf Classic in partnership with THE PLAYERS.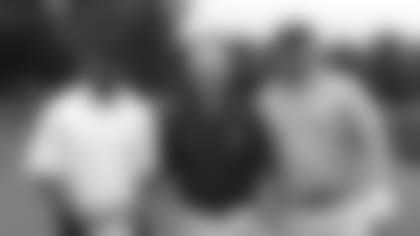 On Sunday, a dinner and auction was held at the TPC Sawgrass Clubhouse in Ponte Vedra Beach, Fla. The next day, the celebrity golf classic was played at the famed TPC Sawgrass Stadium Course, the site of The Palyers championship the previous week.
The event attracted celebrities such as NFL head coaches John Fox, Ken Whisenhunt and Marvin Lewis, executives Bill Polian and Gene Smith, Pro Football Hall of Famer Floyd Little, University of South Carolina coach Steve Spurrier, former coach Dick Vermeil, college basketball great Christian Laettner, several Giants players, including Eli Manning, Shaun O'Hara, Rich Seubert, Chris Snee, Terrell Thomas, Lawrence Tynes and Jeff Feagles (now retired) many of Coughlins' former Jacksonville Jaguars players, notably Mark Brunell and Tony Boselli.
Coughlin established the Jay Fund in 1996 in honor of Jay McGillis, who played safety for Coughlin's first Boston College team in 1991. Jay passed away in 1992, but he and his family set an impressive example of courage and dignity as they dealt with his battle with leukemia. The mission of the Jay Fund is to assist children with leukemia and other cancers and their families by providing emotional and financial support to help reduce the stress associated with treatment and improve their quality of life.
Since its inception, the Jay Fund Foundation has helped approximately 4,000 families of children with cancer. We have distributed $2.8 million in grants to help those families. The annual golf tournament has raised more than $3.2 million.
If you'd like to submit a question or comment to Michael, click here.