EAST RUTHERFORD, N.J. –** Brandon Mosley is one of the most anonymous Giants, but Saturday night he will have one of the team's most important jobs – protecting Eli Manning.
Mosley has worked with the first team this week and will likely start at right guard Saturday night when the Giants open their preseason schedule in Pittsburgh.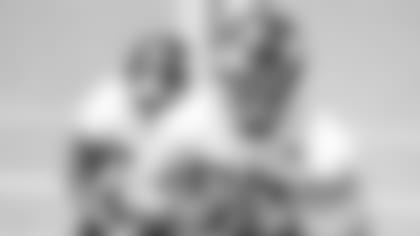 Photos: Training Camp Practice](http://www.giants.com/photos/photos/Training-Camp-Practice-Photos---807/179d374b-12ae-44c0-ad97-2b48d9b93e20) "He's had some very good practices," coach Tom Coughlin said after today's workout at the Quest Diagnostics Training Center. "He occasionally suffers from a lack of experience when something new confronts him. He's been impressive. He's a tough kid. He's battling."
Chris Snee, a fixture at right guard since 2004, was removed from the physically unable to perform list yesterday and is not ready to fully participate in practice or play in a game. James Brewer, who had replaced Snee, suffered a concussion yesterday. First-round draft choice Justin Pugh, who might have taken some reps at guard, is also sidelined with a concussion.
Next up is Mosley, a 2012 fourth-round draft choice who spent his entire rookie season on injured reserve after suffering an ankle injury in the preseason. Mosley took both the first and second-team snaps yesterday after Brewer left practice. Today, he stayed with the starters and rookie Eric Herman worked with the second and third teams.
"Things just happen faster with the first group, because they have been doing it a lot more, along with the slants and blitzes and all kinds of things," Mosley said. "You have to be on your Ps and Qs a lot better than any other time."
Mosley said being promoted to the first team, even temporarily, has boosted his confidence.
"I've just got to work even harder," Mosley said. "I'm glad they gave me an opportunity, I'm very happy for it. I'm pumped. I want to try to do my best to make them happy, to fill any spots that I need to."
Although he didn't play last season, Mosley said he is more comfortable in this camp than he was a year ago. He sat in meetings throughout the 2012 season, which enhanced his understanding of the offense. In addition, diligent work in the weight room has increased his strength.
"I definitely missed playing," Mosley said. "That was the longest I haven't played football since grade school, so I was definitely ready to get back into it."
Now he's so into it he will probably start in his first game. It's a big deal to Mosley, even if it is in August.
"It would be huge," he said. "It would be huge for anybody to get their first start, but you've just got to go in there and do your best."
*Defensive end Justin Tuck was held out of practice as a precaution with a tight back. Coughlin said he expects Tuck to play Saturday, but added, "He'll have to do a little bit of improving."
With Tuck sidelined, tackle Cullen Jenkins took some snaps at end, a position he has played in the past.
"He's a tough guy to block no matter where he is," Coughlin said. "He's very effective, very good. Moves well. Just gives us a nice piece of versatility to be able to play him basically wherever we need."
*In addition to Brewer, running back Ryan Torain missed practice with a concussion suffered yesterday. Rookie safety Cooper Taylor has a hamstring injury.
*Pugh again stood with his teammates and watched practice.
"I hope he gets cleared this weekend for next week," Coughlin said.
*Safety Deon Grant, who last played on the Giants' Super Bowl XLVI championship team, announced his retirement today as a Giant.
"It makes me smile," Coughlin said. "He's one of our guys. He did a great job when he was here. Mr. Versatility. He played linebacker. He played back in the secondary. We had a package basically designed to get him and others on the field at the same time and he responded very, very well. He was a very, very smart player; a guy who could direct traffic back there. The guys really respected him. He had the ability to recognize when things weren't championship quality and he would call people's attention to that and guys respected him for that. I look forward to seeing Deon again and see if we can get him in here and talk to our team, too. He does a very good job of that."
*Camp attendance: Yesterday: 2,141. Today: 1,171.
*HBO will premiere "Glickman," the documentary of longtime Giants announcer, Olympian and broadcast pioneer Marty Glickman on Monday Aug. 26 at 9 p.m. Executive produced by Martin Scorsese and written, produced and directed by his longtime radio producer James L. Freedman, "Glickman" will take fans through the Brooklyn native's amazing life, from his time at James Madison High School through his experience being denied a chance because of his Jewish roots to participate in the Berlin Olympics to his work creating and implementing many of the techniques used in broadcasting today. The longtime voice of the Knicks as well as the Giants, Glickman also served as mentor to some of sports broadcasting's biggest names, from Marv Albert and Bob Costas to current Giants voice Bob Papa and many others.  With stories by Jerry Stiller, Larry King, Frank Gifford and many others, it is a unique look back into the life of a sports pioneer and a New York legend.  For more information, visit Facebook: facebook.com/hbodocs; and Twitter: @HBODocs and @GlickmanTheFilm.