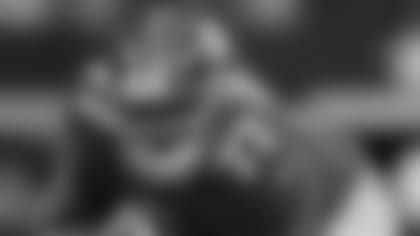 ](http://www.giants.com/media-vault/photo-gallery/Giants-re-sign-G-Kevin-Boothe/b82ba42b-8f50-42e4-90f5-82b80a9e470c)
PHOTOS: KEVIN BOOTHE GALLERY
EAST RUTHERFORD, N.J. –
The Giants have retained an important component on their offensive line.
Kevin Boothe, who started all 16 games of the 2012 season at left guard, signed a contract to remain with the team. Boothe had been an unrestricted free agent.
"Kevin is a pro's pro and we're happy to have him back," general manager Jerry Reese said. "His return will provide experience, versatility, competition and depth on our offensive line."
"I'm happy to be back," Boothe said. "It's a great organization and a great team. I'm looking forward to this upcoming season."
Boothe, who is entering his eighth NFL season and seventh with the Giants, was a free agent for the first time in his career. He was eager to see what that offered, though he wasn't looking to pack up and move.
"I think you owe it to yourself to put yourself out there," Boothe said. "The entire time I wanted to return to the New York Giants, and fortunately they wanted me back."
With the return of Boothe, the Giants have retained all five linemen who started the majority of their games last season. The group includes right guard Chris Snee, a four-time Pro Bowler, center David Baas and tackles David Diehl and Will Beatty.
"We're constantly looking to improve," Boothe said. "This season, that doesn't change. We'll have most, if not all, of the pieces back together and we're looking forward to getting back to work and having a successful season – more than last year."
Last year was the fourth time in five years and the sixth time in career that Boothe played in all 16 games, but it was the first time he started every game. Since joining the Giants in 2007, Boothe has started games at center and left guard and filled in at right guard and tackle. But he has found a home at left guard, where he has started 22 consecutive games, including the Giants' four postseason games in 2011.
"It was fun to focus in on one position for the most part this past season," said Boothe, who briefly moved to right tackle during a victory over Tampa Bay on Sept. 16. "I always keep prepared for any change that might happen. You don't know what might happen over the course of a game or a season. I always try to keep myself fresh with regard to center or any other position, so I'm ready wherever I'm needed."
Boothe was part of a line that last season allowed an NFL-low 20 sacks and helped the Giants average 116.4 rushing yards a game, a 27.2-yard improvement over 2011. The line did not give up a sack in three consecutive games from Sept. 30 to Oct. 14. The Giants scored 429 points, the second-highest total in franchise history.
"I just happy do whatever is needed," Boothe said. "I'm going into my seventh year here with the Giants. Whatever role they need me to be in, I'm more than happy to fill. Whether it was the first person off the bench in years past or being the starter this past year, I approach every day with 100 percent effort. Whatever I can do to help the team, that's what I'm all about."