EAST RUTHERFORD, NJ - The Giants today created competition in their return game when they announced that Domenik Hixon and Darius Reynaud have signed contract extensions.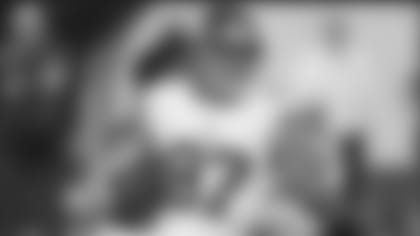 "I thank God and I feel very blessed that I have an opportunity to come back to the New York Giants," Hixon said today from his home near Columbus, Ohio. "That's what I wanted.  I love the New York Giants and being in New Jersey. It's been a blast. They have a great coaching staff and ownership and a team that I like. I really wanted to come back and I'm glad we were able to work something out."
Hixon, entering his sixth NFL season and fifth with the Giants, missed the entire 2010 season after tearing a knee ligament during a minicamp practice on June 15. The injury was repaired surgically, followed by a long rehabilitation. But Hixon insists he hasn't lost a step. Actually, he believes the opposite is true.
"I feel real comfortable, I feel strong," Hixon said. "I was joking with one of my buddies. We were running together and I told him, 'I feel like I gained a step.'
"I'm preparing myself as well as I can and getting all the rust off now so when I get back out there I'll be ready for the season and be at full speed. I'm back doing everything full speed. I'm trying to simulate the season I missed with different things."
In 2009, Hixon set Giants single-season records with 57 kickoff returns for 1,291 yards, a 22.6-yard average. He also led the team with a 15.1-yard average on 17 punt returns, including a 79-yard touchdown. Hixon ranks seventh in Giants history with 1,692 kickoff return yards and ninth with 498 punt return yards. On Oct. 18, 2009 at New Orleans, Hixon had 303 total yards, shattering Joe Scott's 61-year-old franchise record by 24 yards. Returning kickoffs for the first time that season, Hixon had 230 yards on seven runbacks, including a 68-yarder and a 45-yarder to set up touchdowns. He returned two punts – for 27 and 24 yards, the latter setting up another score. Hixon also caught three passes for 22 yards.
He is certain he would have posted more impressive numbers in 2010 had he not hurt his knee. But without him, the Giants finished 31st in the NFL in both punt returns (a 6.1-yard average) and kickoff returns (19.0).
"That was one of the most devastating things about the injury," Hixon said. "The guys on the special teams units were just getting used to each other and we ended on a real good note the year before. We thought we'd continue to build up. I feel we'll keep on doing that and pick up where we left off a couple of years ago."
Hixon augments his work as a returner with productivity at wide receiver. He has started 10 of the 42 games he has played for the Giants. His career totals include 59 catches for 788 yards and three touchdowns, including a 61-yarder. Hixon led the Giants in 2008 with 596 receiving yards.
Since his surgery, he has worked hard to be able to contribute this year as both a receiver and returner.
"I do physical therapy every day and in the afternoon I run routes and do punt work and things like that," Hixon said. "I've been doing that for a while now, running routes, doing one-on-ones and incorporating that along with the rehab. I'm going to be ready to go when camp starts."
Reynaud is entering his fourth NFL season and second with the Giants. He and backup quarterback Sage Rosenfels were acquired in a trade with the Minnesota Vikings on Sept. 3, nine days prior to the start of the 2010 season. Reynaud played in nine games, was inactive for six others and suited up but did not play in one (the finale in Washington on Jan. 2).
Reynaud had a team-high 23 punt returns for a 5.7-yard average and tied D.J. Ware for the team lead with 21 kickoff returns for an 18.4-yard average. His longest punt return was 20 yards and his longest kickoff return was 31 yards.
*The Giants also announced today they have tendered one-year contracts to Restricted Free Agents OL Kevin Boothe, RB Ahmad Bradshaw, TE Kevin Boss, DT Barry Cofield, DE Mathias Kiwanuka, WR Steve Smith and DE Dave Tollefson.
Boss, Bradshaw, Cofield, and Tollefson received second round tenders. Boothe, Kiwanuka and Smith each received an original round tender.
The Giants have also tendered one-year contracts to two Exclusive Rights players: OL Jamon Meredith and TE/FB Bear Pascoe.* *