EAST RUTHERFORD, N.J. – Eli Manning today wore a helmet for the first time since suffering a 12-stich laceration on his forehead nine days ago against the Jets. The new helmet is designed to be more secure than the one that popped off his head when he was hit twice on one play last week.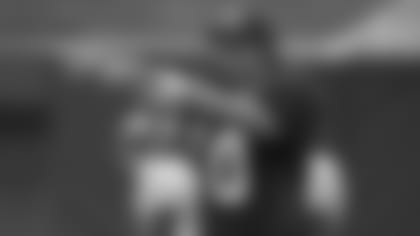 "It's just a different helmet, nothing special about it," Manning said. "There's no new padding or anything. Just a little bit different helmet with a chinstrap that buttons a little different than the way I used to, just to ensure that it's on tight.
"I've done this before on a helmet, but not in the past couple years. It's just to ensure that the helmet stays on, so I'm going to go with that the next couple of weeks, see if we like it, maybe we'll stick with it. If I don't, and once it heals up better, if I want to go back to the one on the side, we can do that also. Nothing I'm really concerned about."
Manning is wearing a bandage on the healed cut to prevent the helmet from rubbing on that area. He had practiced Monday and Tuesday wearing a baseball cap.
"It really felt pretty good," Manning said of wearing the baseball cap while his teammates were in helmets. "I kind of liked it. I could get used to that, but it's good to kind of get the helmet back on and stop hearing the comments from the offensive line, as I knew they would be coming."
Manning did not play in Saturday's 24-17 loss to Pittsburgh, the first game he missed in five years. He felt a little weird standing on the sideline in shorts and a T-shirt.
"It's not really what I'd like to be doing," he said. "I've missed some preseason games before. So if I'm going to miss a game, I think preseason is the way to go."
Manning expects to start Saturday night in Baltimore.
*Safety Kenny Phillips intercepted two passes in practice today, his first two picks of the summer. Phillips' snaps have been limited as the team's medical staff has been cautious following his knee surgery last year.
"(That was) real good," head coach Tom Coughlin said. "Fall on the ground, roll around a little bit, get back up. Good stuff."
*Players missing practice today included cornerbacks Terrell Thomas (calf) and Aaron Ross (foot), defensive linemen Chris Canty and Jason Pierre-Paul (both with sore groins), quarterback Jim Sorgi (shoulder), safety Michael Johnson and wide receiver Ramses Barden (back), running back D.J. Ware and safety Sha'reff Rashad (both with concussions), tight end Travis Beckum (neck) and linebacker Chase Blackburn (knee).
Coughlin offered updates on some of the players:
On Thomas: "He was sore, so we're just giving him some recovery."
On Canty: "The MRI did not show anything of great significance and hopefully he'll come along fast.
On Ross (who has plantar fasciitis): "They put a cast on him for about 10 days, I think."
*Thomas indicated he rested today for precautionary reasons and he expects to be on the field in Baltimore.
"I plan on playing," he said. "It's a big week for us. It's a dress rehearsal, going into the regular season. I know the fourth game the ones (starters) don't play too much. Hopefully, he doesn't hold me back and allows me to play."
*Canty said his injury is not serious.
"It's just kind of interrupting my opportunity to continue to progress," he said. "But like I said, we're trying to put this behind us as quickly as possible because I'm just excited about where my game is going. I'm excited about the direction this defense and team is going. As you see from practices, we're working really hard. We're up-tempo so we want to continue to be able to do that and improve."
*Sorgi, who was hurt in the Jets game and missed last week's game against Pittsburgh, is hoping to play in the preseason finale on Sept. 2 against New England.
"It's one of those things - three, four weeks, possibly be back in two," Sorgi said. "And it'll be two weeks Monday, so I'm trying. I've got to give them more to look at so I can help them make the decision. In my mind, I feel like I've got to play. I've got to play next week.
"My goal is to practice on Monday to play on Thursday."
Sorgi was asked if he is concerned about securing a spot on the final roster.
"I'm still worried about that decision a little bit," he said. "You don't have much time left until you've got to make tough decisions in the league. I've seen those decisions go in the player's favor and not in the player's favor. So I'm just going to try to get out there and just make the decision hopefully a little easier on them and hopefully in my favor."
*The Giants will host their seventh annual Stuff the Bus school supply drive on Thursday, Sept. 2, 2010 when they play host to the New England Patriots. The drive will benefit Tools 4 Schools, a program of the Community FoodBank of New Jersey.  Fans attending the game are encouraged to drop off new, unused school supplies with volunteers located at each stadium entrance prior to the start of the game.  Tools 4 Schools provides brand new school and office supplies to teachers in New Jersey schools and after-school programs with 70% or greater participation in the Free & Reduced Price lunch program.
Some of the most needed items are: pencils, notebooks, backpacks, glue & gluesticks, composition books, crayons, markers (including dry erase), pens, filler paper, copy paper, staplers & staples, and rulers.
--- ](http://www.nyg2010.com/)**