EAST RUTHERFORD, N.J. –** From the moment his knee injury was diagnosed on May 23, Henry Hynoski set Sept. 8 as the target date for his return. That's the night the Giants open their regular season in Dallas. Today, almost 10 weeks since he underwent surgery and 40 days until they face the Cowboys, Hynoski said his objective hasn't changed.
"I'm going to do everything in my power to get back for the first game," Hynoski said. "That's my goal, that's my intention, but ultimately that decision isn't up to me. I want to just get back to playing football at the earliest possible date. Everything is going really well in rehab, making advances and strides every day. I'm just excited with my progress and I know that the trainers are happy with where I am, too."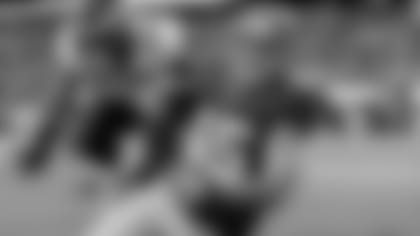 PHOTOS: PRACTICE GALLERY](http://www.giants.com/photos/photos/Giants-Training-Camp-Practice---730/19f765f5-25ec-4322-94a6-379a51ec4402) Hynoski, the Giants' third-year fullback, suffered an injury to his medial collateral ligament and a chip fracture to the lateral plateau in the Giants' first organized team activity on May 22. He underwent surgery two days later and has been rehabbing almost from the moment he left the operating room.
"I feel great. I don't feel much pain at all," said Hynoski, a rugged blocker who caught 23 passes in his first two seasons. "But you have to be conscious with that. You don't want to overstep your boundaries. Whatever state of rehab you're in, you always have to remember 24 hours a day you have to abide by those rules. Even if you're pain-free, you still have to abide by the timetable that the rehab is set up for.
"With this rehab, it's kind of a step-by-step process, in increments. I'm going to try to get back there at the earliest date. We're being aggressive in my rehab and haven't had any steps backward. We're going forward the whole time, so I feel good about things."
*Like everyone on the defense, Webster is committing to substantial improvement after the unit was ranked 31st in the NFL last year.
"You fall to one of the worst defenses in the league, yes, we want to be in the top five or even the best defense in the league," Webster said. "So we're coming out here with those motivating factors for us to get better."
*Victor Cruz continues to progress after missing all of the team's offseason workouts.
"He's knocking some rust off," Coughlin said. "He definitely is. He's made some really nice plays. He's coming along and he's definitely going to get there. I wouldn't tell you he's (there). He's working. He's out here. We know that's the formula for him and he'll work his way through camp and he'll be ready to go."
*The Giants wore their shoulder pads for the first time in training camp.
"It was good," Coughlin said. "It's always good to get started that way, it was real good to see. The majority of the time we were on our feet. There were a few occasions where I didn't appreciate it, but it was good to see them; they were very enthusiastic about it, you like to think that would be maintained."
*Wide receiver Hakeem Nicks (groin) remains limited.
*Wide receiver Jeremy Horne was carted off the field during practice.
"I'm not sure (how he is)," Coughlin said. "They told me that he had some kind of a foot injury but I don't know what to expect."
*Rueben Randle made an outstanding catch on a long pass from Eli Manning with Webster draped all over him….Linebacker Aaron Curry intercepted a Curtis Painter pass…Damontre Moore drew a sharp rebuke from Coughlin after jumping offside and colliding hard with Justin Pugh.