EAST RUTHERFORD, N.J. –** Fullback Henry Hynoski believes he is well enough to play Sunday, but is waiting to get the approval of the Giants' medical staff. Hynoski had knee surgery in May and was activated of PUP on Aug. 22.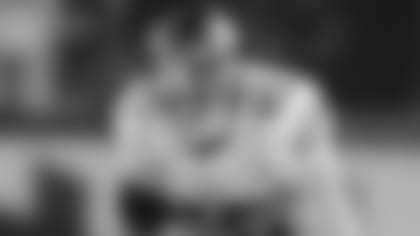 View Unofficial Depth Chart "I'm doing good," Hynoski said. "I practiced full today, I'm feeling good. If you want to know about Sunday, I can't give you an answer now. That's going to be decided later in the week, I'm assuming, by the doctors. I practiced full, no issues.
"I feel good out there, haven't had any issues or setbacks. It's just a matter of getting the go-ahead or not and we'll see what happens at the end of this week. Every day I progress, but I think I have to progress just a little bit more to give them that go-ahead."
Q: Do you know what you need to show them? Has it been laid out to you?
A: Just everything a fullback needs to show, playing, explosion, driving feet on contact, that type of thing. And, unfortunately, I haven't gotten too many chances to hit yet because I just came off PUP when camp was pretty much over and I had one day where I was able to hit and everything went good with that, felt really good and comfortable with that. Now I just feel great. Physically healthy and I'm getting in shape. You can train and run all you want, it's still not football shape. But I feel like that's coming back really quick and it's all coming in and everything's falling in place.
Q: A player doesn't want to put himself on the field if he doesn't think he can protect himself and do it so it sounds like you feel like you're getting to the point where you feel like you can.
A: Yeah, I'm getting to the point where I feel comfortable. When you're on the field you can't think about that stuff. Everything just has to come second nature. I don't want to think about an injury or that type of thing. Honestly, when I'm practicing, I'm not thinking about it. It's not even in my thought process. We just have to collaborate with the trainers and the doctors and, ultimately, make the right decision. But it's going to be up to them and it's going to be their call.
Q: Are you sore at all? How have you been responding?
A: I've been responding great. I feel good, I have no issues, no complaints whatsoever, no setbacks. Every day is progress. I feel like I'm making that progress every day.
Q: You also have a few more days.
A: Yeah, it certainly helps. It's not like they're going to decide today or tomorrow. It's going to be seeing how I progress the rest of the week in practice. It's only Monday, we have until Saturday.