EAST RUTHERFORD, N.J. –** Henry Hynoski today took a big step toward his goal of playing in the season opener in Dallas.
The Giants' third-year fullback passed his physical and was removed from the physically unable to perform (PUP) list. Hynoski was at practice, though he did no work with the full team. He will not play Saturday night in a preseason game against the Jets.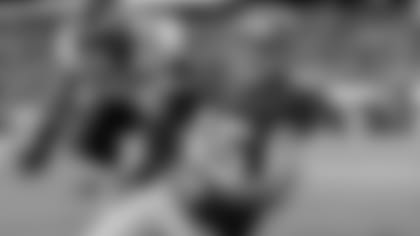 "He just does individual," coach Tom Coughlin said. "He just continues where he is and builds up to it. … He said he'd be in here and here he is. A couple of weeks to go and here he is.
"I'm very happy to be out here with my teammates and just get out here moving around and doing some things," Hynoski said. "Obviously, we're starting off slow just doing individuals for a little while and then building up from there on out. It just feels good. I knew physically I was going to be okay, but it was more or less getting out here, getting that camaraderie with my teammates, building that bond back with the running backs and we're all excited. They were happy I was back and a lot of good response today."
Hynoski had been sidelined since May 22 (three months ago today), when he suffered an injury to his medial collateral ligament and a chip fracture to the lateral plateau in his left knee in the Giants' first organized team activity. He underwent surgery two days later and has since tirelessly rehabilitated his leg.
In a statement released by the Giants the day after he was injured, Hynoski said, "I am going to set my mind to being ready for the first game of the regular season." That is not guaranteed, but Hynoski is targeting the Dallas game for his return.
"I'm hoping for it," Hynoski said. "That's my goal, but if it takes to Week 2 or 3, that's fine. We have a very smart medical staff and trainers and they're going to put me in the right position when they know I'm physically fit to be out there and performing at the best that I can."
In his first two seasons, Hynoski played in 27 regular-season games with 15 starts and in four postseason games with three starts. His totals include 23 receptions for 133 yards (5.8-yard avg.), with a long reception of 14 yards and one touchdown, and five rushing attempts for 20 yards.
In 2012, Hynoski played in all 16 games with 11 starts at fullback. He caught 11 passes for 50 yards and a touchdown and had five rushing attempts for 20 yards. Hynoski was the first Giants fullback with more than one carry in a season since Jim Finn in 2006.
Those numbers reveal only a small portion of Hynoski's value. How important is he to the Giants' offense?
"Very," Coughlin said. "There aren't many around. Even today, when you look around in the league, there are not many guys that are 265 and have the skillset that Henry has as well."
*Coughlin said the starters will play "basically a half" against the Jets. Circumstances in the game will dictate whether or not they get a series in the second half. "You'd like to get guys 30 snaps in this game," Coughlin said.
Curtis Painter and rookie Ryan Nassib will follow Eli Manning at quarterback. David Carr will not play. * *Five players were on PUP when the Giants opened training camp. Three of them – Chris Snee, Terrell Thomas and Hynoski – have returned to action. The two players remaining on PUP are defensive linemen Jason Pierre-Paul and Markus Kuhn.
"They're getting close, according to what I hear," Coughlin said. * *Safety Antrel Rolle, who sprained an ankle a week ago, was back on the field today and went through individual drills. * *The following players did not practice today: cornerback Corey Webster (knee/groin); wide receivers Victor Cruz (heel), Ramses Barden (knee) and Louis Murphy (leg); offensive linemen David Baas (knee) and David Diehl (thumb surgery); and defensive end Damontre Moore (shoulder).
Because Webster has missed two weeks of work, Coughlin was asked if the veteran corner is in danger of missing the opener.
"I hope not," he said. "I hope that's long gone by then. We should get two good weeks, I think. Next week and the week after, we should be in good shape." * *The injuries and shuffling on the offensive line have received a lot of attention, but like everything else, it hasn't fazed Manning.
"A lot of times I don't even look at the offensive line," Manning said. "I mean, I know they're there and I trust that they're going to protect me. So I'm focused on the defense and just calling the plays and going through reads and knowing they're going to get the job done." * *The Giants reached the 90-man roster limit by signing rookie tackle Austin Holtz.
Holtz, 6-4 and 301 pounds, was signed as a free agent by the Detroit Lions out of Ball State on May 2. He played some snaps at left tackle in the Lions' preseason opener vs. the Jets on Aug. 9 and was waived on Monday.
Holtz started 32 games in his four-year career at Ball State, including 12 in 2012. * *The Giants' annual blood drive will be held Sunday, Aug. 25 from 8 a.m. to 3 p.m. in the Lexus Club at MetLife Stadium. All presenting donors will receive a limited edition Giants T-shirt, a collectable photo opportunity and the chance interact with a Giants legend. Those scheduled to appear throughout the day include George Martin, Jessie Armstead, Kareem McKenzie and Jim Burt. Bob's Discount Furniture is generously donating 20 recliners to be raffled off during the event. Fans will also be able to tour the Legacy Club presented by New York-Presbyterian Hospital, a Giants' interactive team museum, which includes artefacts from throughout the team's history, including the team's Super Bowl and NFC Championship trophies.
While walk-ins are welcome, blood donors are highly encouraged to schedule an appointment in advance. Please visit redcrossblood.org/NYG13 or call 1-800-RED CROSS (1-800-733-2767) and schedule your appointment now. * *HBO will premiere "Glickman," the documentary of longtime Giants announcer, Olympian and broadcast pioneer Marty Glickman on Monday Aug. 26 at 9 p.m. Executive produced by Martin Scorsese and written, produced and directed by his longtime radio producer James L. Freedman, "Glickman" will take fans through the Brooklyn native's amazing life, from his time at James Madison High School through his experience being denied a chance because of his Jewish roots to participate in the Berlin Olympics to his work creating and implementing many of the techniques used in broadcasting today. The longtime voice of the Knicks as well as the Giants, Glickman also served as mentor to some of sports broadcasting's biggest names, from Marv Albert and Bob Costas to current Giants voice Bob Papa and many others. With stories by Jerry Stiller, Larry King, Frank Gifford and many others, it is a unique look back into the life of a sports pioneer and a New York legend. For more information, visit Facebook: facebook.com/hbodocs; and Twitter: @HBODocs and @GlickmanTheFilm.