Pure fullbacks are hard to come by these days in football. They're even more rare around draft time in the NFL.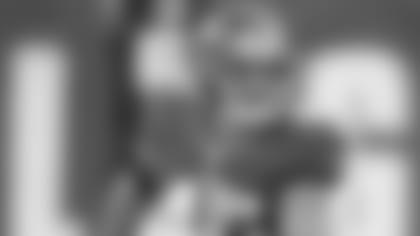 So when one is trying to make a roster as an undrafted rookie, he needs all the help he can get.
Henry Hynoski was in that position two years ago coming out of the University of Pittsburgh, but he was lucky enough to learn from a veteran backfield with Super Bowl rings. Ahmad Bradshaw and Brandon Jacobs showed him the ropes as the Giants went on to win Super Bowl XLVI.
However, Jacobs was released by the Giants shortly after. A year later, so was Bradshaw, and Hynoski quickly became the most experienced player in the position room heading into his third season.
Now one of his mentors has returned, and Hynoski believes Jacobs' presence will boost the team.
"I love it," said Hynoski, who is three inches shorter than Jacobs but weighs roughly the same at 265 pounds. "He was one of the guys that took me under his wing from day one. I was hoping all along that when I heard they were bringing in a back, I was hoping it would be him. We have a good bond, a good relationship, and now we're the biggest backfield in the NFL. So hopefully we get some ground and pound going here soon."
Hynoski went on to say that, despite what people may think of him on the outside, Jacobs' presence in the locker room is what defines him.
"People see him one way, but Brandon is a goodhearted, genuine guy that really cares about his teammates and his coaches and the organization," Hynoski said. "The way he took me under his wing he was like a mentor to me my rookie year, and I'll never forget that. Ahmad also was that way. Just to have a guy like that back in the locker room, that really does good things for our team."
A healthy Hynoski returning to the field also does good things for the Giants.
After injuring his knee in the spring and spending training camp on the physically unable to perform list, Hynoski made his goal of playing in Week 1 against Dallas.
"I felt a little rusty," Hynoski said. "You can't simulate the speed of the game in practice by all means. The first quarter I felt a little rusty, and going into the second quarter, I felt like I was starting to play my type of ball again, play like I know how. I was making some good blocks, good pass protections, but that's natural for that to happen. You have to have that little acclimation period, and I'm glad that it happened now in the first game as opposed to later. That's one of the big reasons why I wanted to get out there for the first game and get started right away."
He and the Giants both took their lumps as they were knocked out of their element due to the turnovers. But this is a new week with an old emphasis on controlling the ball to keep Peyton Manning, one of the premier quarterbacks in the league, off the field for as long as possible.
"Well you have to," said Hynoski, whose Giants rushed the ball just 14 times for 50 yards last week as they tried to come back. "With a playmaker like Peyton, you want to keep him off the field. And other teams say that about us because we have Eli. They're two in the same. The more you can keep the ball out their hands, the better chance you have of winning the game."