EAST RUTHERFORD, NJ - The Giants own the 19th selection in the first round of the 2011 NFL Draft, which begins on April 28. In the previous 20 years, the 19th pick, like all slots in the first round, has produced its share of successes and busts, great players and marginal contributors. Here's a look at the accomplishments, or lack thereof, of the last 20 players selected 19th in their respective drafts, as well as the players who were chosen immediately before and after them.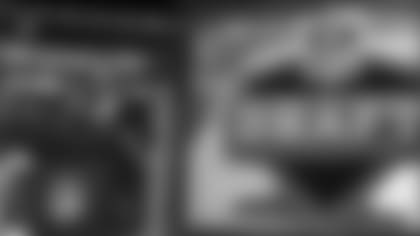 In our ongoing series, today we look at 1991-1995:
19th Selection: Vinnie Clark, DB from Ohio State, by Green Bay.
Clark lasted only two years in Green Bay and six years in the NFL. In addition to the Packers, he played for Atlanta, New Orleans and Tom Coughlin's Jacksonville Jaguars. Clark started all 16 games for the Jaguars in their inaugural season, 1995. He was cut after four games in 1996, ending his NFL career. Clark played in 83 games with 59 starts and recorded 243 tackles (206 solo) and 13 interceptions.
18th Selection: Alfred Williams, LB from Colorado, by Cincinnati
20th Selection: Kelvin Pritchett, DT from Mississippi, by Dallas
Note: Brett Favre was taken with the 33rd pick by the Atlanta Falcons.
19th Selection: Tony Smith, RB from Southern Mississippi, by Atlanta.
Smith was the second of two players taken in the first round that year by the Falcons, who secured tackle Bob Whitfield with the eighth pick. Atlanta acquired the 19th pick from Green Bay in the trade that sent Brett Favre to the Packers. Smith and Favre were college teammates at Southern Mississippi. Smith played only three seasons for the Falcons – and in the NFL. In 33 games, including six starts, he had 87 carries for 329 yards and two touchdowns. All of the starts and stats were form his rookie season. In his final two years, his ball-handling was limited to punt returns (career total of 56) and kickoff returns (61). He ran a kickoff back 97 yards for a touchdown in 1993.
18th Selection: Dana Hall, DB from Washington, by San Francisco
20th Selection: Dale Carter, DB from Tennessee, by Kansas City
Note: Indianapolis owned the first two picks in the draft and chose defensive tackle Steve Emtman from Washington and linebacker Quentin Coryatt from Texas A&M (a choice they acquired from Tampa Bay).
19th Selection: Lester Holmes, OL from Jackson State, by Philadelphia.
Holmes was the first of the Eagles' two first-round selections that year. Philadelphia took Colorado defensive tackle Leonard Renfro with the 24th pick. Holmes played eight years in the NFL – four with the Eagles, one with Oakland and three with Arizona. He appeared in 102 games with 94 starts and twice started all 16 games, with the Eagles in 1994 and the Cardinals four years later. A tackle in college, Holmes played guard for the Eagles. He suffered a knee injury that limited him to two games in 1995.
18th Selection: Earnest Dye, T from South Carolina, by Phoenix
20th Selection: Irv Smith, TE from Notre Dame, by New Orleans
Note: The Giants did not have a first-round pick in 1993, having used it in the previous year's supplemental draft on QB Dave Brown.
19th Selection: Todd Steussie, T from California, by Minnesota
The Vikings owned the 18th and 19th picks in the '94 draft – the former acquired in a trade with Denver – and chose North Carolina State defensive back DeWayne Washington immediately before Steussie. Both players enjoyed long careers. Washington played four years for the Vikings and 12 in the NFL, while Steussie stayed in Minnesota for seven seasons and in the league for 14. Steussie played in 213 regular season games with 185 starts and in 10 postseason games. His final game in a Vikings uniform was the 2000 NFC Championship Game loss to the Giants. Steussie was a Pro Bowl tackle in 1997 and 98 and played in Super Bowl XXXVIII for Carolina in 2003.
18th Selection: DeWayne Washington, DB from North Carolina State, by Minnesota
20th Selection: Tim Bowens, DT from Mississippi, by Miami
Note: Quarterbacks Heath Shuler and Trent Dilfer were among the first six selections that year, but the best player from this draft was running back Marshall Faulk, taken second by Indianapolis.
19th Selection: James Stewart, RB from Tennessee, by Jacksonville
Tom Coughlin chose Stewart with his second pick in the first round of his inaugural draft with the expansion Jaguars; he took tackle Tony Boselli with the second overall selection. The pick used to acquire Stewart was obtained in a trade with Kansas City. Stewart played five years for the Jaguars and rushed for 2,951 yards and 33 touchdowns on 765 carries. Stewart owns the Jacksonville records for points (30) and touchdowns (five) in a game. Stewart later played three seasons for the Detroit Lions and twice rushed for more than 1,000 yards.
18th Selection: Napoleon Kaufman, RB from Washington, by Oakland
20th Selection: Luther Ellis, DT from Utah, by Detroit
Note: With the 230th pick in the draft, Green Bay took guard Adam Timmerman, who started 172 of 186 regular season games and played on two Super Bowl winners: the 1996 Packers and 1999 Rams.