EAST RUTHERFORD, NJ - The more the Giants' offensive line gets torn apart, the more it seems to come together.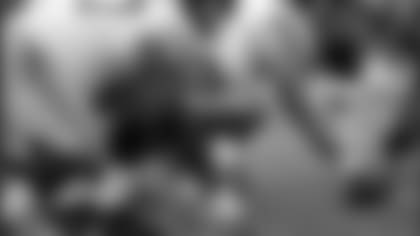 Once a prototype for lineup stability, the line has had different player combinations start four of the previous five games and five of the last seven. In a victory over Jacksonville on Sunday, the left side of the line had Will Beatty at tackle and Kevin Boothe at guard, two players who missed a combined 15 games this season while recovering from surgery.
Despite the injuries, lineup changes and relative inexperience of the newcomers, the Giants did not allow a sack in any of the last four games, the Giants' longest such streak in 38 years. In those four games, the Giants averaged 384 yards of offense, about the same as their season-long average of 387. They averaged 25.5 points. Their season average is 25.2.
You can change the identity of some players on the field, but you can't inhibit the efficiency of the Giants' offensive line, which remains a strength as the 7-4 Giants begin their five-game stretch run, beginning Sunday at home against the Washington Redskins.
"It has allowed us to continue to function, let's put it that way," Coach Tom Coughlin said today when asked about Eli Manning not getting sacked while throwing 137 passes the last four games. "And I think that the guys have done a really good job of that and Eli has done a good job – he has been able to step up and maneuver and get rid of the ball quickly. He's done any number of things to help that as well."
"They've done a great job of guys stepping in, filling in roles, everybody working well together with coaches, running backs, receivers getting open," Manning said. "It's a combination of just the team doing things smart and playing good football."
The linemen who have made the streak possible aren't looking for accolades.
"We don't talk about that stuff," said Rich Seubert, who started the last four games at center after playing his customary left guard position in the first seven games. "We just go out there and play. Coach is calling some good plays and Eli's calling the right protections out, and we're just picking guys up right now. But it's not just the O-line. It's the running backs, it's the tight ends, it's whoever is blocking. So that's our goal every week. That's our goal every pass play is to make sure nobody is around Eli, and that's our job."
"This season is by far not over," right tackle Kareem McKenzie said. "Let's go ahead and wait for the accolades until after the season is over and see what we've done. Right now we're just doing all that we can to go ahead and try and help this team win. That's the objective of everyone on the field, being on the same page and doing their job effectively."
The offensive line has long been a beacon of steadiness. From the beginning of the 2007 season through Oct. 18, 2009, the same five players – Shaun O'Hara, Chris Snee, David Diehl, Seubert and McKenzie, started 38 consecutive regular season games, the longest streak in the NFL since the 1970 merger. It ended when McKenzie sat out a game last season against Arizona with a groin injury. McKenzie missed the last three games of the season and Seubert the final two, both with knee injuries.
Although training camp included a lot of chatter about a potential shakeup on the line, the usual five players started the first two games of the season. Then it began to get dicey.
O'Hara missed three games with ankle and Achilles injuries. He was replaced by Adam Koets, before returning for two games. When O'Hara sprained his foot and was unable to play at Seattle on Nov. 7, Seubert shifted to center, Diehl moved over from tackle to guard and former Pro Bowler Shawn Andrews, signed on Aug. 20, made his first career start at left tackle. The Giants won, 41-7, but Diehl suffered hip and hamstring injuries that kept him out of the last three games (ending his consecutive starts streak at 119 games) and Koets tore his ACL, which required surgery and sent him to injured reserve. The following week, Boothe, whose operation in the spring fixed a torn pectoral muscle, came off the physically unable to perform list to start at left guard. Last week, Andrews was hospitalized with back pain and Beatty became the third left tackle of the season, the second to make his NFL debut there.
The faces and jersey numbers change, but the offensive production does not.
"They've done a good job," Manning said. "A lot of it has been if we can run the ball – we haven't had a whole lot of third-and-long situations where you have to hold it until receivers get open. It's a lot of things that contribute to that, but they've done a good job of understanding what we're doing, how we're going to block things, picking up stunts and tendencies of the defense. Hopefully we continue to do that."
"You don't want to let the guy next to you down," Seubert said. "You have to be ready at any position. Even Chris knows, he's taking it out there, getting snaps with the quarterbacks from day one since he's been here. It's just if something happens, the next guys step up. And you only have so many guys. So if you're the sixth guy or seventh guy, you better know how to play different spots."
Coughlin said he gives a "great deal" of credit to offensive line coaches Pat Flaherty and Jack Bicknell, Jr.
"(They) have done an outstanding job working with these guys and being able to make these kinds of conversions – guys have had to play," Coughlin said. "It's not like there is an option here in some of these cases and because of that you've got to give credit to the individual, the player, for being able to step up to the plate and do the job and to the coaches for getting them ready."
The Giants have an outside chance of getting one of their starters back for the Redskins game. Diehl practiced today on a limited basis. Coughlin likely won't make a definitive comment on his status before Sunday, but Diehl is eager to return to action. The last three games are the first he ever missed since the beginning of his high school career.
"I'm doing everything I can to get ready to hopefully play this week," Diehl said. "Can I sit here and say I'm going to play Sunday? No, I really don't know. But every day I just keep feeling better and I keep continuing to do more, and hopefully tomorrow I can go out and do some more stuff and do some more team stuff and keep going out there and pushing myself. It's just positive, really, that everything is going good. Everything is going in the right direction. I'm feeling better every day.
"I've got three more days to see how I feel and to see if I can go. I've been getting treatment, I've been doing everything I can to get ready. And each day I've responded back with feeling better and nothing - I worked hard yesterday and today I felt fine, I felt good and was able to go out and do some stuff. Each day it's been feeling that much better so hopefully it does the same thing for the rest of the week, continue to get more work and I'm ready to go Sunday."
If he does play, Diehl will presumably line up at left tackle. When Beatty was selected on the second round of the 2009 NFL Draft, the Giants considered him a left tackle prospect. Beatty's first four pro starts last season were for McKenzie at right tackle.
With as many changes as the line has undergone this season, neither Beatty nor anyone else should get too comfortable at one position.
*Five Giants players did not practice today: O'Hara, Andrews, wide receivers Steve Smith (pectoral) and Hakeem Nicks (lower leg) and cornerback/return specialist Will Blackmon (chest).
*Nicks made his first public comments since suffering Compartment Syndrome (swelling in the lower leg which compresses nerves and blood vessels) in his right leg at Philadelphia 10 days ago.
"It was one of those situations where I went in, I wasn't expecting anything but the MRI," Nicks said. "They said, 'You've got to have immediate surgery.'"
Asked how he sustained the injury, Nicks said, "I don't recall how it happened. It was just something that I started noticing my leg was getting a little tight."
Nicks expects to miss two more games.
"(Now it's) just keeping the wound clean, make sure that's healed up," he said.
Smith participated in individual drills, running routes and catching balls. He did not feel impeded by the torn pectoral muscle, which forced him to miss the last three games.
"It felt good," he said. "It feels like my motion's there. It's just like a mental thing, a confidence thing now. They say that it's just going to be a little bit of discomfort, but you've got to go out there and feel it out for yourself."
*In addition to Diehl, defensive end Osi Umenyiora (knee) and cornerback Aaron Ross (back) were limited. Defensive back Brian Jackson (hand) practiced fully.
Four Redskins did not practice: safety LaRon Landry (Achilles), linebacker Rocky McIntosh (personal), cornerback Carlos Rogers (hamstring) and running back Ryan Torain (hamstring).
*The Giants, FedEx and New York Cares will host their 13th annual Coat Drive on Sunday, when the Giants host the Washington Redskins at New Meadowlands Stadium. Fans are encouraged to donate their gently worn coats by bringing them to any of the FedEx trucks and volunteers located at each stadium entrance prior to the game. New York Cares is a non-profit organization that helps warm thousands of men, women and children by providing winter coats to homeless shelters, community organizations, centers for battered women, and agencies serving senior citizens across the metropolitan area.
Tom Coughlin finally had a little bit of good news to report today regarding the injuries on the Giants' offensive line.
David Diehl, who missed the last three games with hip and hamstring injuries, will take his first steps toward returning to the lineup, maybe even for the Giants' home game Sunday vs. the Washington Redskins.
"Diehl is going to do individual (drills) and he's going to take a couple of plays to see what his status is," Coughlin said.
Shaun O'Hara, who has missed four games with a foot sprain, "will so some running," Coughlin said.
Shawn Andrews, was hospitalized with back pain last week, is not ready to return to work.
Injured wide receivers Steve Smith (pectoral) and Hakeem Nicks (Compartment Syndrome) continue to make progress, though both will miss the Redskins game;
'Steve is working toward getting back to where he feels good about himself and the medical people are ready to put him out," Coughlin said. "But as far was whether he'll practice today, no. He'll be on the side. But he'll do more running and more extensive work. And he's put the pads on and done that. Hopefully, the progress keeps going."
Nicks, "feels better, doing better. The doctor sees him tonight."
Coughlin said Brandon Jacobs will again start at running back, but Ahmad Bradshaw will continue to get his share of carries.
Cornerback Aaron Ross will practice despite soreness in his back.