EAST RUTHERFORD, N.J. – When Keith Bulluck signed with the Giants last month, the native of nearby Rockland County, N.Y. came back to the area where he grew up. This week, Bulluck also returned to his roots on the football field.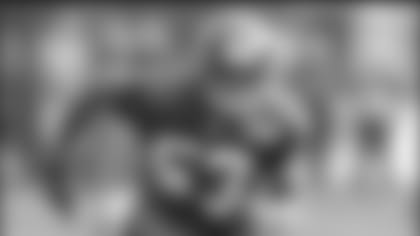 After playing middle linebacker exclusively during the Giants three weeks in Albany and in his first abbreviated game action, Bulluck is taking snaps on the outside – where he played for 10 seasons for the Tennessee Titans before joining the Giants as a free agent.
"I came into work yesterday, and they said I'd be taking some outside linebacker snaps," Bulluck said today. "It was never a thing that I was going to necessarily play middle linebacker. Wherever I fit. Throughout camp, I showed that I could play the Mike (middle) and I've been playing outside for the last 10 years. It helps the team that I have a little bit of flexibility."
Bulluck, getting accustomed to a new defense with a new team in a new area, now has to learn a new position. Well, a new/old position. But the coaches are confident he can quickly digest his additional assignments.
"It might say a lot about my learning curve," Bulluck said. "It might be tough, but it's just a matter of getting in your book, studying your material, and going out to practice and working and applying it. It's a little bit of a challenge, but it'll be alright."
Bulluck has been taking snaps from Clint Sintim, but Tom Coughlin was vague about what the move means for everyone involved.
"(Bulluck) can play both spots," Coughlin said. "(We want to) try to find the best situational players for maybe a first down run or something like that."
Sintim, the Giants' second-round draft choice in 2009, said he's not worried about the competition.
"I embrace it," he said. "You've got a guy who has been in the situation for so long. He's a great dude, a great asset. He helps me out every chance I get. I just take every opportunity to learn from it.
"The guy's been in the league for a decade. He knows the ins and outs of the game that I don't really know too well - what I can look for, what I can do better and things like that. I'm excited to be out here and just really kind of take his two cents in from somebody who's played the game versus somebody who's actually coached and you can kind of see it a little bit different. That's a big benefit to me."
But while he's teaching Sintim and the Giants' other young linebackers, Bulluck is also a student. He's trying to learn Perry Fewell's defense and unlike most of his teammates, he did not have the entire spring to digest and execute it on the field.
Prior to yesterday, Bulluck had exclusively studied middle linebacker. Now he's boning up in what is required of the outside backers in Fewell's schemes.
"I was trying to make sure that when my number was called, I would be able to go out there and perform at the middle linebacker spot," Bulluck said. "But we have great guys in the room that help out, so it's making for a smooth linebacker transition as a New York Giant.
"I'm just happy to be in the situation that I'm in. I'm getting an opportunity to learn the system, to play and we'll see what happens. I know it always helps a team when you know you have players that can be versatile, flexible to play multiple positions within the defense."
In Fewell's defense, the strong and weakside linebackers are not as clearly delineated as they are in other schemes. Bulluck is technically stepping in for Sintim on the strong side, but he has many duties of a traditional weakside backer, the position he played with the Titans.
"I know that they refer to theirs as a SAM and everyone else refers to it as a WIL," Bulluck said. "It's just different. So that's kind of a little bit confusing. Today is my second practice at the Sam outside linebacker."
Asked specifically if he's playing the strong or weak side, Bulluck said, "I believe it's weak side. I'm playing at the same position that I've always played."
The good news for Bulluck is that the surgically-repaired anterior cruciate ligament is a non-issue as far as he's concerned. He emphasized that when asked whether his knee would hold up under the seemingly greater athletic demands placed on an outside linebacker.
"My knee is fine," he said. "I thought we were done with those knee questions. Like I said, it's been a position that I'm familiar with. Athletically, that hasn't been a problem for me. I haven't been there really at camp but it's never really been a problem for me."
The Giants have been cautious with Bulluck, limiting him to one practice a day in training camp and just six snaps thus far in the preseason – all of them in last Saturday's 24-17 loss to Pittsburgh. Bulluck hopes to see more action this week against the Ravens in Baltimore. If nothing else, that would further prove his knee is fine.
"I wanted to play more," Bulluck said. "Like I say, the only time that my knee comes up is when I have to answer questions from the media, and I feel like it's just one of those things that yeah, it's healed. Those questions are always going to linger until I get out there and start playing more. I guess that's the only explanation for me not playing more is my knee. So I understand, but I don't have any concerns with my knee."
Bulluck is uncertain how much or where he will play the rest of the preseason and in the regular season, which begins on Sept. 12. Right now, he's content to learn the defense, continue to improve and see where the chips fall.
"I don't know what my role is," he said. "Right now, I'm learning the positions that they're putting me at. The defense, I'm learning the system. I'm learning the New York Giant way. So right now, I don't portray myself as a starter or anything right now. I just portray myself as another one of the guys learning these linebacker positions. I'm the new kid. I'm learning the system.
"I think they're just seeing all the options that they have. I don't put expectations on people. I only put them on myself, and if I'm a starter in this defense, that's what I've been working towards with the limited reps that I had and trying to stay on point with that. But if I'm not, I feel like I'm too talented not to play. We'll see. It's a long season."
*Eli Manning again participated fully in practice while wearing a baseball cap instead of a helmet. "(He) seems to be doing well," Coughlin said. "He's definitely getting the work. He's taking all the snaps that he can get."
Manning's original plan was to try to wear a helmet tomorrow for the first time since Aug. 16, when he suffered the laceration on his head that required 12 stitches against the Jets. But Coughlin seems unconcerned if Manning waits another day or two.
"The next couple of days we'll do some carded stuff trying to get ready for the weekend," Coughlin said.
*Aaron Ross, who has been diagnosed with plantar fasciitis, traveled to Charlotte, N.C., to see Dr. Robert Anderson, the foot specialist. Ross' foot was placed in a cast to immobilize it for the next several days. Plantar fasciitis is an irritation and swelling of the thick tissue on the bottom of the foot.
*Two defensive linemen were added to the Giants' list of injured players today with groin issues: first-round draft choice Jason Pierre-Paul and Chris Canty.
Pierre-Paul aggravated his groin in the Pittsburgh game, while Canty felt soreness while practicing today.
"It's nothing," Pierre-Paul said. "I should be fine Saturday."
*Center Shaun O'Hara was limited because of swelling in his ankle. "Hopefully, he can get that under control," Coughlin said.
*D.J. Ware and Sha'reff Rashad are feeling better after suffering concussions on Saturday but have not yet been cleared to practice. Coughlin indicated Rashad will get the green light before Ware.
*The other players sidelined with injuries include quarterback Jim Sorgi (shoulder), safety Michael Johnson (back), wide receiver Ramses Barden (back) and linebacker Chase Blackburn (knee).
*The Giants exchanged rookie safeties on their roster, signing Matt O'Hanlon of Nebraska while Michael Greco of East Carolina was waived/injured.
O'Hanlon, 5-10 and 207 pounds, signed with the Carolina Panthers as a free agent on April 30 and was waived on June 17. He was awarded to the Tampa Bay Buccaneers on June 18 and released on Aug. 6.
O'Hanlon played in 51 games with 23 starts at Nebraska. His career totals include 132 tackles (75 solo), seven interceptions and two sacks. As a senior in 2009, he started all 14 Cornhusker games and had career-high totals of 69 tackles (39 solo) and six picks.
A native of Bellevue, Neb., O'Hanlon was an honorable mention All-Big 12 selection last season. He will turn 25 years old on Oct. 5.
Greco was signed by the Giants on April 25. He suffered a sprained knee against the Steelers.
*The Giants will host their seventh annual Stuff the Bus school supply drive on Thursday, Sept. 2, 2010 when they play host to the New England Patriots. The drive will benefit Tools 4 Schools, a program of the Community FoodBank of New Jersey.  Fans attending the game are encouraged to drop off new, unused school supplies with volunteers located at each stadium entrance prior to the start of the game.  Tools 4 Schools provides brand new school and office supplies to teachers in New Jersey schools and after-school programs with 70% or greater participation in the Free & Reduced Price lunch program. 
Some of the most needed items are: pencils, notebooks, backpacks, glue & gluesticks, composition books, crayons, markers (including dry erase), pens, filler paper, copy paper, staplers & staples, and rulers.
---
EISEN'S MAILBAG - SUBMIT A QUESTION **HERE**
I was wondering if eli ruin his record for consecutive games starting by not playing against Pittsburgh.
Not to worry, the streak is still intact. Preseason games don't count in terms of individual or team records. Manning has started 87 consecutive regular season games, a record for Giants quarterbacks and the third-longest active streak in the NFL. Brett Favre – surprise – is first at 285 games in a row, followed by Peyton Manning at 192. The closest quarterback to Eli is San Diego's Philip Rivers at 64. Barring a catastrophe, Manning will add to the streak when the Giants open the regular season on Sept. 12 vs. Carolina.
--- ](http://www.nyg2010.com/)**