EAST RUTHERFORD, N.J. –** Tom Coughlin knew the question was coming, so he answered it before it could be asked – and even added a little levity.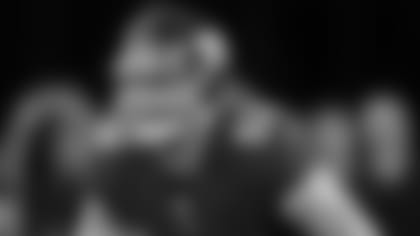 "David Wilson did okay with his technique today," Coughlin said at the start of his daily media briefing today. "He had multiple carries and he also carried the ball and put it in the proper position, so I would say today he made good progress. I'm sure that's the end of it. I will see you guys later."
Uh, not so fast, coach. Coughlin was asked a question about Wilson moments later. And while there was never any doubt, he confirmed that the starting running back last week in Dallas will be in uniform on Sunday, when the Giants host the Denver Broncos.
"Will he get a suit? Yeah, he'll get a suit," Coughlin said. "We have a bunch of guys that can trot out there first, but they're all going to see action."
Wilson's ball security has been a much-discussed topic since he fumbled twice and was benched in the loss to the Cowboys. And Coughlin is not the only coach fielding queries about it. Offensive coordinator Kevin Gilbride was asked if he's worried about Wilson's fumbling.
"I'm worried about everything, every week," Gilbride said. "So if they say am I worried about David Wilson, yeah, I'm worried about everything. That's part of playing the game. You have to bounce back. The ones who thrive and flourish are the ones who can learn from their mistakes and put it behind them and certainly he needs to do that and I think he will."
Gilbride declined to say if Wilson will start against the Broncos, but that might be more semantics than anything.
"We're going to play everybody," Gilbride said. "I know you guys like to know who's starting and not, but I haven't put together the openers yet, so I don't know who's going to be in there, because I don't know what the opening plays are. Once we decide what plays we're going to run, then whoever we think is best capable of running that play is the guy that will be in there."
*Coughlin said Brandon Jacobs has "looked pretty good" in his two practices with the team. "From a standpoint of conditioning and running, he's looking quick and picking things up right where he left off," Coughlin said. "I think he's done well with it."
Gilbride, asked how he intends to use Jacobs said, "I'd rather not tip my hand at this point."
*One day after leaving practice with a knee issue, running back Da'Rel Scott practiced fully and said he is good to go for Sunday. Coughlin said Scott is "fine."
Center David Baas (knee) and defensive end Damontre Moore (shoulder) were limited. Baas said he is "encouraged" and expects to face the Broncos.
*The same four players who missed practice yesterday sat out today: linebacker Dan Connor (neck), cornerback Prince Amukamara (concussion), tackle David Diehl (thumb) and tight end Adrien Robinson (foot). Connor was placed on injured reserve after practice.
The Giants are hoping Amukamara will play against the Broncos.
"Hopefully, he's going to be okay," Coughlin said. "He seems to be fine. I can't get him to tell me he's had any issues, but he did the same thing the night of the game. We'll see."
Coughlin said if Amukamara practices tomorrow he should be able to play on Sunday.
"I would say if he works tomorrow and gets a good day's work, then we would have a good chance," Coughlin said. "Barring setbacks, you know how that goes."
And if Amukamara can't play? "That would be a big blow, a real big blow," said defensive coordinator Perry Fewell.