The Giants have yet to announce their slogan for 2013, but Adrian Tracy already has one for himself.  
[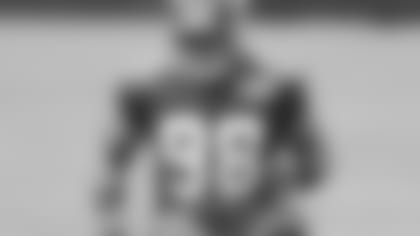 PHOTOS: TRAINING CAMP PRACTICE](http://www.giants.com/photos/photos/Giants-Training-Camp-Practice-7-28/e53adde7-3d72-47ff-b0ed-72ea4c5e68a1)
Equal parts decision and circumstance, the hybrid defensive end is imposing radio silence for the 27 days of training camp.
"I had two phones," Tracy said. "One broke, and I left the other one at home. So I realize right now it's a time to focus on your craft. I do have a way to communicate with my family, which is the most important thing, and they understand where I'm at right now. So that is valid. That is true. No phones."
"As soon as everything is done with and I need to be in contact with people outside of my family, outside of the Giants, I'll do that," Tracy said. "As of right now, it's just my iPad."
Going incommunicado underscores Tracy's focus on the best opportunity so far of his career. After spending the entirety of his first two seasons on the injured reserve and practice squad, respectively, Tracy played all 16 games in 2012, contributing mostly on special teams.
Couple that with Jason Pierre-Paul beginning training camp on the physically unable to perform list and Tracy knows now is the time.
"I'm more comfortable," Tracy said, compared to last year at camp. "I understand exactly what is required of me. I understand special teams roles. I understand defensively what is going on. The second time around it's always a lot easier than when you first jump into something. You know what to expect. You feel more comfortable. I've been doing my research, so I'm prepared, and that's the best thing you can do."
The Giants realized part of Tracy's potential last season in Week 6 at San Francisco when the gameplan called for a heavy dosage of Tracy, who had four solo tackles and a sack. The three points the 49ers scored that day were the fewest the Giants allowed since 2010.
"I was really excited about that," Tracy said about the 26-3 victory. "Up to that point, I didn't think that I had an ample opportunity to showcase what I could do in an actual NFL regular season game. When I was given that opportunity by the coaching staff, I appreciated it and I didn't want to let them nor my teammates down and I think I prepared myself and played pretty well. That could be a springboard into me doing other things."