*Here are five games to watch that could impact the Giants in Week 4: *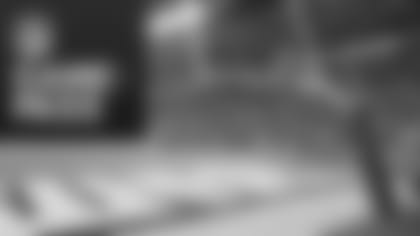 ](https://gamepass.nfl.com/packages?team=nyg&campaign=sp-cl-gd-af-pj-1502447&affiliateId=83215&clickId=2083803674&affiliateCustomId=&affiliateCustomUrl)
The NFL hits its quarter mark this weekend, when teams are finally starting to figure out who they are. A lot of the Giants opponents this week are playing one another. Here are five games Giants fans should keep an eye on in Week 4.
RAMS VS. COWBOYS, SUNDAY @ 1:00 PM ET:
Dallas (along with the Eagles and Redskins) is 2-1 with a two-game lead on the Giants in the NFC East. The Cowboys play their second straight game against a NFC West opponent after beating the Cardinals with a big second half on Monday night. The Cowboys offense still doesn't look like it did last year, but DeMarcus Lawrence leads the NFL with 6.5 sacks, taking the pressure off a banged up and young secondary.
While the Cowboys are on a short week, the Rams are on a long rest after beating the 49ers last Thursday night. The Giants host the Rams, who currently lead the NFC West with a 2-1 record, on November 5 at Metlife Stadium. Quarterback Jared Goff looks like he might be developing after a rough rookie year. Todd Gurley is 4th in the league in rushing, while Aaron Donald is disruptive as ever on the defensive line playing a new spot in Wade Phillips' 3-4 defense.
EAGLES VS. CHARGERS, SUNDAY @ 4:05 PM ET:
Giants fans may be tired of seeing the Eagles after last week, but the Chargers are worth the Giants' time. During commercials of Giants-Bucs, flip over to this game to get a peek at the team that comes to Metlife Stadium on Sunday, October 8. The Chargers lost two heartbreaking games to the Broncos and Dolphins that went down to the wire in Weeks 1 and 2. Last week, they lost to the Chiefs by 14 at home thanks in part to Philip Rivers throwing three interceptions. The LA Chargers have talent on both sides of the ball, including two dangerous edge rushers in Melvin Ingram and Joey Bosa. Melvin Gordon has 146 rushing yards, while Keenan Allen is Rivers' top target at wide receiver.
RAIDERS VS. BRONCOS, SUNDAY @ 4:25 PM ET:
The Giants play the Broncos in Denver on October 15 and the Raiders in Oakland on December 3. Even if you want to put that aside, this game should be fun. Both teams are 2-1 and tied for second place in AFC West. The Raiders are coming off a 27-10 loss to the Redskins, while the Broncos took a tough 10-point loss at Buffalo. It will be fun to see a balanced and explosive Raiders offense try to deal with an upper echelon Broncos defense.
REDSKINS VS. CHIEFS, MONDAY @ 8:30 PM ET:
The Redskins have been a bit up and down this year, but they are at their high point after blowing out the Raiders last week. They will be tested on the road against what might be the best team in football: the Kansas City Chiefs. The Chiefs have been good on both sides of the ball, and rookie Kareem Hunt has been a revelation with 401 rushing yards. The next closest player in the league has just 288 yards. The Redskins hope to get their starting running back Rob Kelley back, and will try to get free agent addition Terrelle Pryor going. He has just 10 catches for 116 yards so far this season.
PANTHERS VS. PATRIOTS, SUNDAY @ 1:00 PM ET:
There are no Giants connections here but this is a big game for both these teams. The Patriots were seconds away from losing to a rookie quarterback and dropping two straight at home last week before Tom Brady hit Brandin Cooks for a game-winning touchdown late. The Panthers, meanwhile, are struggling on offense. They've only scored 45 points so far this year, despite advantageous matchups versus the Saints and 49ers. Christian McCaffrey has just 73 rushing yards but he has caught 18 passes for 173 yards. Kelvin Benjamin might not play this week, which will make it even harder for Cam Newton, who has struggled adjusting to a shorter and quicker passing game.