EAST RUTHERFORD, NJ - Ramses Barden probably had the finest practice this evening of his two-camp Giants tenure. He made a number of outstanding catches, notably a leaping grab over cornerback Aaron Ross. But it was the plays he didn't complete, including a long sideline throw from Eli Manning in the two-minute drill that just eluded him at the end of practice, that left Barden unsatisfied.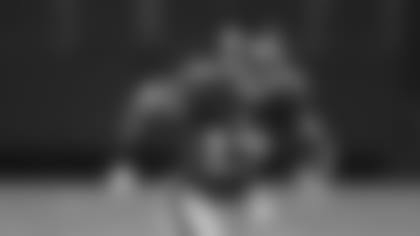 "It's still one of those where as many good things happen, I'm thinking about the two or three plays where I could have had a better assignment," Barden said. "I could have had a quicker read. I could have stuck on a block longer. Right now, my thing is every time I do something right I've got to find something else to fix because I've got to make sure that I don't settle and I keep the arrow up."
That's the direction it seems to be pointing. In a practice the other day, the six-foot Ross got the best of the 6-6 Barden. But tonight, Jim Sorgi threw to the left sideline and Ross appeared to have superior position. But Barden used his height and leaping ability to go up and secure the ball.
"The thing about Aaron, he jumps out of the gym," Barden said. "If you saw the play he had the other day when it just missed my hands, he out-jumped me. He timed it a little bit better. The wind carried it maybe, but nah - he made a great play on the ball. That just shows you the kind of athleticism he has, so it's not just a jumping game with him. You kind of have to time it. You kind of have to try to beat him to the punch because if you wait to make it an athletic matchup with Aaron, you know, he's one of the more athletic corners in the league."
Barden's collection of catches included a deep pass down the middle in the seven-on-seven drill and another in heavy traffic at the goal line.
"I definitely feel it coming along," he said. "I'm starting to be more patient. There are just certain things I need to remember each play - go through my thought process and take advantage of what I see and what I know each play."
Later, asked about his what he expects of himself this season, he said, "I've got high expectations for the whole group - but myself especially."
*Ross did make a highlight play of his own, intercepting a Sorgi pass and doing a great job of staying inbounds.
*Lawrence Tynes made six field goals – from 20, 36, 39, 42, 45 and 47 yards – and missed attempts from 30 and 33 yards. He has made 26 of 29 field goal tries in camp.
*The Giants practiced with game officials for the first time.
*Rookie Seth Williams intercepted a Rhett Bomar pass for Tim Brown. Bomar came back to hit Victor Cruz on the same pattern.
*Shaun O'Hara worked in both practices after missing the first week of camp with a swollen ankle…Rich Seubert (hand), Kevin Boss (hamstring), Travis Beckum (hamstring), Steve Smith (groin) and Sinorice Moss (groin) sat out the late practice. Kenny Phillips also rested his knee after working in the morning.
*The Giants have changed their schedule for this Friday, Aug. 13. They will NOT have a full practice in the morning, but will instead have a jog-thru from 10:30 - 11:15 a.m. They will practice that evening from 6:05-8:05 p.m.
*Today's attendance of 2,430 (950 in the morning, 1,480 in the evening) increased the camp total (seven days, 12 practices) to 19,125.
---
Michael, how is Jay Alfords knee coming along being he reinjured it when he tripped on an offensive lineman?
Jay is doing well. He's practicing once a day, as are most of the other players who had surgery in the last year. But I've seen him go all-out in pass rush drills and he seems to enjoy mixing it up during practice. Hopefully, he won't have a setback and will have a big season.
If you'd like to submit a question or comment to Michael, click here.
--- ](http://www.nyg2010.com/)**