EAST RUTHERFORD, NJ - Keith Bulluck has been a Giant for less than a week, but few players are as comfortable here as the team's new linebacker.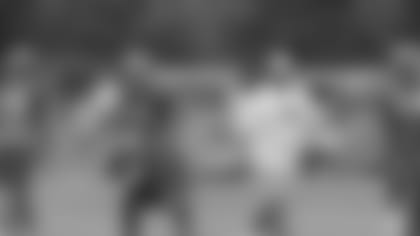 "I think the best thing so far was the drive up the Thruway yesterday," said Bulluck, who was raised in Rockland County, a couple of hours south of here. "Just seeing the different places like Poughkeepsie, places I haven't seen in awhile, but I've gotten familiar with. Actually being here, my best friends went to the University at Albany. So I would come down when I had free time from Syracuse to hang out with them. I've been to this cafeteria before and been in these dorms we're staying in."
Now Bulluck, and fellow newcomers like safeties Antrel Rolle and Deon Grant, have to get acclimated to their new teammates and new defense – which, of course, is undergoing its own transformation under new coordinator Perry Fewell. How well Rolle, Bulluck and everyone else picks up and performs in Fewell's system will go a long way in determining whether the Giants improve on their 427 points allowed – and 8-8 record.
"I think they'll pick it up fast," Coach Tom Coughlin said. "The two safeties were here all spring, so they're pretty much embedded in how our approach is this season as of right now. I think Keith will pick it up fast as well. He won't be on the field both practices, but he will have an opportunity to pick it up and he'll get it back because he's had a number of years in the league."
"It's going to take a lot of work from the coaching staff as well as the players," said Rolle, who joined the Giants as a free agent in March after five seasons with the Arizona Cardinals. "This right now is just a gelling period for everyone getting on the same page at the same time. This is a time to make mistakes. If you're going to make mistakes, now is the time to make mistakes. That way, once the season comes, we got everything pretty much gelling and ready to go."
Bulluck, who played his first 10 NFL seasons for the Tennessee Titans, signed last week after convincing the Giants his left knee, surgically-repaired near the end of the 2009 season, can withstand the rigors of the NFL season. He does not anticipate any difficulty learning the new defense as he tries to secure the starting middle linebacker job.
"I've been in this game for a long time," Bulluck said. "There are only so many defenses you can play. There are only so many different ways you can do it. You know, it will probably take me a few days, a few practices to get acclimated."
"For (10) years of his career he's been hearing a language that's the Tennessee language," linebackers coach Jim Herrmann said. "My job is to introduce him to the Giant language of football. It's the same thing, but I may say it different than his linebacker coach said it at Tennessee or we may call something different than they called it at Tennessee. That language barrier of teaching someone a new language is number one. The guys are going to go on the field and compete and perform, but for me, it's getting him to the point where he feels comfortable – okay, this is the playbook, yes I remember this is this so now I just have to remember the names. I think that's the biggest thing for a guy coming into a new position."
Both Rolle and Bulluck are expected to help fill the defensive leadership void created by the offseason departure of Antonio Pierce, who is now retired. Pierce was a vocal and fiery presence in the middle of the defense, a player who motivated his teammates with words and deeds. The Giants had candidates on their roster who could have stepped in as leaders, but the accomplishments, longevity and demeanor of Bulluck and Rolle could help them easily slip into that, uh, role.
"I think we have a lot of guys who are capable of that," Coughlin said, "and I think that one that I would say, and that they know of, is that to lead means that your experiences over time, it doesn't happen one day and not the next day, and it happens under all circumstances. It's a pillar of strength, and it's the kind of individual who has the confidence to speak to his peers and be unafraid to challenge or to indicate that things are just not done properly and need to be done properly. I think that we have any number of guys who could lead and could be found to have that capacity. We just have to wait and see."
Bulluck believes he can be a leader even in a group of players he is just beginning to know.
"To me, I'm a natural leader," Bulluck said. "I think my field presence is one thing. I'm not a rah-rah guy. I'm not going to be out there barking orders and telling people what to do, because they'd probably look at me like I have four heads. I'm going to come out and do my job. People have expectations of me to do my job as I have the same expectations of them. You have to be on the same page and everyone doing their job, that's first and foremost. If the guys gravitate to me, that's fine. I'm sure I'll gravitate to them. Everyone expects me to come here to be a leader. I don't put that pressure on myself. I just come here like I say, do my job and see what happens."
"His experience will be great in the room," said linebackers coach Jim Herrmann. "I think younger guys always need to hear an older voice other than an old, old guy like myself. It will be helpful."
Rolle has played half as many NFL seasons as Bulluck. But like his new teammate, he was a first-round draft choice (the eighth overall selection in 2005) and a Pro Bowler (in 2009). Rolle also played in Super Bowl XLIII following the 2008 season. He is an accomplished player with an impressive track record who should help inspire his teammates.
"You lead by example," Rolle said. "I've never had any problem doing that in the past and I think I'm going to keep on for as far as I can."
Now he will have the support of Bulluck, with whom he is thrilled to joined forces.
"It was great," he said of Bulluck becoming a Giant. "I met with Keith a few times this offseason, just being around New York. He kept telling me, 'Antrel, put in a word with the coach for me.' When I met up with him today, I said, 'I guess we talked that up pretty good, huh?' But it's a great signing. Keith Bulluck, his resume speaks for itself. You know he's a heck of a player, and I'm extremely excited to have him."
So are the rest of the Giants.
*Safety Kenny Phillips and offensive lineman Kevin Boothe were placed on the physically unable to perform list. Phillips missed the final 14 games of the 2009 season after undergoing surgery on his left knee, which was diagnosed with patella femoral arthritis. He has been working out under the direction of the team's athletic training staff, but did not participate in the spring on-field workouts or practices.
Phillips today reiterated what Coughlin said last week – he expects to be on the field before the team leaves Albany.
"I'm pretty sure they'll get me out there sooner than later," Phillips said. "Honestly, I feel real good about it. I mean, it's tested. It's not football tested, but as far as cutting and doing drills and running - I mean, I've been doing this for almost the whole offseason. I'm not worried about that. I'm not worried about being in any pain once I do start. I just have to get used to playing football again."
Phillips has not played since last Sept. 20 in Dallas, where his two interceptions helped the Giants defeat the Cowboys. He is so eager to return to the field, even a training camp practice would be nirvana.
"I mean, I like practice," Phillips said. "To tell you the truth, I really do. I actually feel like a veteran but also a rookie. I mean I only played only one year. I missed all of last season. So it's kind of weird. It won't take me long to pick it up. So reps, I'm not really worried about it."
Nor, he insists, is he harboring doubt about whether he'll soon be on the field.
"No doubt at all," he said. "I feel good. I mean, I worked so hard to get to where I am now, and just watching myself on film doing the drills and everything, I feel real good. I'm not even worried about it."
His coaches are more cautious, but hopeful the Giants' 2008 first-round draft choice will soon return to action.
"He feels real good," Coughlin said. "But they're going to be cautious and I endorse that."
"Right now we're just waiting for him to come back," secondary/safeties coach David Merritt said. "Hopefully, whenever he comes back he's going to be full speed. But everything is still the same as we expected, so his progress is exactly where we wanted it to be and so when he gets out there and runs around then we'll be able to see a little more."
*Phillips and Boothe were the only players who didn't practice. Those two, as well as Bulluck and running back Ahmad Bradshaw, were the only players who didn't take part in this morning's conditioning drill (10 sprints the width of the field and back, with a three-minute break halfway through).
"I guess you'd call (Bulluck's absence) a precaution," Coughlin said. "You've got a guy coming off a seven-month ACL, so I don't think that you're going to right away the first thing you do is run him on a change direction test. And Bradshaw was a precaution although I watched the practice segment that he was involved in and he looked okay to me. It'd be nice if he could stay at a high level."
The linemen distinguished themselves in the conditioning test.
"I can't remember being with a team where all the big guys made it," Coughlin said. "They all made it. Kareem (McKenzie) looked really good. The real big guys looked good."
Running back Gartrell Johnson struggled to finish the drill.
"That's the disappointment right there," Coughlin said. "Now, his weight is down. We have an entire team where no one is overweight."
*The Giants reached the 80-man roster limit by signing safety John Busing, who has played 43 games in four NFL seasons, including all 16 games for the Houston Texans in 2009. Busing was with the team in a spring minicamp.
"Love him," Merritt said of Busing. "We had him here in the spring and John, he's a veteran, and to get John back in here, he's going to compete for a spot. Mark my words on that. He is a guy that is a special teams player and he knows his role. … He understands his role. There are some guys that you have to try to cater to and make sure you keep them mentally into it, but a guy like John Busing, he understands his role and I am very excited to have him back."
Busing, 6-0 and 222 pounds, started four games for the Texans, including both of Houston's games vs. Jacksonville, vs. Indianapolis on Nov. 29 and the season finale against New England on Jan. 3. He finished the season with 32 tackles (26 solo), an interception (Sept. 13 vs. the Jets) and three passes defensed. Busing also had 12 special teams tackles.
Busing, who played college football at Miami of Ohio, entered the NFL as a rookie free agent with the Cincinnati Bengals in 2006. He was cut at the end of training camp, signed to the practice squad, then was elevated to the active roster on Oct. 14. He played seven games for the Bengals as a rookie.
The scenario – released, practice squad, activated – was repeated the following season, when Busing played in 12 games. In 2008, he was waived on Aug. 20, re-signed by Cincinnati two months later, and played in eight games.
His career totals include 57 tackles (43 solo).
Busing will turn 27 on Sept. 1.
*Bulluck took out a full-page add in Nashville's daily newspaper, The Tennessean, to thank Titans fans for their decade of support.
"No matter where I am now, just being there for 10 years and that organization giving me the opportunity to play in this league - drafting me number one back in 2000 - that's very special," Bulluck said. "Those fans are great fans. You know, I still get embraced by them even when I went back to move my stuff, you know, seeing those people there. So I think I owe that to them and maybe even then some. But to learn, to know that it's football season, and yes I have moved on, and that I'm just thankful for all the memories, the good seasons, the bad seasons, and my last little farewell. Now I'm a New York Giant, and I'm ready to embrace this situation."
*Bulluck is not yet thinking about the season's third game, when the Giants will host the Titans.
"I've got to learn the defense first," he said.
*This afternoon's opening practice stressed fundamentals in position groups and separate offense and defense units. There were no team periods. The Giants will practice twice tomorrow and Tuesday.
"I had planned just a fundamental practice this afternoon just to get them out here and get them going," Coughlin said.
*Tickets are available for the first Giants Kickoff Luncheon to be held in the New Meadowlands Stadium. The charitable event will be held on Wednesday, September 1, 2010 from noon to 2 p.m. in the Gridiron Club, located between the Pepsi and Verizon gates at the New Meadowlands Stadium.
In addition to introducing the 2010 Giants, the team will honor Amani Toomer with the Giants Alumni Man of the Year Award.
Hackensack University Medical Center and the Giants have begun a partnership that gives fans a unique opportunity to support one of the nation's healthcare leaders while showing support for New York's favorite team. All proceeds from the luncheon and raffle will be donated to a very special program: the Touchdown Fund: Score for Kids, Cardiac and Cancer launched earlier this year by the Medical Center and the Giants and focusing on three core areas of healthcare.
Giants fans can join Head Coach Tom Coughlin and the entire team and the raffle will include a grand prize trip to Super Bowl XLV in Dallas (including round trip airfare and hotel accommodations for four nights).
For more information, call 201-996-3722.
*This afternoon's practice was watched by 1,750, the largest opening practice crowd in the 15 years UAlbany has hosted the Giants camp. The previous record of 1,470 was set in 2008. ](http://www.nyg2010.com/)**
If you'd like to submit a question or comment to Michael, click here.