EAST RUTHERFORD, N.J. –** What goes around comes around for the Giants' offensive line.
Upon Further Review
The Giants players are still motivated to compete and win the final games...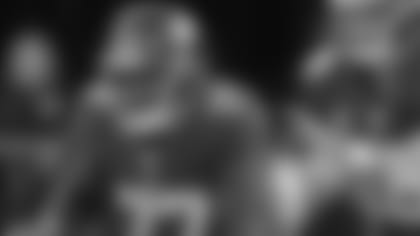 Know Your Opponent: Washington When the season opened in Dallas on Sept. 8, Kevin Boothe played center and James Brewer was the left guard for the Giants. The Giants will play on a Sunday night for the first time since that game when they face the Washington Redskins in FedExField, so perhaps it's fitting that Boothe and Brewer will start in those spots for the first time since the opener.
When they do, Boothe and Brewer will be a part of the sixth five-man starting offensive line configuration for the Giants this season (that does not include Brewer's start as an extra lineman at Philadelphia on Oct. 27).
The latest shift was necessitated when Jim Cordle, who started seven of the last eight games at center, was placed on injured reserve with a patella tendon injury suffered last week against the Cowboys. Boothe moved over from left guard, where he started his 10th consecutive game, and Brewer took over at guard.
"Usually when I've played center, it's because of an injury," Boothe said today. "It's not something that I've come into a season playing primarily."
Boothe started five games at center in 2011 when David Baas was hurt. It was another injury to Baas that sent Boothe there in Dallas and yet another that resulted in Cordle entering the lineup. Cordle joined Baas and Chris Snee as offensive linemen on injured reserve.
"I always take reps at guard and center throughout the course of the week, because I am technically the backup center," Boothe said.
The Giants have enjoyed durability and consistency at tackle this season, where Will Beatty (left side) and first-round draft choice Justin Pugh have started every game. Inside, it's been a different story. Boothe, Baas and Cordle started games at center. Chris Snee, Brewer and David Diehl – who missed the first four games while recovering from thumb surgery -- have been starters at right guard. Boothe and Brewer have played left guard.
"It's definitely something that you don't want to happen," Diehl said of the interior shuffling. "Jimmy was doing a great job of playing center and we were getting things going. The good thing is that we have veteran guys, we've got guys who can step up and play the position. Not only just play it, but do it effectively. Early in the season you had James Brewer, who can play tackle or guard, so we'll see how it all plays out."
The Giants know what to expect from Boothe, a reliable and consistent lineman whose 33 consecutive starts give him the third-longest streak on the team (behind Eli Manning's 146 and Antrel Rolle's 59).
"He's been great for us," Eli Manning said. "Kevin has done a great job of just doing whatever we ask from him over the years. He's played guard. He's played center. He's played tackle at times. Obviously, he bounced over right there and we didn't lose a beat when he was playing center."
Brewer is more of a mystery. A fourth-round draft choice in 2011, he did not play in a regular-season game as a rookie and in just six games last season. He has played in every game this season with three starts – one at each guard and the other as the extra lineman. Now he should get his first extended opportunity to show the organization how well he can play.
"My plan is to just make the most of it and play well," Brewer said. "I've already played before. I started against Dallas that first game and I played against Kansas City at right guard, so I've already done it. It's just to show the coaching staff that I'm the right guy for the job.
"For me, it's just the pressure that you put on yourself to perform as a competitor. There's no do or die for me, it's just competing and going out there and doing my best."
The line performed well last week against Dallas despite the early lineup change. The Giants rushed for a season-high 202 yards in their three-point loss.
"I thought we were able to continue doing a good job with the rushing game right through the change there," coach Tom Coughlin said.
"We've been running the ball well the last few weeks and it's been nice," Manning said. "Hopefully, we can continue to do that. I think Washington does a pretty good job against the run. They like to get that safety and get eight or nine guys in the box, so they'll try to take the run game away, but that should hopefully open up some passing opportunities and we've got to take advantage of that."
The latest new-look offensive line will have a big say in whether or not they do.
"Last week, to be able to have 200 yards rushing, we've put a lot of emphasis on that and we've seen the drastic improvement in it," Diehl said. "Obviously, we have another change to the offensive line with Kevin playing center. But I've played next to him before and it's great to have another veteran guy being able to step in and be familiar with the Redskins' defense and all that stuff and get us ready to go for this week. Just like anything, you've got to adjust and you've got to make the corrections. That's where we are now."
Perhaps this time it will stay that way for a while.
On Thanksgiving Eve, Manning was asked what he is thankful for.
"Obviously, a lot to be thankful for, my family and my health and being a part of this organization, the teammates and the friends I have around here," he said. "It is a great place to come and work and I enjoy my job. I enjoy coming here every day because we've got great coaches, great personnel and great players who work extremely hard and I appreciate having a lot to be thankful for."
When a reporter said, "and the media, too, right," Manning smiled and said, "And the media, of course. I look forward to every Wednesday hanging out with you."
Manning shaved the beard he grew during the Giants' four-game winning streak.
"Just looked at it and thought it was time," he said.
Four players missed practice today: running back Brandon Jacobs (knee), defensive end Jason Pierre-Paul (shoulder) and cornerbacks Trumaine McBride (groin) and Terrell Thomas (knee, normal rest day).
Wide receiver Hakeem Nicks (abdomen) and cornerback Corey Webster (ankle) were limited.
"(Nicks) looked good, he looked fluid, he looked like his normal self again," fellow wideout Victor Cruz said. "So it felt good to have him back; hopefully we can have more of him.
"I'm happy to have him back, period. Just to have him back in the huddle, in the offense, on the sideline dressed and ready to go, he's a guy that we need. We need him to be his normal self in order for us to win games and in order for our morale to be up, things like that. We're definitely happy to have him back."