Corey Webster has been infatuated with cars almost as long as he's loved playing football.
As a youngster growing up in Vacherie, La., his interest was fueled by his father, MacArthur, who was also an automotive aficionado. Webster knew the details of every make and model on the road and would even perform numerous repairs before he was legally allowed to drive.
"I started driving young," Webster said.
He was in the 10th grade when he turned 15 in 1997 and got his first car.
"It was a Chevy S-10 extended cab," he said. "I put a little music in it. It was a funny colored teal. I couldn't pick out the color at the time. It wasn't about colors. It had a pink stripe going down the side of it. I took the pink striping off. I put some rims on it and loved it."
Once he got behind the wheel, he was seldom coaxed out of the car.
"My daddy said I burned a lot of gas," Webster said. "He can remember those days; have nowhere to go and just want to ride and drive. I always felt that I had somewhere to go and my daddy called it gas on his chest. He said, 'If you light a match right now, you'll probably blow up.'"
Today, Webster said he has "exactly five cars." But he has an interest in many more. He is the founder and president of Unique Rides, a provider of high quality complete custom automotive services. The showroom in Ramsey, N.J. is stocked with Dodges and Chevrolets to Ferraris, Lamborginis and other high-ended vehicles. Unique Rides also customizes numerous cars, a service many Giants players are used. The website is uniqueridesnewjersey.com. Webster owns a similar business near his home in Prairieville called Signature Rides. Prairieville is 20 minutes from Baton Rouge, where Webster starred at LSU.
---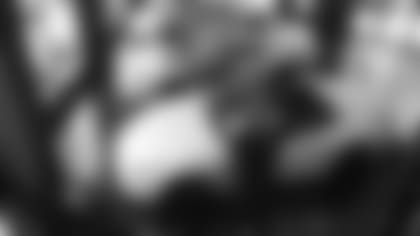 ---
"We're a one-stop shop," said Will Castro, Webster's partner and the vice president of Unique Rides. "We're able to sell and lease cars. We sell new and pre-owned from Lamborghini's to Dodge Darts. So you can come and get anything you want right from one place. Then we have a service department that handles everything from fabrication: woodwork, upholstery, window tinting, complete detailing, audio/video and also security. One of our things that we're really going to be focusing on is the GPS. Technology is going to be really big on what we're doing here."
Webster is in his ninth season with the Giants and many of the lessons he learned under Tom Coughlin have been applied to his automobile companies.
"Having the shop and learning how it works, I understand that you don't need a big space to do a lot of stuff," Webster said. "You just need the right equipment, the right people, the right team together to get it done. I look up to the guys that do that type of work and I see their teams and how they go about doing it. It nice and small and family oriented and they carry the same philosophy that we do in football. Team is everything. No one is more important than the team. These guys understand that philosophy and started progressing with it."
Although Webster's knowledge of cars is impressive, it takes a back seat – pardon the pun – to that of them mechanics and experts he has working for him. Webster trying to be has h ands-on as he can, and he's not hesitant to perform entry-level tasks.
"I'm trying to learn," Webster said. "They're better than me. I know how to put the team together. But when I'm up here I'm working hands on with them. If someone is stitching up the (Unique Rides) shirts, I'm folding the shirts and watching what he's doing. It's still a learning process to me. I think you don't stop learning until you're dead. I'm still alive, so I'm going to learn and soak up as much information from these guys as I can."
Webster and Castro form an automotive odd couple. The former is a laid-back Southerner, the latter a hard-charger who grew up in New York's gritty Lower East Side. They met at the NBA All-Star festivities in New Orleans in 2008. Castro was already a success in the car biz, having founded Unique more than 20 years ago in New York. He brought it to Miami before partnering with Webster in a new venture.
Webster had owned a rim shop in Louisiana for eight years before joining forces with Castro.
"He was a client and we started doing work with his personal vehicles," Castro said. "He was a big fan of the Unique brand. We decided to partner up and bring the brand to New Jersey.
"Corey is a really big car enthusiast. He has a lot of passion for vehicles and automobiles and restyling. He knows a lot about it, because when we started doing some work together on his car he was giving me a lot of input. So I just knew that it was going to be a great fit for me and Corey to be together."
Webster's goal is not just to customize cars, but lives. His Corey Webster Foundation helps mentor children, some of might one day work with automobiles.
"I decided to get in the business with it to help other kids because everybody can't go to universities and be professional athletes," he said. "So to give them a trade or something to do, we have the Unique Rides going and we're going to let kids learn different trades at the shop.
"We start from elementary school to middle school on up before they get into high school, so we can just teach them about mentoring and why college is important and why decision-making is important. We tell them the decisions they make early on in their lives can affect them later on in their life. Our goal is to motivate, empower and inspire al kids we come into contact with in a positive way. We tell them to be aware of what they're doing and their surroundings. We partner with TAF (Tiger Athletic Foundation) at LSU. They have a group that's already in place that takes a group of guys in their freshmen year and they go through that program and graduate out of their junior yea. Then we put them in the program from their junior year to their senior year and we take those same guys that are about to graduate and bring them back to the schools around the area and let them talk to the kids about the importance of going to college and the mentorship and decision making."
Webster has no problem getting into schools, because he is a popular and well-known figure in Bayou state.
"I'm always around different schools," Webster said, "because I have either former teammates that have played at LSU and they're coaching at those schools or they're teaching at those schools or just over time just knowing people."
Webster also remains a loyal LSU Tiger. One of the reasons he lives in Prairieville is so he can be close to the school, where he frequently works out during the offseason.
"To be honest, they don't have a whole lot of guys that went to LSU that are willing to give back or willing to do the right things," Webster said. "That was one of my goals. I graduated from LSU, but I always wanted to just keep getting better. Without LSU, I wouldn't be in the position where I am today. So I want to give back to them just as much as they gave to me. If I could help a young kid and point him in the right direction, I want to do that."
Webster was a general studies major with minors in business, history and criminal justice.
"I think in the future I want to go back and get my whole business degree," he said. "That's another thing that I'm trying to do with LSU. They're looking for somebody to partner with and (help with) alumni relations. So I'm in the midst of working that out to where I'll try to get the former players to come back."

>> INSIDE THE NUMBERS: FIRST HALF BREAKDOWN
---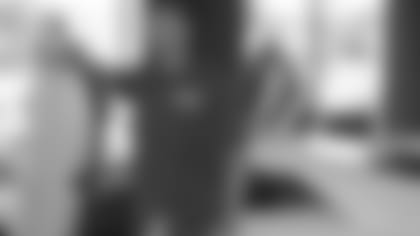 ---
Webster lives in Prairieville with his fiancée, Tek Nicholas, whom he met in a Cataclysm class when they attended rival high schools. They've seemingly been engaged since about the time Webster got is first Chevy S-10.
"I put the ring on her finger already. I did my part," he said. "She's supposed to be working on a (wedding) date. I'm ready."
The couple has two sons, Corey, 9, and Coren, 2. The house is cluttered with toys and sports equipment, including a regulation-size basketball hoop attached to a wall … in the living room.
Webster calls his older son Web and his younger son Ren.
"(Corey) likes to play basketball," he said. "We had breakfast this morning, we went to the gym, then we came back here (to the house). The little one wants to be in the gym doing everything that we're doing. It's a big age difference, but Web is great and he's been a big brother and hopefully we're doing everything right so he can follow in the footsteps."
Webster joined the Giants as a second-round draft choice in 2005, a year in which the team did not have a first-round selection after sending it to San Diego in the trade to obtain Eli Manning. He came into his own in the 2007 postseason, when he started all four games and was a standout as the Giants won Super Bowl XLII. Webster's most famous play was an interception of a Brett Favre pass early in overtime of the NFC Championship Game in frigid Lambeau Field. The turnover set up Lawrence Tynes' games-winning field goal that sent the Giants to the Super Bowl.
Webster's 20 career interceptions tie him with Frank Reagan and Howard Livingston for 10th on the Giants' career list. He had started 34 consecutive regular-season games before a hip injury forced him to miss the game at Carolina on Sept. 22.
For as long as he's played football, Webster has maintained the same pregame routine.
"I listen to music, stay calm, read my bible before the game and just ready to get out there and keep my mind clear," he said. "I'm still anxious to get out there and to get the first hit in."
Nine years into his career, Webster believes he still has plenty of room to grow as a cornerback.
"I enjoy getting better," he said. "I enjoy the challenge of it still. I don't think I'm where I could be. Physically, I've been blessed to be in a good situation as far as injuries. I still feel like I'm getting better. I still feel like I'm working on my craft."
Webster was the subject of criticism by fans and the media for his play in some games last season, particularly a loss in Baltimore on Dec. 23. He understands that comes with the territory of playing in the NFL and in particular on the corner.
---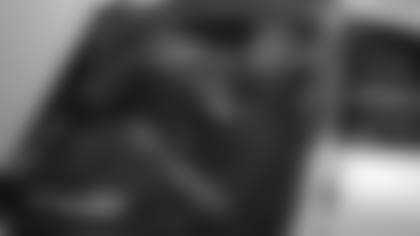 ---
"I'm my hardest critic," Webster said. "I watched it. I'm not scared to watch it. I know exactly when I'm wrong or I'm out of position or if I don't make a play. In the great scheme of things, I understand what's going on. It's 11 (players on defense). So everybody has to be tied together, working and to make it successful as one. I go out there every day and I don't want to give up one catch.
"I can control the plays that I can control. Obviously, I want to make the play but if I'm running down the field and I'm supposed to have over the top help and he catches the ball it is what it is. We got to be honest with ourselves with what happened. If we're not honest with ourselves, we look at it like it's the corner's fault. We're lying to ourselves if we think like that. As a corner, I just go out there and just be honest with myself. It was my fault. If it wasn't, I just try to go out there and make it work."
Work is what he does throughout the offseason, when he frequently makes the one-hour drive from his home to the New Orleans airport to catch a flight to New Jersey. There he is a regular participant in the Giants' offseason conditioning program. Webster will often leave the Quest Diagnostics Training Center and drive up Route 17 to the Unique Rides showroom and shop in Ramsey.
Not surprisingly, his oldest son Web has developed an interest in cars.
"He can tell you every make and model of any car - any vehicle," Webster said. "I started him up young. He has a couple of dirt bikes. He's into it just like I am and I guess I don't help him by having the customizations job. His favorite car right now would be a red Lamborghini. He doesn't really care for the Honda that I drive in.
"Yes sir, my little boy is learning now. He's driving sitting on my lap. I let him back the car out; he's been doing that a long time with pops. It was a manual transmission."
Sounds like another Webster has followed in the family tradition and has gas on his chest.